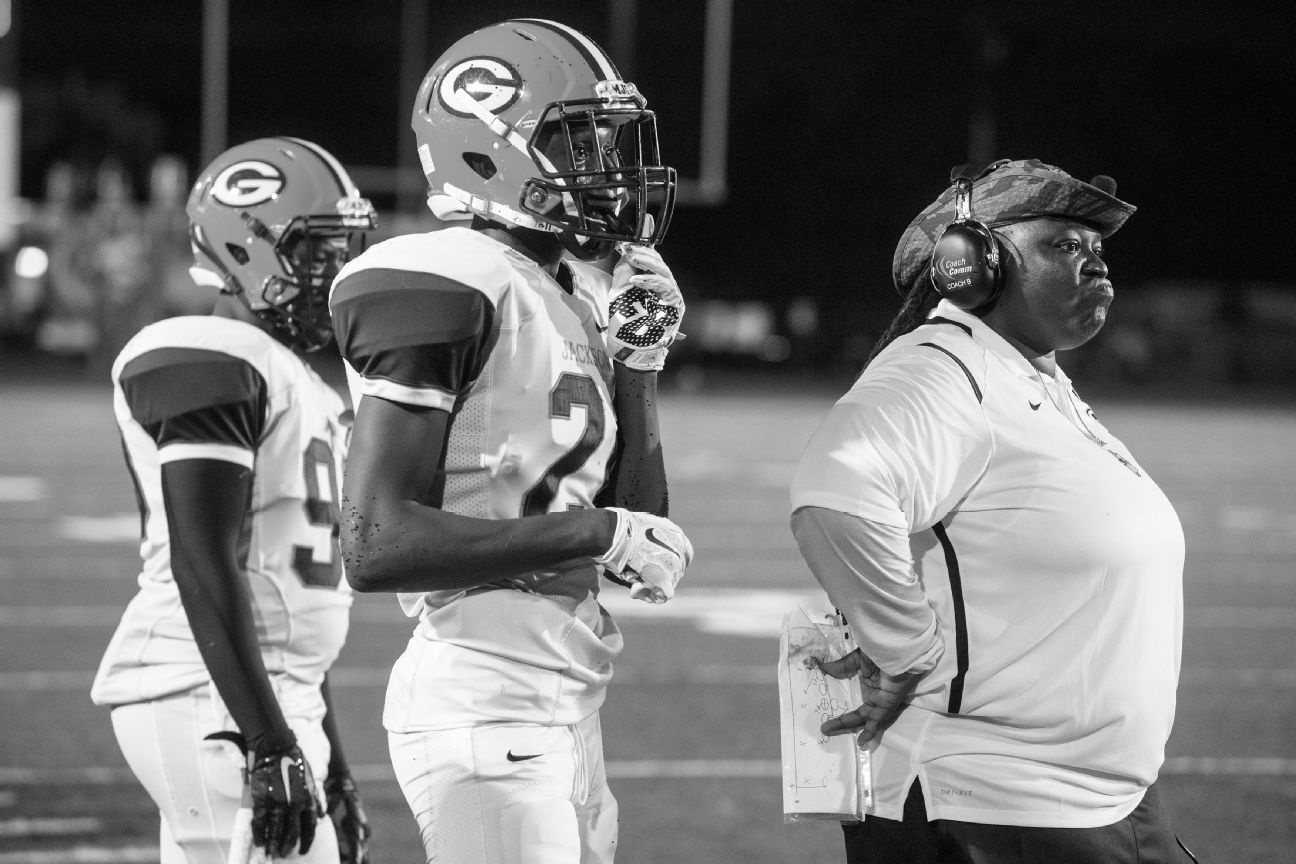 No Cinderella Story
Meet Coach Brunson, the first woman to be named a head football coach in the state of Florida, and who fought an uphill battle to teach her players discipline, the importance of education and respect.
L
akatriona Brunson is a bit of a local celebrity in Miami for her role as Bernice on the TruTV series "South Beach Tow." But there's another reason for her Florida fame.
Earlier this year, Brunson became the first female high school head football coach in the state when she was named to the role at Miami Jackson.
While her hiring was met with a mixture of fanfare and resistance, her players were quick to buy in to "Coach B" and her style, using the naysayers as motivation.
"The first play of the game, [the other team will] line up and say [Brunson] doesn't know what she's doing," offensive lineman Donte Morris said. "The first time I heard that it added fuel to my fire. You trash talk her, I'm gonna bust you in the mouth, and me and my female football coach are gonna beat you all."
Despite the unwavering loyalty from her players, they haven't exactly had a dream season. After only a few games, half of Brunson's coaching staff -- including assistant head coach Luther Campbell of 2 Live Crew fame -- quit unexpectedly. The team was left with a skeleton coaching staff for the remainder of the season and finished 3-7.
"A lot of people don't think a woman can coach this sport," Brunson said. "My first year has been tough, I can tell you that. It ain't no Cinderella story."
Despite the ups and downs, Brunson -- who spent eight years playing professionally in the Independent Women's Football League -- has tried to be a positive figure for her players both on and off the field. From encouraging them to do well in school as a means to better lives, to teaching them to respect women, Brunson knows she's in a unique and important position.
"I'm like doing this for a million women out there who probably want to be in my shoes, even 10 million men who want to be in my shoes," she says. "So I have to stay firm and stay strong and make it happen. I want to build a program here at Miami Jackson, and I want to go somewhere else and go higher and higher.
"I just don't want to let people down."