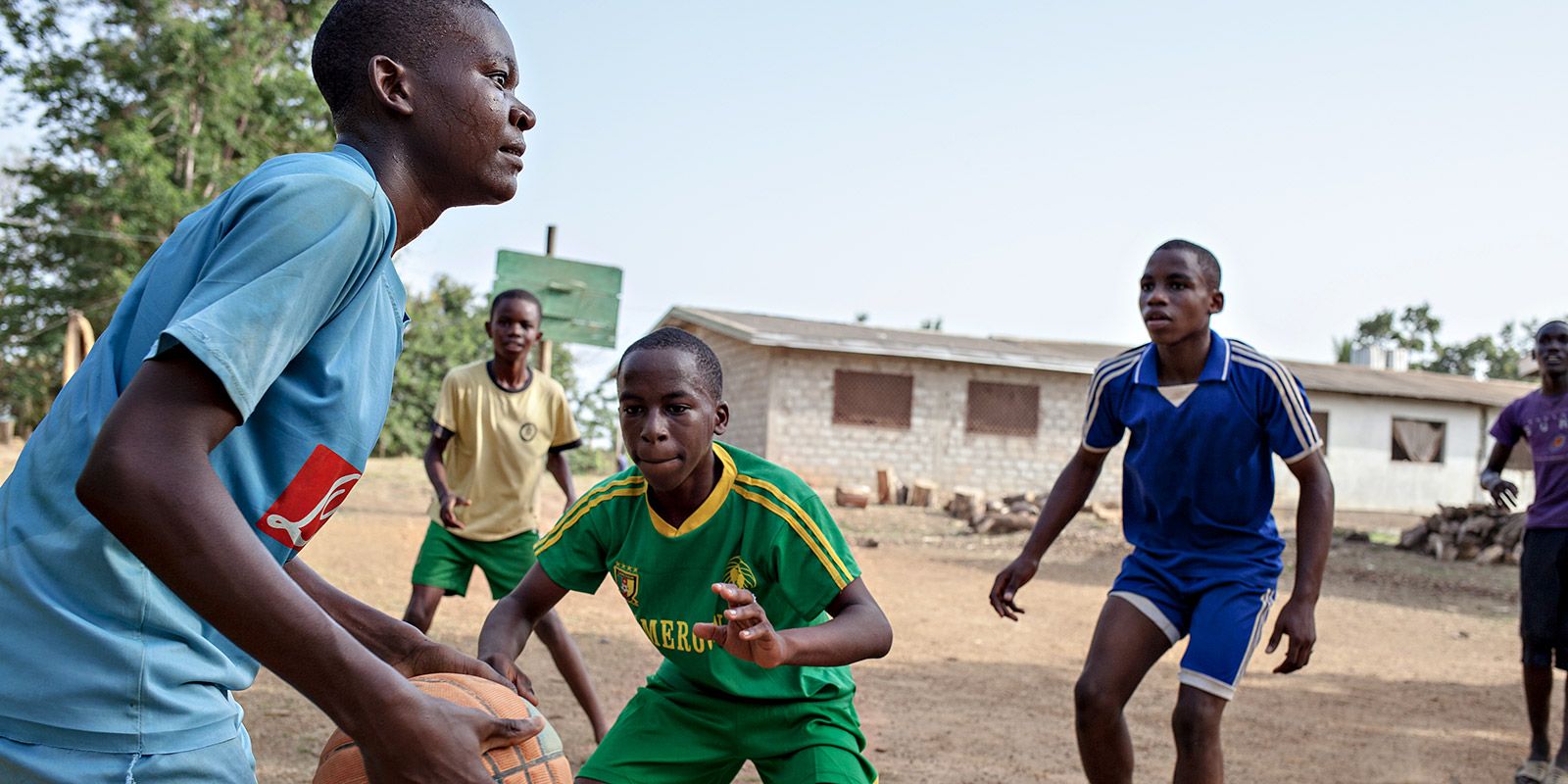 Cameroon Calling
More than a decade ago, Luc Mbah a Moute created a path, which Joel Embiid took and Pascal Siakam followed. This is the untold story of the rise of Cameroonian ball.
Editor's note: This story originally appeared in a May 2017 issue of ESPN The Magazine, which featured several articles celebrating the launch of KweseESPN.
On a sticky July afternoon in Cameroon, beads of perspiration dot a young boy's brow as he paces outside the Yaoundé Sports Palace, plotting his entry. The expansive, asymmetric dome with a sharply pointed roof was a diplomatic gift from the People's Republic of China, plunked into the city of Yaoundé like a spaceship from another galaxy. The 10-year-old, named Arthur, yells to the guard out front but is told that family and friends are not allowed inside. "But I want to see my brother!" the boy says, his infectious grin creasing his round, sun-kissed face. "You can just let me in, OK?"
The guard betrays a hint of a smile but shoos him away.
It is the summer of 2011, and the boy's older brother, Joel Embiid, has been invited to Luc Mbah a Moute's prestigious basketball camp, an opportunity that baffles his family. Joel, already 6-foot-10 at age 17, is no hoops player; he's played organized ball for three months and is scheduled to leave for Europe and train as a candidate for the national volleyball team. His father, Thomas Embiid, a colonel in the military and a former handball champion, wants his eldest son to stick with volleyball. His mother, Christine, upon returning from a shopping holiday to France and learning of Joel's basketball audition, asks: "Have I been gone that long?"
Outside the complex, Arthur is undeterred, scaling the spiked metal fence that surrounds it, hoping in vain to sneak a bird's-eye view. He seems to be the only Embiid excited about what is happening inside. Even Joel has doubts, his father's words still ringing in his ears.
"Nobody plays basketball in Cameroon."
---
Last November Cameroon somehow had three players starting in the NBA: Mbah a Moute, age 30, at forward for the Clippers, Embiid, 22, at center for the 76ers, and fellow rookie Pascal Siakam, also 22, at forward for the Raptors. Embiid, of course, is his country's emerging star, an impossibly quick 7-footer with 3-point range and a far-reaching sense of humor; his whimsical musings, sly tales (he's concocted stories of traipsing through jungles and wrestling lions) and concert clips suggest a young man embracing his new life with gusto.
Prior to Mbah a Moute, Cameroon had boasted just one NBA alum: Ruben Boumtje-Boumtje, who played 44 games with the Trail Blazers from 2001 to 2004, averaging less than one point per game. At the time of Embiid's audition at Mbah a Moute's camp, Luc was Cameroon's lone representative, affording him legendary status in the microscopic circle of his homeland. And so the story of Embiid's emergence, and that of a new generation of Cameroon basketball players, starts with him.
When Mbah a Moute was barely a teenager, he accidentally fell in love with the sport that now defines him. It began, of all places, on his way to soccer practice. Mbah a Moute had embarked on his usual route through his neighborhood of Etoa-Meki, northeast of Yaoundé, when he encountered a small group of boys shooting baskets at a tired, worn hoop on a dirt court. Luc had noticed the court before, but it was almost always empty, untouched.
He passed by the court three times the following week. On the third day, he stopped. Nobody was around. He looked about quickly, then launched his soccer ball at the netless cylinder. It sailed through, and Mbah a Moute experienced that universal surge of adrenaline that has enraptured so many before him.
In 2003, Luc, then 16, who had been training under coach Guy Moudio, was chosen to play in the Basketball Without Borders camp in Johannesburg. After Luc exhibited flashes of promise, Joe Touomou, the first Cameroon native to play Division I basketball, approached the family about sending Luc to America. It was no small ask.
Camille Moute a Bidias, Luc's father, is a powerful, worldly, dynamic force. He and his wife, Agnes Goufane a Ziem Moute, were born in Bafia, a rural village just beyond the Sanaga River, 80 miles north of Yaoundé. Camille is the chief there, a man of import. He has been the general manager of Cameroon's National Employment Fund since 1991, under the 35-year administration of President Paul Biya. He has built an enviable life for his family but has never forgotten the difficult life choice he once had to make himself. As a young man, he played two years of professional soccer, but his father believed athletics were an option only for those who could not succeed in life and urged his son to become a doctor, so Camille gave up the sport he loved.
With that memory in mind, he considered the opportunity in front of Luc. "I didn't want to do what my father did to me," Camille says. "So I say, 'Go. Let's see how you do.' I never thought in my mind Luc would be in the NBA."
In 2010, as Luc settled into his third NBA season, his parents reminded him of their expectations: His good fortune must be shared with their country. For as long as he could remember, Luc had seen his father donate money to help a sick child or destitute family. And Agnes had started a nonprofit, Pourquois Pas, which assisted families who couldn't afford to pay for their prescriptions. So Mbah a Moute set a goal: to raise the profile of basketball in Cameroon, to build courts so the national team wouldn't have to practice outside, to run coaching clinics so players could be trained at the highest levels.
That summer, Mbah a Moute started a pre-selection camp that would enable players from all over Cameroon to audition for five spots at the annual Basketball Without Borders camp. It was Mbah a Moute's effort to provide Cameroonian kids the opportunity to find success through basketball.
"Without that camp," Embiid says, "how else does anyone find me?"
---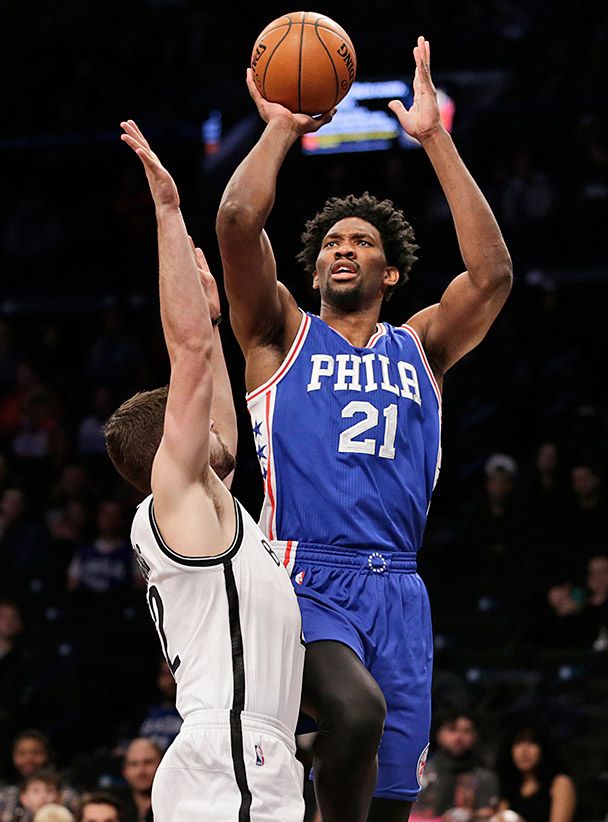 Joel Embiid was literally discovered walking down the street.
Nearly a decade after shepherding Mbah a Moute to America, Touomou, an international scout for the Pacers, had been tipped off by Embiid's uncle, who told him of his nephew's athleticism and rapid growth spurt-the teen was rapidly approaching 6-10. So Touomou gathered some extra-large workout gear and headed to Yaoundé to comb Embiid's neighborhood in search of his next protégé, where the 6-2 former Georgetown Hoya would find a much taller boy who was quickly won over by a pair of size 16 shoes.
Before 2011, Embiid's hoops experience had involved intermittent visits to his neighborhood court-a cement slab with spider web cracks and a sloping center circle. The rims were mangled from botched dunks, the sideline littered with trash. It was there that Joel would mimic Kobe Bryant's dismantlement of the Magic in the 2009 NBA Finals. Every time Embiid shot the ball, he exaggerated Bryant's freeze-frame follow-through, trilling "Kobeeee!" after each one.
Still, Touomou saw in person how tall the boy was and knew that elite volleyball aptitude meant quick feet and leaping ability. So he once again reached out to a formidable father. Thomas Embiid needed convincing that his son had a future in basketball, but Touomou had a new-and ultimately winning-selling point: Mbah a Moute's success.
Embiid trained with Moudio for three months, but on the first morning of Mbah a Moute's camp, he was still anxious. He put on his shorts, dressing to go, but stopped, paralyzed by the thought of competing in a game he'd barely played. "I was just worried I couldn't play with those guys," Embiid says now. "I still don't understand how Luc picked me. I sucked."
Moudio arrived at the complex and scanned the crowd. Embiid was nowhere to be found. The next morning, Moudio arrived at Joel's doorstop and discovered he had stayed home to play video games with Arthur instead. This time, Moudio escorted Joel to the camp himself, Arthur trailing not far behind.
---
It's now the second morning of Mbah a Moute's 2011 camp, and a jittery Embiid sets up in the post, just as Hakeem Olajuwon had done in the tapes Touomou had given him to review. The entry pass to him is woefully off target, but Embiid swallows it with one hand. He dribbles, spins, drop-steps, gathers himself and explodes to the hoop.
Mbah a Moute is seeing Joel Embiid play for the first time. He turns to his coaches. "How long did you say this kid has been playing?"
"I knew guys who had been in the NBA for years who couldn't do that," Mbah a Moute says now.
After the session, Mbah a Moute's cousin Francois approaches Embiid and asks the young man if he has a passport. Joel has been selected to participate in that summer's Basketball Without Borders, to be held in August in Johannesburg.
By September, just two months after the camp, Mbah a Moute has arranged for Embiid to go to Montverde Academy in Florida, where Mbah a Moute had gone just eight years earlier, 6,000 miles from everything Embiid had ever known. "I was a little afraid," Embiid says. "The only English I knew was 'Good morning.'"
Joel is not the only one at a loss. Arthur is so inconsolable upon learning his big brother is leaving that he refuses to go to the airport for the send-off.
Joel holds Arthur tightly before he leaves and promises to bring back gifts from America.
---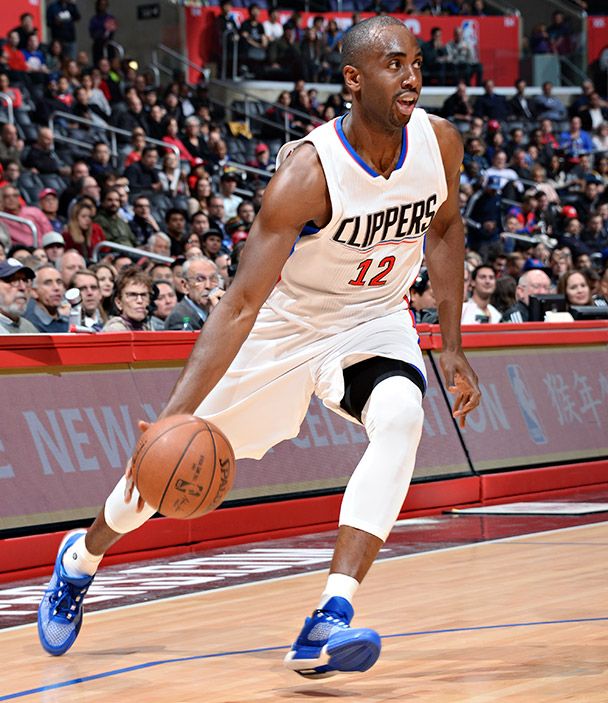 Luc Mbah a Moute sits at the table surveying the latest group of summer camp basketball candidates. His trusty sidekick, Arthur Embiid, plunks down next to him, offering a hilarious running commentary of each player. This kid can't jump! That one looks like a goat! This guy needs a haircut!
It is the summer of 2012. A year has passed since Joel Embiid left Cameroon, and he has not yet made his way home. Mbah a Moute returns for his camp every year, and though he never announces his arrival, Joel's kid brother always manages to find him. Arthur misses his brother and has designated Luc as his summer surrogate.
"Arthur was Luc's shadow," Thomas Embiid says. "He followed him everywhere."
"Luc!" Arthur would announce cheerfully. "I want to come to your camp!"
"You have to work harder," Luc would reply, grinning.
"Arthur was so funny-not scared," Luc says, recalling that summer. "He was very much a character."
"You'll see!" Arthur would tell Luc, punching his shoulder. "I will be in your camp next summer and I will be the best one, just like my brother!"
Back at Montverde, Joel is honing his English by listening to comedians and rappers. Rick Ross is an early favorite, and the cuss words in his lyrics, which Embiid learns to parrot, help endear him to his classmates. What they can't do, though, is validate his position on the squad.
"They were making fun of me all the time," Embiid says. "I couldn't catch the ball. Coach [Kevin] Boyle would stand back and tell them, 'You laugh now, but in five years you are all going to go to Joel to borrow money because he's going to be rich.'"
Embiid aches for the comforts of Cameroon. He lies when his mom calls, telling her everything is fine. He is close to 7 feet tall now, and recruiters descend, wanting to see for themselves if this Cameroonian kid is as explosive as they had heard. When it comes time to choose a college, Embiid leans on Mbah a Moute.
"I didn't even know what the NCAA was," Embiid says. "Luc talked to the coaches for me."
Embiid chooses Kansas and spends the summer in Lawrence working out with another newcomer, Tarik Black, a transfer from Memphis. One afternoon, as they alternate between the hot and cold tubs after their training, Embiid confides in Black that he has doubts about whether he has the mettle to see this basketball thing through. Black assures Embiid he will be an NBA star if he can just hang in there.
"But I was worried about him," says Black, now with the Lakers. "He was so far from home. This was a kid coming all the way from Africa who had no clue what he was getting himself into."
The two arrive together for the first preseason scrimmage, and Embiid is overcome with the same dread that enveloped him at Mbah a Moute's camp all those years earlier. The returning Kansas players pick teams. After playing together all summer, Black and Embiid are now pitted opposite each other.
The first time Black gets the ball in his hands, he shoves Embiid off the block and shoots over him. He misses but dunks the offensive rebound on his friend's head.
The 19-year-old Embiid is shaken. Following the scrimmage, he retreats to coach Bill Self's office.
"I don't belong here," Embiid tells him.
"Are you kidding?" Self replies. "You will be the No. 1 pick in the NBA in two years."
"I wanted to believe him," Embiid says now, "but I had been told all the coaches lie."
Self is off by a year-and a couple of picks. Embiid averages 11.2 points, 8.1 rebounds and 2.6 blocks in his only collegiate season and, on Mbah a Moute's recommendation, enters the NBA draft, where he is selected third overall by the 76ers.
Embiid moves into an apartment at the Ritz-Carlton in downtown Philadelphia. Fifty-eight days after he is drafted, the Sixers acquire Mbah a Moute.
---
Late in the afternoon on Oct. 16, 2014, Embiid is in his apartment in Philly, listening to Cameroonian music, when his phone starts jangling. It is his agent. Joel, despondent over a foot injury that will ultimately sideline him the next two seasons, doesn't feel like picking up, but his agent keeps calling, over and over again. When Embiid finally answers, he is given the worst news of his young life.
Arthur had been playing on the side of the road after school when a truck careened out of control coming down a hill. It struck Arthur, the agent says over the phone, and killed him.
Mbah a Moute arrives within minutes. General manager Sam Hinkie and coach Brett Brown soon join them, and the group stays up until the wee hours of the morning.
"Joel was on the floor bawling," Mbah a Moute says. "Really hurting."
The Sixers reach Joel's sister Laurence, who was studying at Rochester College, and immediately fly her to Philadelphia. She is there by nightfall, and the two of them grieve together, a world away from their devastated parents. Joel laments the time lost with his little brother. I should have found a way to spend more time at home. How could it be that I won't see him again?
"That day kind of traumatized me," Embiid says. "Now when I hear my phone ringing a lot, I can't really handle that."
Joel flies to Yaoundé for the funeral with his sister and Luc by his side. Camille and Agnes Moute, who had never met the Embiids, come to pay their respects.
---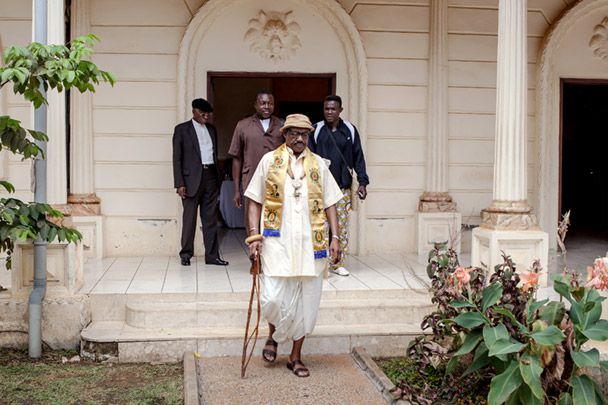 The sun is unrelenting on a recent Saturday afternoon in Yaoundé, but the kids who gather here at Club Noah are used to the heat. The club-named after Knicks center Joakim Noah's grandfather Zacharie, a Cameroonian patriarch of sport who played professional soccer and has supported Yaoundé athletics for decades-is pristine, with tennis courts, a swimming pool and a smooth cement basketball court. Only the wealthy can afford a membership here, but children are invited to play basketball for free.
On this March day there is a tournament in session, and attendance is robust, a trend, referee Paul Bofia says, that is a direct result of the efforts of Mbah a Moute and the success of Joel Embiid.
"It used to be 'Why waste your time playing basketball?'" Bofia says. "No longer."
The 2016-17 NBA season has been a mixed bag for Cameroon's basketball alums. Embiid's delayed rookie campaign was terrific but cut short by a meniscus tear; Siakam, whose 2012 stint at Mbah a Moute's camp launched his own hoops path that would take him to New Mexico State and then to the Raptors as a first-round pick in 2016, spent the final two months of the regular season shuffling between the NBA and the D-League; and Mbah a Moute showed well in the postseason, but his Clippers fell in the first round.
Embiid has not been able to go home since Arthur's funeral, but he is in the process of starting a foundation in his brother's memory for an orphanage south of Yaoundé. Since Arthur's death, his mother has stopped going out and visiting friends. She worries who will take care of her now that her two surviving children live so far away. Joel promises he'll visit soon.
The last time Joel talked with Luc, they discussed how to promote basketball in their country. They are kicking around the idea of doing a joint camp with Siakam. All three recognize the need to build on this burst of basketball popularity.
"Three of us in the NBA?" Siakam says. "When I stop to think about it, it's crazy."
The impact of their influence is palpable. Participation is rising in local schools and club teams. Mbah a Moute's coaching clinics have sparked a new generation of young basketball disciples eager to teach the game. There's a clear path now, created by Mbah a Moute, taken by Embiid and followed by Siakam. It can no longer be argued that "nobody plays basketball in Cameroon."
Ngaha Niriel, who is 12 years old, has been playing at Club Noah for seven months and wants to be an NBA star. He watches games all the time, he says. "We have potential in Cameroon," Ngaha says. "Just give us a chance."
Ngaha is wearing the red, white and blue of the 76ers. He says he hopes he can dunk by the time he's 16.
Today's young Cameroonian players no longer imitate Kobe's follow-through.
They all want to be like Joel Embiid.
MacMullan is an ESPN analyst who spent nearly 20 years as a beat writer and columnist for the Boston Globe. She worked on Sports Illustrated's staff from 1995 to 2000 and has written three books, including "When the Game Was Ours", which chronicled the rivalry of Larry Bird and Earvin "Magic" Johnson. MacMullan was recently named the first female recipient of the Curt Gowdy Media Award, given by the Naismith Basketball Hall of Fame for "outstanding career achievement in writing basketball.''