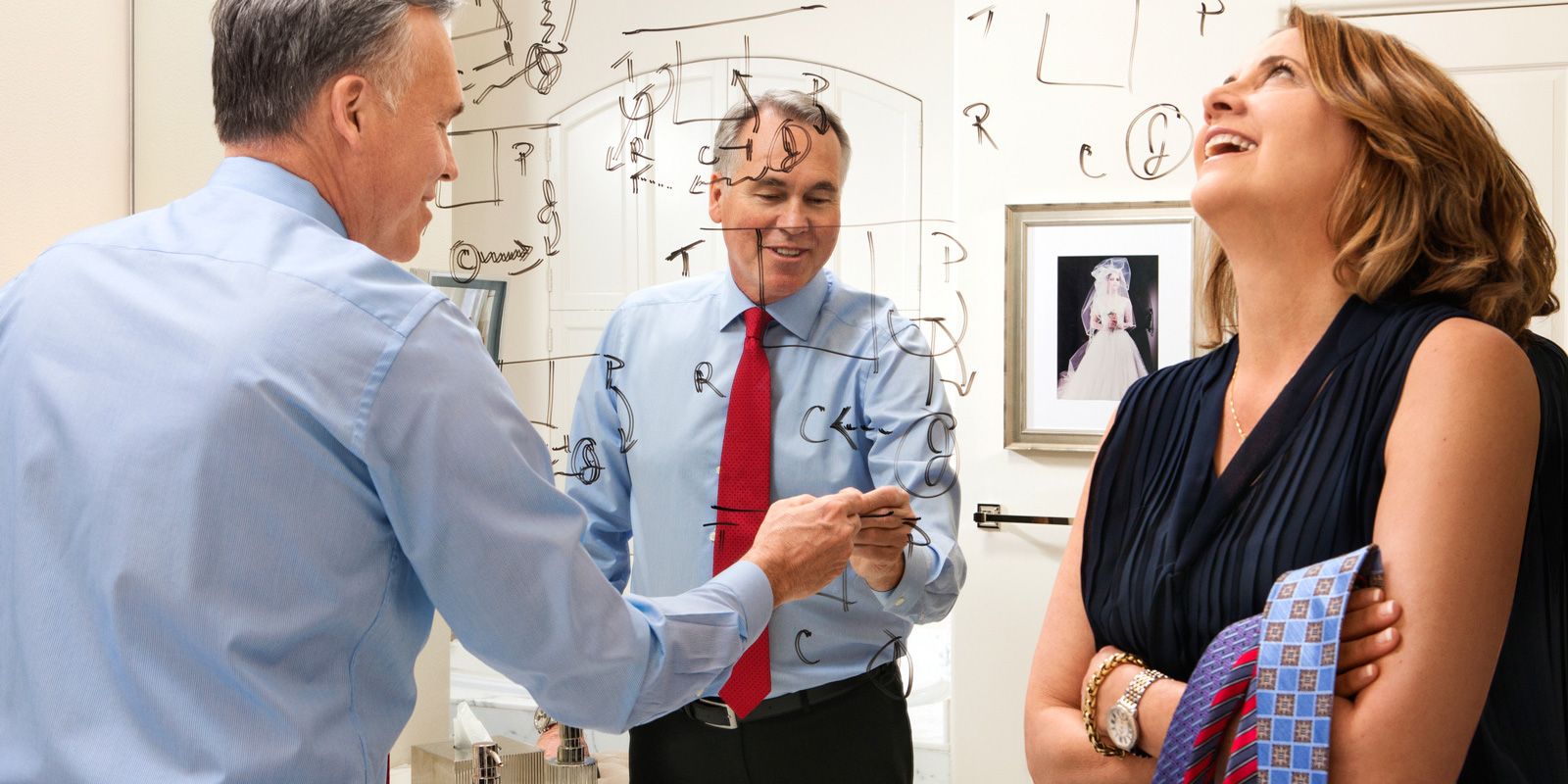 All Their Hoops And Dreams
No one in basketball is having more fun than Mike and Laurel D'Antoni, whose 31-year marriage has spanned continents, survived needy superstars and spawned the NBA's most revolutionary offense.
This story appears in ESPN The Magazine's May 8 NBA Playoffs Issue. Subscribe today!
Mike D'Antoni is sitting at his desk in his windowless office in Houston's Toyota Center, eating baked salmon and grilled vegetables an hour before a game. There is a crossword ripped from a newspaper on the desk to his right, and he alternates between his food and his puzzle, from fork to pen, left to right, like a military exercise.
The Nuggets are in town, and D'Antoni's Rockets are a win away from clinching the third seed in the Western Conference with a week left in the regular season. Mike's wife, Laurel, is sitting at a long conference table about 10 feet away. She drives to the arena with Mike three hours before tip-off for home games, talks to him in his office before and after, listens to his complaints and tries to find solutions to the interpersonal concerns endemic to an NBA team.
For now, with his team heading for a 55-win season that precisely nobody predicted, D'Antoni is content to quietly feed his brain and his body as tip-off nears and the ever-present '70s music breathes through the room. James Taylor is going to Carolina in his mind, and Laurel is talking about the importance of good teammates and good general managers and star players who buy into the system. Mike, now 65 years old, is calm, measured, casually hilarious, the undisputed champion of self-deprecation. He prefers to adopt a coach's default forecast -- cloudy, chance of doom -- but Laurel is the type who sees links and not gaps.
"He has coached in New York and Los Angeles -- the two biggest markets -- and Phoenix, Houston and Denver," she says. "He's coached two Olympic cycles. He's coached the NBA All-Star Game. He was coach of the year. What's he bitching about?"
"I'm not bitching," he says, looking up from his crossword. (It's true -- he hadn't been.) "I don't bitch. I know who I am: the Forrest Gump of basketball."
Laurel sighs and looks heavenward to accentuate her plight. She proceeds to bound from subject to subject, igniting the next one with the last one, always finding her way back to what she sees as her husband's general goodness. For 31 years, this has been a collaboration. Before their wedding ceremony, back when the guard from West Virginia was the improbable king of Italian professional basketball, Laurel persuaded him to put on a pair of basketball shorts so they could be photographed -- her in her wedding dress, him in his shorts and tux -- as her way of acknowledging what she had already accepted. "The whole idea was I'm marrying not just the man but basketball," she says. "I better be on the whole program with basketball because you don't survive unless you are."
They engage in good-natured arguments over just about everything. Before Mike was hired by the Rockets last May, one dispute revolved around the spelling of a word. Laurel can't even remember the word, but she remembers Mike's stubbornness. "He was convinced he was right," she says, "but I knew I was right." She proposed a bet: If Mike was wrong, he would have to shave his mustache. Mike, so convinced of his rectitude that he was willing to put his most famous physical attribute on the line, accepted the bet, and that's why Mike D'Antoni's mustache has a Twitter account but Mike D'Antoni doesn't have a mustache.
In a world where women are often spectral presences, Laurel -- eight years younger than her husband, a former fashion model in Milan raised in Washington state and Puerto Rico -- is most decidedly not, as illustrated by the Rockets "Staff" ID hanging from her neck. She is her husband's confidante, therapist, antagonist. He can tell her things he can't tell his players and coaches; she can tell him things others might be hesitant to say. After guard Troy Williams joined the team from the D-League, Laurel told Mike: "Make sure you call him by his name. Say, 'Troy, this is what I need you to do.' That makes such a difference." Many of D'Antoni's best qualities as a coach -- patience, humor, a refusal to scream and yell for the sake of screaming and yelling -- are infused with her advice.
When Mike was hired to coach the Lakers in 2012, Laurel was disappointed that many of the wives and girlfriends didn't know one another. She led them by the elbows until they were all going to lunch and organizing parties. When she saw that media members were among those allowed to mingle with the families after games, she told Lakers general manager Mitch Kupchak, "It's fine that you have media in there, but just so you know, I talk."
Behind the desk, Mike continues to alternate the fork and the pen, occasionally peering over his reading glasses to shoot Laurel a look.
"Look at him," she says. "He's worried about my filter."
"No, you've got that wrong," he says. "I'm worried about your lack of filter."
---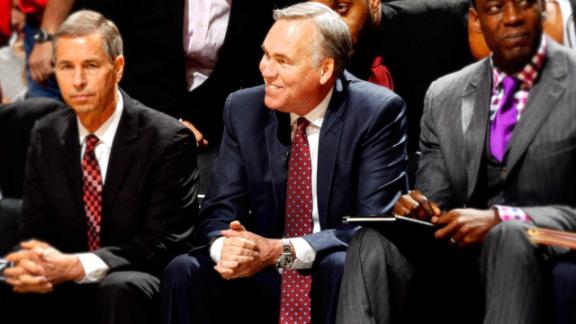 Mike D'Antoni, two decades into his coaching career, might be the most liberated man in the NBA. He's not worrying about his next job. He's not protecting a legacy, or trying to build one. In fact, his legacy plays out before him most nights, as one team after another shows up to display its version of his once-revolutionary offense. It's like he has spent more than half of this season coaching against himself.
The D'Antoni insurrection overthrew the slow, plodding power forward. It abolished post-ups and isolation plays. It decreed that the ball would be passed liberally and quickly, that shooting guards and small forwards and even so-called power forwards would henceforth be interchangeable, and that the rampant shooting of 3s would not only be encouraged but damn near required.
It was born of equal parts experience and exasperation. D'Antoni was coaching his third season in Italy, and his 1996 Benetton team had lost six straight after winning its first six. He was in trouble, and he figured he had nothing to lose, so he came to practice the next day and announced that his team would play the way he always liked to play.
His lead assistant greeted this epochal moment by screaming, "We'll all get fired!" The team won 19 of its next 21, and quietly, in a land an ocean away, the game changed.
"It's funny, because I was too extreme for Europe," D'Antoni says. "And when I came here, they figured, 'Oh, that must be the way they do it in Europe.' So I was an outcast in both places."
Houston, his fifth head-coaching stop, feels like a reincarnation. After winning at least 54 games in four straight seasons in Phoenix (2004-08), D'Antoni found difficulty and controversy with the Knicks and Lakers, teams dominated by superstars -- Carmelo Anthony and Kobe Bryant, respectively -- who proved resistant to the charms of D'Antoni's spread-share-shoot system.
The knock on D'Antoni's Suns teams, two of which won 60 games with Steve Nash at point, was simple: The system was cute, but it couldn't win a title. D'Antoni heard it so often and from so many directions, he started to believe it. In his final year in Phoenix, the team acquired Shaquille O'Neal, D'Antoni moved Amar'e Stoudemire from the 5 to the 4 and suddenly a Mike D'Antoni team looked like something Gene Shue might have coached in the '70s. "We blinked, and we shouldn't have," D'Antoni says. But history turned out to be on D'Antoni's side, and his influence is now so ingrained that Warriors coach Steve Kerr, who was the general manager of the Suns in D'Antoni's final year, said his 2015 NBA champions finished what D'Antoni had started.
Sitting in the great room of their 8,000-square-foot house on a recent spring afternoon, Laurel looks at Mike and says, "I'll tell you what your place in history is."
"Oh no you won't," Mike says.
Ignoring him, she says, "You enjoyed your job and did it responsibly. You brought your passion for basketball to other people." Mike, with an eye on MSNBC, chuckles at this as Laurel continues. "Wherever you coached, we had a good time, we liked the community and the organization."
"I think we're talking more about the evolution of the game, babe, and the way we play," Mike says.
"Well, 'cause it's fun, then," Laurel says.
"Or," he says, "I was just the one stupid enough to say I'm going to do it."
Laurel gives him a disapproving look and sighs. "He's wicked smart, he just doesn't show it. He likes to play that hick role, just a guy from West Virginia, but don't believe it."
---
There were 11 head-coaching gigs open after last season, and D'Antoni, then a Sixers assistant, expected to get one of them. "If I don't get a job then," he says, "when do you think I'm going to get one?" The one he got comes with an owner, Leslie Alexander, who has always admired his style of play and an analytics-based GM, Daryl Morey, who says, "Mike's the first one who is a full partner on melding the information we have with his incredible expertise."
It's a dream scenario for D'Antoni. There's the four-year, $16 million contract, the beautiful house 15 minutes from the arena and, to this point, the rarest of all situations: a team whose owner, general manager, coach and star player -- James Harden -- exist on the same wavelength.
"It's a joke," Laurel says. "It's not real life."
"This is the first year I've been able to read a book," Mike says. "Before, when I got into the season, I couldn't concentrate because I was thinking about the team. Not anymore" -- he laughs -- "not anymore. Now I'm reading books, I'm watching my political shows, I'm sleeping. The assistants are all working, and I wake up and say, 'Aren't you guys done yet?'"
But is he coaching better?
"For sure," he says. "I don't have any restraints. I'm not worried about pissing anybody off. I'm not worried about my next job. I told the players, 'You can do it this way or do it the way y'all want to do it. I don't care. This way will work. Y'all's way is not going to work, so figure it out. If you want to have a bad season, have a bad season.'"
"You didn't really ..." Laurel says.
"Oh yes I did. I told them at the beginning of the season: 'Hey, I just want to win. We've looked at film and film and film. This works. If y'all got a better idea, tell us and we'll do it. But I'll tell you right now, what you're doing doesn't work.'"
The look on Laurel's face suggests she would have advised against such a speech.
"Who laughs at that?" she asks.
"We all laugh at that."
By now, Laurel has taken over the interview. "Do you think your work environment is happy?" she asks.
"I think so. That's the most important thing. I was talking to Eric Gordon today, and he said, 'You know what? This year's been great.' He's had fun all year, and it went by so damn quick. Our job is to keep it simple, and their job is to buy in. And they are. I need to have them see that if they do it this way, then this happens. Then it's fun."
His first decision as Rockets coach was to tell Alexander and Morey that he was moving Harden from shooting guard to point guard. "They didn't know exactly how it would work," D'Antoni says, "but they felt it could." His next decision was to call Harden and tell him, in so many words, that he wanted to turn him into Steve Nash. "Thank god he made that transition," D'Antoni says.
Harden's season -- he led the NBA in assists and was second in scoring -- has proved D'Antoni right. Against Denver, with the game hanging tenuously, Harden stood above the top of the key and did his quadruple stutter step before drilling a 3 that put the Rockets up 106-101. Laurel, sitting eight rows above the Rockets' bench, said, "That's why Mike can sleep at night."
The decision to move Harden to the point was the start of a fruitful relationship. Harden, his air of impenetrability as thick as his beard, calls or texts D'Antoni after most games. Two nights after Harden's decisive shot against the Nuggets, the Rockets lost a desultory, meaningless game to Detroit. Worried that D'Antoni was mad at the effort -- and boy, was he -- Harden called his coach about an hour after the game to reassure him that everything would be buckled up for the playoffs.
After all these years, D'Antoni has a soft spot for guys like Harden: great players who are willing to give up pieces of themselves for the greater good. He's also partial to unheralded guys who have overcome ridiculous odds, like Patrick Beverley, who got his professional start in unheated gyms in Ukraine. But there's nothing D'Antoni loves more than a good story, which is why ex-Rocket Corey Brewer will forever have a place in D'Antoni lore. Early this season, Brewer, who was traded to the Lakers in late February, took a pass on the baseline, drove, spun, shook two defenders with a 360 and missed a point-blank shot at the rim. "Coach, I did my thing," he told D'Antoni, "but then I got to the rim and just ran out of talent."
"Ran out of talent," D'Antoni repeats. "Best line in the history of basketball."
---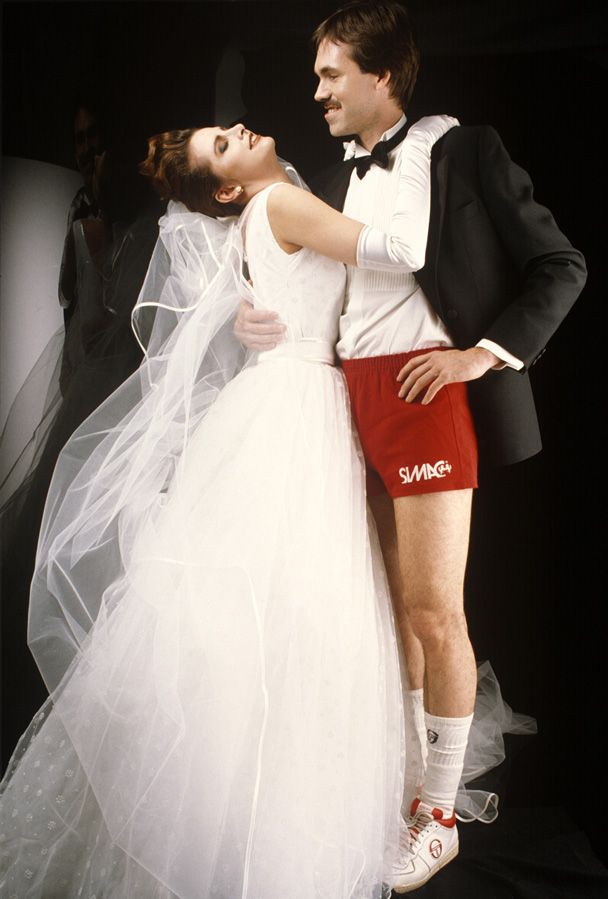 Laurel's favorite moment of every game comes at the end of halftime, when the teams return to the court and the business of renewing acquaintances overtakes competition. During the Rockets' second-to-last home game, as the Pistons drift back onto the floor, she points to Ish Smith, who played in Philadelphia during D'Antoni's five-month stint there last season. Smith and D'Antoni meet in front of the Rockets' bench, and Laurel says, "Now Ish is going to ask Mike if I'm here, they're both going to look up at the same time, and Ish is going to wave." When each step happens, a second or two behind her narration, she laughs and says, "What did I tell you?"
Mike and Laurel have moved 13 times in 31 years, and Laurel is like a player who targets teams that bypassed him in the draft: She has a list. She's sort of/kind of joking when she says she wants her husband to beat Denver by 100 because of the way he was fired from his first NBA head-coaching job in 1999. Mike thinks it's a funny story-the guy who fired him from the Nuggets was trying to buy the team, but the sale fell through. "Guy didn't even own the team and fired me," he says. Laurel fails to see the humor. "Mike can forget," she says. "I can't."
In New York in 2012, after Anthony said the team needed to choose between him and D'Antoni, Mike made it easy.
"I just went in and quit," he says.
"Don't say 'quit,'" Laurel says. "I hate that word. You resigned. You walked away. Mutually walked away."
Mike rolls his eyes and turns to me.
"I quit," he says.
Laurel keeps shaking her head. She has her opinion of what went wrong in New York. And Denver. And Phoenix. And Los Angeles.
"And if it doesn't work here, I'll just walk away," Mike jokes. "That's what I always do."
Laurel doesn't like this answer, even if it's clearly meant to agitate her.
"I've got a motto," he says. "When the posse's chasing you out of town, you just act like you're the head of a parade."
For now, D'Antoni is leading the parade. Beverley says D'Antoni is the first coach he considers a father figure. And he calls Laurel "Mama." After practice on the day between the Denver and Detroit games, D'Antoni is finishing lunch in the cafeteria when Beverley summons his most parental tone.
"Coach, you be sure to get your rest tonight."
"Oh, I sure will, Pat," D'Antoni says. "You know me."
About two hours before the Nuggets game, second-year forward Sam Dekker arrives in the office with his left arm wrapped to the elbow after surgery to repair a broken hand. He tells Laurel and Mike how it happened and how his reaction caused everyone to think he "got hit in the nuts."
Mike says, "Let me tell you about one of my first NBA games."
It was 1973. He was playing for the Kansas City-Omaha Kings, against the Bucks, and he got his hand caught against Lucius Allen's body as he tried to bust through a pick. It hurt like hell, so he left the arena and took a cab to the hospital in his sweats, alone -- you see how much has changed, Sam? -- to find out his hand was broken. From there, he had to get to the airport, and he didn't have any more money ...
D'Antoni tells the story, slow and easy, the West Virginia in him pulling every word like taffy. Dekker tries to keep focused and show interest, this story already way more than he expected when he walked into the room to say hello and show D'Antoni his hand.
... so D'Antoni got in a cab not knowing how he was going to pay, just knowing he couldn't miss the plane. He was lucky enough to arrive at the airport just in time to see a couple of his teammates. "Hey, you got any money?" he yelled at them from the curb.
D'Antoni laughs, and Dekker laughs a beat or two later, and D'Antoni tells him, "You'll overcome this."
There's a pause.
"I ended up in Europe," D'Antoni says, "so maybe that wasn't such a good story."
Dekker leaves, a little mystified, not sure whether the story was meant to be funny or cautionary, and Laurel asks me: "Why do you think Sam came in here? He came in here just to show Mike his owie. These guys are like his kids."
---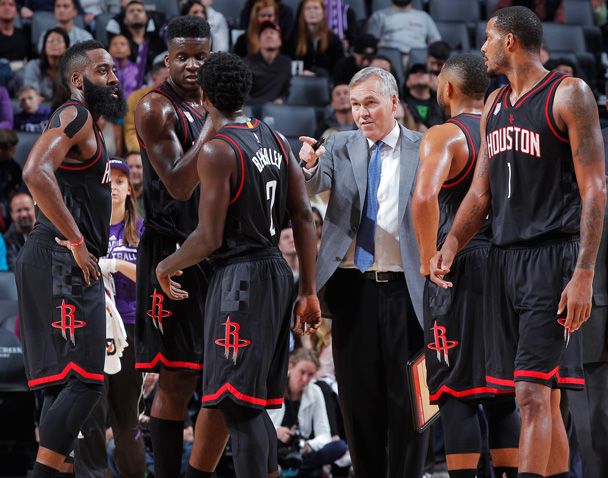 On the night of the salmon dinner, after Harden hits the 3 to give the Rockets their 53rd win, something doesn't feel right. In his office, D'Antoni grabs a marker from the cup on the table and takes to the wall, which is a floor-to-ceiling whiteboard. In the background, Hall and Oates are imploring Sara to smile awhile. Every other coach and player has gone home.
D'Antoni says he knows everything's OK with this team, but he repeats that sentiment often enough to indicate he might not trust it. With the playoffs looming, he can't help but worry about chemistry and egos.
He pops the cap off the marker and draws a triangle with the point facing up. "This is the player's viewpoint," he says. He points to the peak and writes "player" next to it. At the wide base of the triangle, he writes "team." To the player, the individual is at the top of the triangle, the focus, the pinnacle. Self-preservation is vital. The team, down there at the bottom, is less important.
He draws another triangle with the point facing down. "This is the coach's viewpoint," he says. He writes "team" across the wide flat top and "player" at the point facing down. To the coach, the team is at the top of the triangle, the focus, the pinnacle. Communal preservation is vital. The individual, down there at the bottom, is less important.
The triangles are presented in a basketball context, but the top-down triangle is why Laurel and Mike have been married for more than 30 years. The message echoes a sign in the D'Antoni kitchen that bears an Italian proverb, the last thing they see as they leave and the first when they return:
When the game is over

The king and the pawn

Go back in the same box

It's cave-quiet until Laurel asks, "What do the players think when you show them the triangles?"
"They think it's cute," he says.
He caps the marker, tosses it on the table and sits down. He says he's probably worrying for no reason, and Laurel agrees. It's time to go home, but not before he takes one more look at the whiteboard. Flipping that triangle in the minds of his players -- getting them to see the game the way he sees it -- is the fundamental conflict of his professional life.
Still, all of this feels like a rebirth. He can joke about the naps and the book reading and the do-whatever-you-want speeches to his players, but he can't imagine letting any of it escape without a fight. To land in such a perfect spot, to have such open-minded buy-in from his best player, to have such great relationships with his guys that they call him after games and show him their owies and tell him to make sure to get his rest -- well, it's beyond the D'Antonis' wildest hopes. A lifetime in the game comes down to this, one more chance to flip the triangle. And now, for the first time, he's old enough and wise enough to see this for what it is: a gift.
Keown is a senior writer for ESPN The Magazine and a columnist for ESPN.com.