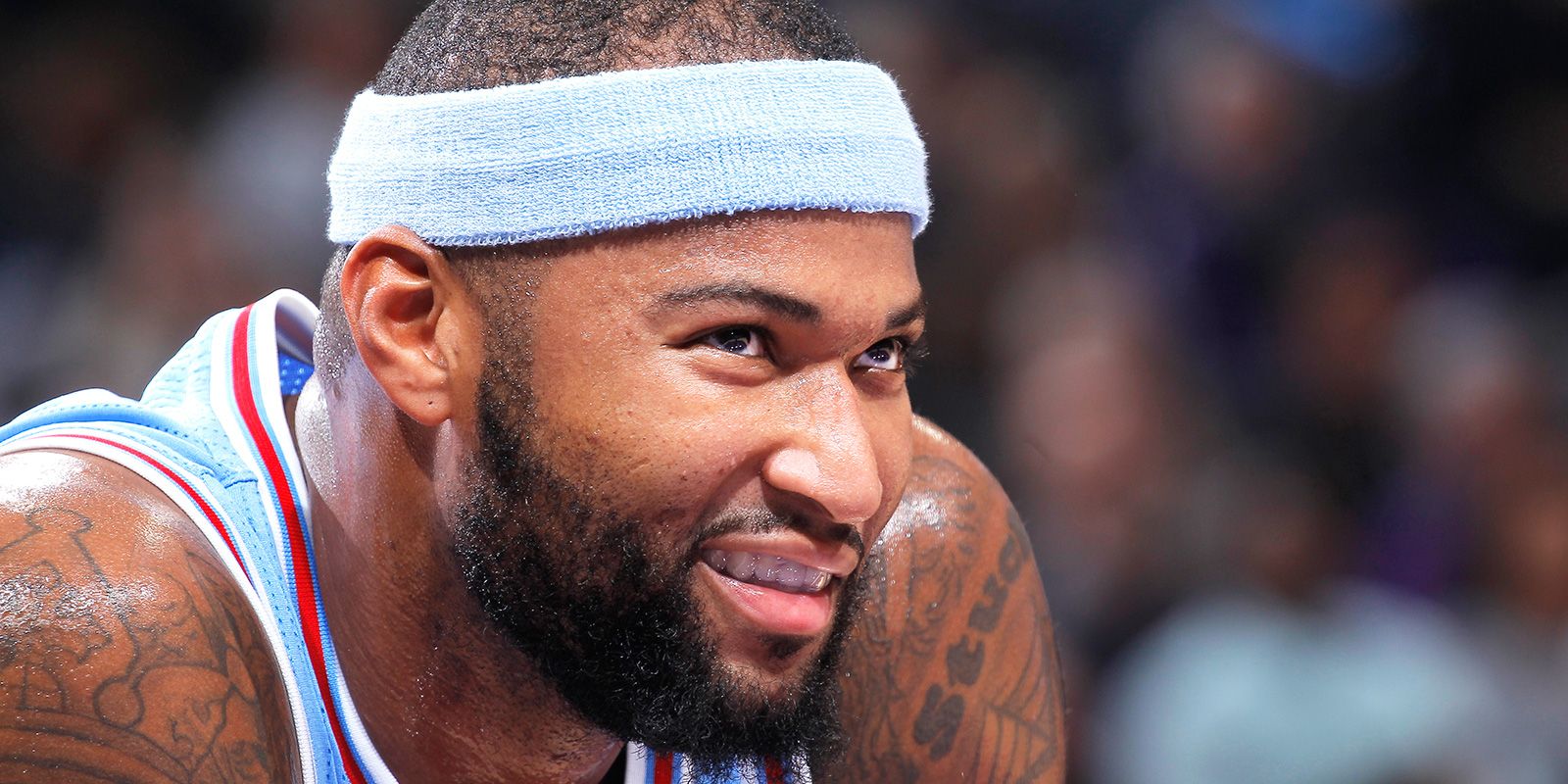 The Madness of Kings
He's the most volatile player on the NBA's most dysfunctional team. But is DeMarcus Cousins undoing Sacramento, or is Sacramento undoing Cousins?
Part I: The problem with DeMarcus Cousins
A white towel clings like Saran Wrap to DeMarcus Cousins' nearly 300-pound body as he makes his way from the shower into the Kings' locker room. It's an hour after the final buzzer, and most of his teammates have long vacated the arc of wood-paneled lockers. Cousins' stall is at the end; beside it, a pyramidal mass of reporters and videographers huddles in wait.
On this December night, the Kings trounced the Lakers 116-92, with Cousins' 16-point third quarter tilting the game in Sacramento's favor. But whatever pride he's taken from the performance -- what it says about the body of work he's assembled in his seventh season, what it portends for the Kings as they prepare to hit the road just two games out of the playoffs -- all of that is now secondary. Among the reporters stands Sacramento Bee columnist Andy Furillo -- leather jacket, baseball cap atop strawberry hair, rimless glasses. Before Cousins even finishes toweling off, he engages Furillo, the author of an opinion piece lambasting Cousins' choice of New York City nightlife venues the prior week -- a piece that cites an earlier incident at a Tampa club in which Cousins' brother, Jaleel, was tased and arrested.
The confrontation begins. Cousins wants to know whether Furillo knows Jaleel. He doesn't. Then why would Furillo mention him in the column? Furillo replies that the altercation was relevant. Moreover, there's a published video that captures it, and DeMarcus was there. Cousins suggests Furillo is simply out to criticize him. Then it escalates.
"You're a coward," Cousins says. "You're a f---ing coward. You're a coward."
"Why would you say that?" Furillo answers.
"Because you are."
"Bulls---."
Meanwhile, less than 3 feet away, Kings guard Garrett Temple stands, offering his impressions of Cousins' extraordinary season. "His skill set offensively is something I've never seen before," Temple says, "being able to score from the perimeter the way he can, obviously in the post, the way he can shoot the ball, his touch, his understanding of the game. He can pass; he can do a combination of things I've never seen a center do, or a power forward, honestly. He ..." Temple's testimonial trails off as he strains to hear what's simmering behind him -- where Cousins now towers over Furillo -- before he stops talking and looks over his shoulder.
"You sit here hiding behind a f---ing computer screen," Cousins is saying, "talking s---, articles and all this other s---."
"I am not hiding."
"You are a f---ing coward."
"I am not a coward."
A lot can happen in a 3-foot radius, and this one contains multitudes. It's a life-size diorama of the Enigma of the Kings, who employ, in Cousins, one of the game's top talents -- and its most temperamental. And so it is that Temple finally decides to step between Cousins and Furillo, placing a hand gently on Cousins' torso.
"You ever talk about my f---ing brother again, we are going to have some real f---ing issues," Cousins says. "Don't ever mention my brother again. You don't know my f---ing brother." And then, as Cousins retreats to his locker, Temple, sensing the storm has passed, returns to the discussion of his teammate's basketball genius, opening his mouth to speak ... just as Cousins confronts Furillo again. "You can say whatever the f--- you want to say about me, but don't mention my motherf---ing family."
To Cousins, the piece in question is a cheap shot, yet another in a long procession of takedowns about his work ethic, his weight, his judgment, his attitude. And in the ensuing days, after the Bee's executive editor defends Furillo by suggesting that he "held his ground" against Cousins because the veteran journalist had experience being shot at by rioters in Los Angeles, Cousins will be blown away by the connotations. Who am I in these metaphors, exactly?
But back in the moment, when asked what the explosion he just helped defuse says about Cousins, Temple sighs. "I've only been here for two months, so I really don't know that much," he says. "But I'm trying to figure it out. He's a very emotional guy. That's one thing I've realized."
If Temple is struggling to figure out Cousins, he's hardly alone in the pursuit. There's a tantalizing question about the Kings' franchise star, and its answer might well determine his future: Is Cousins' madness at the heart of the Kings' dysfunction -- or is the dysfunction of the Kings driving Cousins mad? To answer it requires a return to 2014. It was then, sources say, that so much went wrong.
---
IT'S AN AFTERNOON in early 2014, midway through the season, and Mike Malone, first-year coach of the Kings, is conducting a particularly brutal practice. Malone was hired by the Kings the previous June, and Cousins has experienced practices like this before. "Mike has his days," Cousins says. "You've seen him on the sidelines, veins popping out of his head ... overly frustrated, mad at the world. This was one of those days."
Cousins is having one of those days too, dead tired from what seems to have been an almost intentionally sadistic practice. And when Malone yells at the team to line up to run sprints, Cousins turns defiant: "F--- this, man. I'm not running!"
And then, as Cousins recalls, "every bit of 5-9 Mike Malone comes up to me and says, 'Motherf---er, you're going to run or you're going to get the f--- out of my practice, you big p---y!' And I say, 'I ain't running, Mike!'"
Malone promptly shows Cousins the door.
Nearly three years later, Cousins shares the story with the affection you'd expect from a retired player reminiscing about his youthful fury. He's neither proud nor embarrassed. But it's an incident he cites as evidence that there can be accountability and friction in the NBA, that a player can be both insubordinate and not a terrible person, that a coach can be tough -- even hysterical -- but fair.
Cousins, at the time, was a 23-point, 12-rebound center with a reputation for petulance, playing, perhaps not coincidentally, for his third coach in four seasons. Malone, though, appeared to have located Cousins' escape key. "There were days where we got into it, but I think at the end of the day, he always knew that I cared about him and I loved him," Malone says. "It was never personal. Once you earn his trust, he'll go to war for you. I think pretty early in our relationship I earned his trust."
Trust. Virtually everyone who's had an association with Cousins -- coaches past and present, teammates, Kings execs, his agents, journalists, even nonprofit directors -- calls that the key to unlocking the riddle. Being a member of Cousins' "trust circle," in the words of a former Kings assistant, is the great Rorschach test that determines how you see Cousins -- as a manifold, deeply emotional, bighearted man full of contradictions or a volatile, needlessly aggressive bully who is accountable to no one or nothing -- not even his immeasurable talent.
Malone, now the coach of the Nuggets, declares himself squarely in the first camp. "I think he's very coachable, and I loved my time with him," Malone says. "I always wonder what might have happened."
What actually happened was this: In fall 2014, the Kings started the season 9-6, with Cousins playing the best basketball of his life -- tallying career highs in points and rebounds and a phenomenal net rating of plus-14 for the month of November. For the first time since Cousins was drafted, Malone and his staff were beginning to believe that a sense of order had been established. Cousins still required maintenance, but the cues were now mutually recognized. Malone was a red-assed tyrant, but Cousins says he loved how Malone's anger was always situational, never personal. "Mike was real," Cousins says. "Mike held everyone accountable, most of all himself. That's all that matters. That's all it's about."
If the Kings were enjoying a newfound sense of progress and morale, though, word of that apparently never filtered up the chain of command to majority owner Vivek Ranadive, who among other desires was determined to see his team play at a faster pace. (Worth noting: It was also during this time that Ranadive wanted Sacramento to experiment with playing 4-on-5 defense, leaving one King on the other end to cherry-pick for baskets.) According to sources, ownership felt Malone was being obstinate about his conviction that the Kings needed to adopt a style more oriented to the half court.
Then in late November, Cousins fell victim to viral meningitis, which coincided with the team's losing eight of 10 games. In mid-December, sources say, Cousins was on his way to a "Santa Cuz" gift giveaway at a Wal-Mart near Sleep Train Arena when he was asked to drop by the executive offices. The team wanted him to discuss an urgent matter with Ranadive and the Kings' GM at the time, Pete D'Alessandro. Those with knowledge of the conversation say Cousins was told by Ranadive that the Kings would win substantially more games with assistant coach Tyrone Corbin at the helm. Cousins replied by asking the owner, in somewhat colorful profanity, if he had taken leave of his sanity. When he then asked the brain trust about the timetable for its verdict on Malone, he was told the decision had already been made. Sources say Cousins then responded by asking why he'd been diverted from a charity event for a matter that had clearly been resolved without his input.
---
IT'S JANUARY 2015, a few weeks after Malone's firing, and new coach Corbin is presiding over a film session. The team has fallen off a cliff in recent games, and Corbin has cued up a selection of video clips of the team's defensive errors. Much of Corbin's attention is focused on the Kings' porous half-court defense, and Cousins is receiving heavy billing. After a few short minutes, Cousins jumps up.
"Why don't we play film of all of this motherf---er's mistakes?" Cousins shouts to the room, according to a then-teammate, pointing at Corbin. Corbin tries to explain that there's no intent to single out any one player's mistakes. Their recent performances, he says, have been teamwide failures. But Cousins is inconsolable. "Show 'em!"
Teammates don't intervene. Corbin again urges Cousins to calm down. Cousins instead walks out of the film room and doesn't return. When asked about the episode nearly two years later, Cousins confirms it -- as well as his regular insubordination toward Corbin in practices, huddles and meetings.
"I feel bad for Ty Corbin," Cousins says today about the interim coach who would compile a 7-21 record before being replaced. "We all knew the situation he was put in. That was just a frustrating period for everyone, to start the season the way we did. We finally were on the right path. I truly believe we would have been a playoff team. I was in a bad place. It was never an issue between me and Ty Corbin. He's a great guy who was put in the worst situation possible -- the worst."
Just before the All-Star break, the team hired George Karl, a basketball lifer who'd won 1,131 games before arriving in Sacramento. Karl's high-octane, read-and-react offense was well-suited to the present-day NBA. But he was also one of the most cantankerous characters in the game, one who routinely, and publicly, clashed with his biggest stars. If ever there was a coach who had the potential to exacerbate Cousins' trust issues, it was Karl. To compound problems, sources say, Cousins was assured by management that Karl wouldn't be hired, despite rumors to the contrary.
For the next 14 months, Karl and Cousins staged public warfare. According to multiple sources who played for and served on the staff of the 2015-16 Kings team, Karl regarded Cousins as the most disrespectful person he'd ever encountered in basketball. He was bewildered by the Kings' unwillingness to lead a coordinated front to discipline him. To Karl, Cousins' behavior was sucking the franchise's entire reserve of energy -- affecting the performance of the entire roster.
"Our coach came to me last season," says Kings GM Vlade Divac, "and we had some issues [with Cousins], and he said, 'Why don't you just fix it? You do this. Fine him.' You can't just fine any guy. That's the easy way. You talk to the kid first. You give him a chance to do the right thing. Second phase is fine them as a warning. First time, you talk."
Exacerbating the situation -- and further proving the depths of the Kings' dysfunction: In February 2016, Divac called Cousins in Philadelphia, where the Kings were on an extended road trip. The organization, Cousins was told, was going to fire Karl that day. Karl ultimately would not be fired until April 14, more than two months later.
Karl, under contractual obligation to not disclose any information about the workings of the team, declined to discuss the Kings for this story. Cousins likewise declined to address his relationship with Karl, offering only, "I wish George the best." But sources with knowledge of Cousins' thinking say there was very little the All-Star liked about Karl and his approach, from how Karl promoted his candidacy for the job in the media to his insistence that the modern game has no place for a player with Cousins' size and skills. (Indeed, Karl saw Cousins as the quintessential plodding half-court player who didn't conform to a more improvisational game in which the element of surprise can overwhelm defenses, a template that had worked for him in Denver.) And while Karl might have felt Cousins' behavior was unprecedented, Cousins couldn't recall a precedent for a sitting NBA coach campaigning through the media to trade a team's most productive player, as Karl famously did in June 2015. Above all, unlike Malone -- and now Dave 
Joerger, hired last spring to replace Karl -- criticism of Cousins by Karl seemed to be personal, less about the work and more about mind games.
"In a way, they deserved each other," a Kings source says. "Unfortunately the rest of us didn't."
---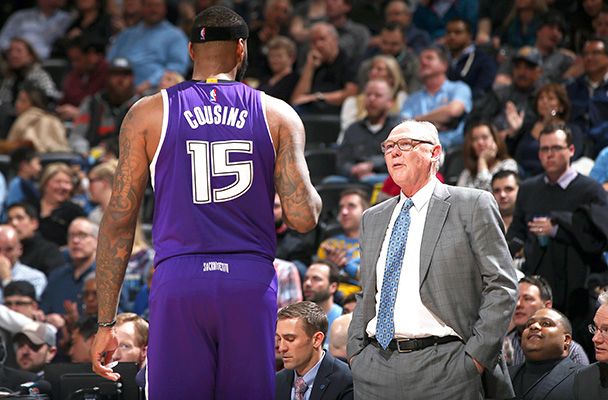 IN A CONFERENCE room inside the Mandarin Oriental Hotel in Las Vegas in October, a few weeks before this season, referee Bennett Salvatore is briefing the Kings on the NBA's points of emphasis with regard to officiating. It's an annual rite for each of the 30 teams, and Salvatore opens the session by letting the players in attendance know that game officials appreciate an open line of communication. Refs care about getting the calls right, he says. If you have concerns, we want to hear them.
"This is bulls---!" Cousins yells at Salvatore. "They don't want to listen!"
"Take a deep breath!"
"No, you take a deep breath!"
A source who attended the session says 14-year veteran Matt Barnes has been the teammate this season most likely to talk Cousins down from the ledge -- but today, in this conference room, nobody intervenes. This one is just too loaded.
Of all the issues that have plagued Cousins over his career, his relationship with officials is among the most exasperating -- to Cousins, to his coaches, to the NBA. Since he entered the league in 2010, Cousins has amassed 107 technical fouls, 24 more than Russell Westbrook, who ranks second. Last year Cousins was the only player suspended for eclipsing the threshold of 16 technicals in a season.
From Cousins' perspective, it goes like this: In the captains' circle, prior to opening tip, officials tell players that if there are any questions during the game, addressed in an appropriate manner, officials are happy to answer them. "First quarter, I come up to a ref," Cousins says. "He says, 'I don't want to talk.' You call their name and they ignore you. Their issue is, 'You have to respect us.' My whole issue is, 'You guys feel like you're above us.'"
League executives say they have pleaded with Cousins in meetings and over the phone, but each technical seems to enhance his martyrdom. Compounding Cousins' frustration is his perception that the more he puts up superstar production, the less he's officiated like a superstar.
"If you want to be respected, you have to respect us, regardless of which team is playing, which superstar is on the floor and which superstar is not on the floor," Cousins says after a game in December. "The top players in the league scream at the referees. I don't have to explain, because you see it. Then, myself, tonight I'm just standing there and I get a tech. It's not an equal balance. Of course, I have my personal struggles with the referees. I know that."
---
FOR THE SACRAMENTO front office, taking inventory of basketball assets naturally starts with the All-Star center, who is under contract through the 2017-18 season. When asked to characterize the Kings' plan -- be it keeping the roster intact to make a run for the postseason, blowing up the roster with the exception of Cousins, blowing up the roster starting with Cousins -- Divac and assistant GM Ken Catanella demur at anything definitive. "We're in the information-gathering stage," Catanella says about the general direction in Sacramento. "Right now it's about getting the machine up and working." Still, sources with intimate knowledge of the Kings say Ranadive won't entertain the prospect of dealing Cousins.
But an asset as valuable as Cousins requires constant due diligence by NBA front offices. One such team meets from time to time to view game film of Cousins, and those watching are tantalized by what they see -- the agility combined with force, the soft touch, the capacity to either bully or dance around any profile of defender, big or small. Yet each time they evaluate whether it's worth mobilizing the organization's assets to make a push to acquire Cousins, they return to the same dilemma.
When this front office breaks down a Cousins game, it invariably finds half a dozen possessions per game when he sabotages the Kings. Sometimes it's not getting back on defense because he has overdramatized a fall on a drive. Sometimes it's an ill-advised shot early in the possession whose only explanation is acting out against a noncall or an incorrect call. Sometimes it's a missed opportunity for a teammate because Cousins has clearly broken off a play.
This team needs no further persuasion on Cousins' skill set. It's reasonably assured he's a good-hearted person who has manageable behavioral issues that fall within the bounds of the normal human experience. But it's not sure it wants to pay the Cousins tax -- that 6 or 7 percent of possessions that not only take a team out of its offensive or defensive rhythm but whose negative outcomes can crush its collective spirit.
One general manager says he wakes up every day hoping one of his rivals trades for Cousins. Another says "No f---ing way" when asked whether he'd ever consider dealing for him.
The question, at least for now, is no more than a hypothetical, as it was reported on Jan. 10 that Cousins intends to sign an extension with the Kings for in excess of $200 million. But a teammate of Cousins' last season believes it remains the fundamental problem for any team on which he's the featured talent. Every day at work in Sacramento -- every practice, every play, every film session, every huddle -- has the potential to be a collective exercise in managing Cousins' emotional fiber, and the NBA season is simply too taxing for a team to take that on. "Nobody calls him out," the former teammate says. "It's an ongoing thing. Nobody holds him accountable, and nobody ever has. Sometimes we looked around when he was going at it, and everyone was thinking, Who's going to stop this?"
By the account of this player, who's still close to several people on the team, along with the account of virtually every other source who spoke about him, Cousins has improved in this regard this season, even pricing in the high-profile incidents. "I'm not saying [Cousins] is perfect," says a teammate who requested anonymity. "But none of that stuff you heard about with George happens this year."
And then there exists one more possibility -- that none of us knows the real DeMarcus Cousins at all. And if there's evidence for that notion, it resides in the testimonials from those in the Kings' locker room and front office about the constant but quiet nature of Cousins' charity. One Kings exec notes that the PR department has tried on more than one occasion to get Cousins to be more vocal about his good deeds in the community. Case in point: In fall 2015, Cousins tried to keep quiet the news that he covered the funeral expenses for a slain local high schooler -- but word of the donation was leaked by a city councilman who felt Cousins should be recognized.
"That act was not done in any braggadocious way and wasn't done with any press release," says Derrell Roberts, who runs Roberts Family Development Center, where he says Cousins is "quietly" supportive. "You can tell the difference between the person whose PR person sends you a press note or suggests how you might want to orchestrate the event. That's not DeMarcus."
Or consider the awkward moment at the conclusion of the news conference when Cousins signed his contract extension in 2013. The event had appeared to be wrapping up. Ranadive and D'Alessandro, on either side of Cousins at the dais, had risen from their seats. But just then a Kings public relations rep approached and whispered something to Cousins. Ranadive sat back down. And Cousins, now more than 13 minutes into the news conference, sheepishly announced that he was donating $1 million over the course of the contract to family and community organizations in Sacramento -- something he'd intentionally omitted in his initial statement.
When told, years later, that it's standard operating procedure for agencies and teams to send out press releases and take a bow when they perform charitable acts, Cousins responds, "It just shows you how fake this f---ing league is. Everything is about, 'How can I make myself look good?' This isn't a pure-hearted league, and there aren't a lot of pure-hearted guys. I wasn't raised that way. My mom would kick my ass if I helped someone across the street and said [handing over his phone], 'Here, record this.'"
---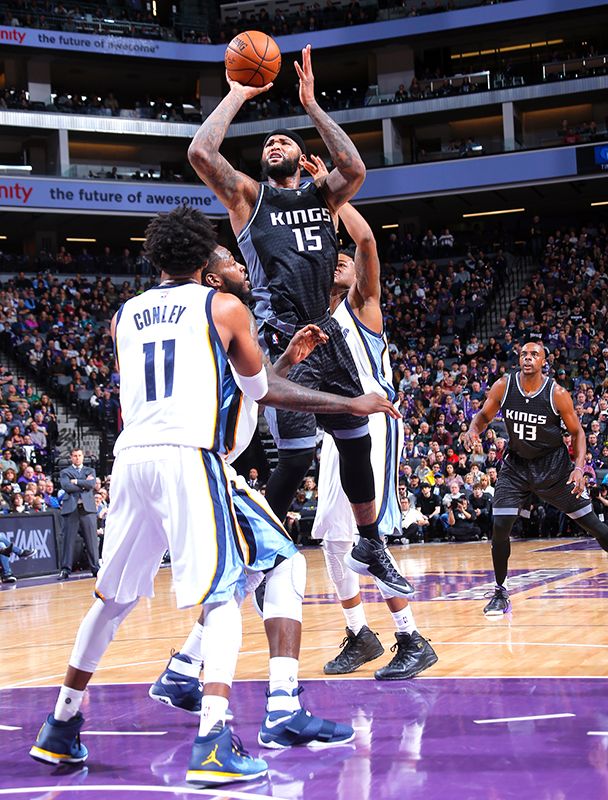 FOR EVERY RECENT teammate who has observed Cousins throwing outlandish tantrums, there is another teammate who will share a kind gesture Cousins made toward that player's mother. For every coach who believes that Cousins is a victim of Sacramento's circumstance, there's another coach who says he'd fight his general manager on pay-per-view if Cousins ever landed in his locker room.
This much everyone agrees on: DeMarcus Cousins is the best big man alive with regard to raw talent. And there's a collective acknowledgment that this team would be nowhere without Cousins' dominance this season. Through the team's first 40 games, he was 10th among all NBA players in ESPN's real plus-minus. His player efficiency rating ranked eighth in the NBA. For such production, there are certain deficiencies a team can tolerate.
"You put him in the right type of environment, a winning environment in the right organization, he would flourish without a doubt," Olympic teammate DeMar DeRozan says. "Even in the position he's in now, he hasn't been to the playoffs, but he's still the best big man in the league. Sometimes the other chips just don't fall into place for you to take off when you want to take off. I think he's going to get to that point once he gets in the right situation."
There's also now a body of evidence that demonstrates the key to transforming that talent into results is simple trust. Establish trust, the thinking goes, and the necessary ingredients for success -- accountability, self-control, being a quality teammate -- will follow. And so the Kings have entrusted Dave Joerger, their sixth coach in the past six seasons, to do just that.
Joerger says his dominant message to Cousins has been "next play." As the coach explains, "It just means, 'I've shifted my focus from whatever it was that upset me.' Go onto the next one, or a sequence of plays, 6-0 run, 8-2 run. They happen. You don't get calls. Ball doesn't come your way for a little bit. Whatever it is, to just quickly focus onto the next thing."
For his part, when asked whether Joerger's less aggressive approach works for him, Cousins chuckles at any hint that the coach handles him with kid gloves. "Roll your big ass down in the paint!" Cousins bellows, imitating Joerger. "What I respect about him is it's always between the lines. Nothing on the outside, nothing about what was said two days ago. There's no power trips -- it's basketball. That's it. How can there ever be some type of disagreement when it's something he loves and I love. How can you disagree? It's basketball."
On a drive home after a Sacramento win, two weeks following the incident with Furillo, Joerger is listening to a replay of Cousins being interviewed on the Kings' postgame radio show. Cousins is unemotional, witty, takes pride in the things the team performed well and ownership for areas of needed improvement. This is standard NBA media stuff for any superstar, but in a month of technicals and altercations, it is notable.
The next day, Joerger texts Cousins to tell him he's proud of the interview, that he sounded great. The coach tells his superstar that he'll get zero kudos for that interview, or for any of the routine progress a player makes over the long course of a season when nobody is watching. But Joerger wants Cousins to know that he's listening -- that he is always listening, even when the rest of the world is gawking.
"When he f---s up or even appears to f--- up, it goes viral," Joerger says. "So I wanted him to know I was proud."
Part II: The problem with the Sacramento Kings
"I hate offices," Sacramento Kings coach Dave Joerger says. "I spend no time here." Joerger's office overlooks the Kings' new practice courts, a space he has inhabited for several months but one he still hasn't fully moved into. Clutter has already settled into the corners of the room, and a portable clothing rack with a disorganized lineup of gamewear -- suits, dress shirts, ties -- blocks much of his view below.
An 8½-by-11-inch sheet of paper is tacked to a bulletin board on the wall beside Joerger's desk, on it a roundup of media impressions and reports of the Kings from last spring headed into the 2016 draft. The comments are written in bold red text.
"Based on all the info I can find, the Kings only got one prospect ranked in our Top 30 in for a workout -- Wade Baldwin." -- ESPN's Chad Ford.
"Kings not a coveted destination among draftees & agents." -- Sean Cunningham, a Sacramento sports producer and reporter for the ABC affiliate.
As the Kings struggle to build some semblance of a positive identity as a basketball operation, the clock is ticking on the prime of one of the game's most talented big men, DeMarcus Cousins. And while some superstars are plug-and-play, Cousins is more fragile. He runs on trust, and disarray undermines it. In a perfect world, Sacramento would have already had a well-honed operation when he arrived, fabric in the rafters, gravitas at the highest levels of management and ownership, a coach with a historic body of work, another star in the locker room who has won big games and whose respect Cousins knows he needs. At present, the Kings have none of that. The inertia of losing seems to be the only constant in Sacramento.
"That's the perception we have around the league," Joerger says. "That's what we have to change."
---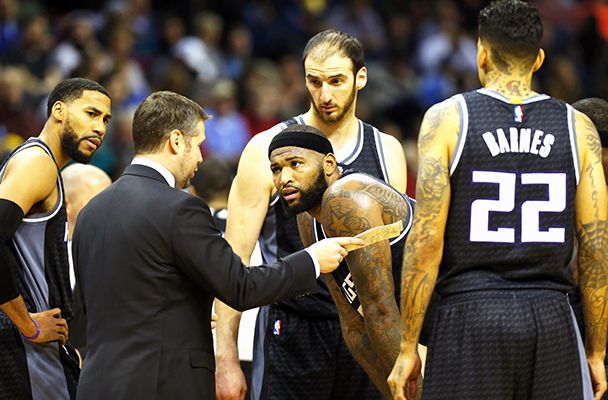 NOT SO LONG ago, the Sacramento Kings were a model sports franchise, market size be damned: Loud and proud Kings fans packed the suburban concrete bunker called Arco Arena. When then-Lakers coach Phil Jackson called Sacramento a "cowtown" and its fans semi-civilized and maybe redneck in some form or fashion, they responded to him with a din of cowbells. And the NBA's loudest fans were rewarded, in kind, as Chris Webber, Mike Bibby, Vlade Divac, Peja Stojakovic and Doug Christie drove Rick Adelman's handsome corner offense all the way to the 2002 Western Conference finals. The Lakers could barely contain them, and won that series only thanks in part to an epic Robert Horry game winner and, according to an open letter Ralph Nader later sent to the commissioner, Laker-slanted refereeing that "goes beyond any random display of poor performance."
It was as close as the Kings would get to the NBA Finals. And the bad beat would continue ... for years. The core of players aged, as did Arco Arena. And just as the team needed a cash infusion to fix both problems, the team's owners, Joe and Gavin Maloof, saw their gaming business founder; they tightened the purse strings and started selling off assets. Before long the NBA's favorite parlor game became guessing which city the Kings would move to next. Anaheim? Las Vegas? And then came a Seattle bid with a much bigger market, deep-pocketed owners and, reportedly, Phil Jackson on the management team.
At the eleventh hour, the league approved a deal that would keep the team in California's capital city, thanks to a hastily cobbled together collection of owners that included Ranadive; Qualcomm executive chairman Paul Jacobs and his brothers, Jeff and Hal; Mark Mastrov, the founder and CEO of 24 Hour Fitness; Sacramento developer Mark Friedman; swimwear magnate Raj Bhathal; mobile and startup entrepreneur Andy Miller; and others.
Though he owns less than 20 percent of the franchise, Ranadive was named Sacramento's majority owner or controlling governor. It was an unusual arrangement that required approval from the NBA, but this distinction gave him unchecked power to make important organizational decisions, even if those disagreeing represented a greater share of ownership.
League insiders say the appointment was, for all intents and purposes, an edict of then-NBA commissioner David Stern (the listed address for the new Golden 1 Center is 500 "David J. Stern Walk"), though the league maintains that partnership agreements are drawn up by the ownership group itself. Sources say that Ranadive lobbied heavily for Stern's favor, citing his experience as a minority owner of the Warriors and touting an "NBA 3.0" platform that promised to transform the Kings into a global, digitally integrated force.
The league got its new-era ownership. Ranadive indeed personified everything that Stern wanted to project about the NBA's future -- internationalist, technological, ambitious. But veteran NBA insiders scoffed at the notion that Ranadive, or anyone, could turn buzzy Silicon Valley catchphrases, TED Talk guru-ism and NBA 3.0 into NBA gold in Sacramento, much less Mumbai.
---
IF A FAN drops a slice of pizza at the Golden 1 Center, the Kings' new high-tech jewel box of an arena, there's a reasonable chance it will be replenished on the wings of artificial intelligence. The robot that roves the main concourse might make note of it. Or an usher might, or Twitter. Those are just some of the ways that "Mission Control," deep inside the bowels of the arena, might be alerted to the minor tragedy. In that heavily wired bunker, more than a dozen professionals perch at stations, eager to dispatch a food-and-beverage rep to reunite sad fan with fresh food, restoring order to what pro sports formally and reverently calls "the fan experience."
Many of the principles at play in the Golden 1 Center are laid out in Ranadive's book, The Two-Second Advantage: How We Succeed by Anticipating the Future -- Just Enough, which preaches that the key edge comes from anticipating a client's needs. Three years after Ranadive bought the team, and just three months into the Kings' first season at Golden 1 Center, the arena's intelligence has already learned how to optimize temperature control in the building and traffic patterns on the streets in an instant. The facility's game-night operation is a portrait of how the NBA loves to imagine itself as sports' most innovative league.
There's more going on there than just sleek concourses and crafty real estate plays -- the business has boomed. Two business executives from rival teams used the same term to describe it, saying the Kings are "killing it" with ticket sales and sponsorship deals; revenue growth, league sources say, is among the very best of any team.
Somehow, despite all the losing, this lottery team in a tiny market has more than 11,000 season-ticket holders. For the moment, the new building is filled by locals motivated in no small part by civic pride (the team's preferred hashtag is #SACRAMENTOPROUD). In other words, the Kings are enjoying a grace period.
---
"VIVEK TRIES TO portray himself as one thing, but he's meddlesome and it's hurting the basketball," says a high-level source who knows the Kings operation. "It was a mess [under the Maloofs], and it's still a mess."
During his first four seasons, Ranadive has taken an interventionist approach to ownership, but for all of the regime's business-side superpowers, he has done little to improve the product housed inside the vaunted new facility. The Kings' flaws have been on display on the court, where Ranadive has been most active, and they threaten to maintain the team's status as the laughingstock of the sports page, even as the local business trades herald their ingenuity. As controlling governor, Ranadive is a one-man show who can rule by executive fiat, which by most accounts is what he has done when big personnel decisions need to be made.
Ranadive, who declined to speak for this story, is said by his critics to be a cloistered thinker, beholden to his own whims. Kings partners are profoundly frustrated with his governance of the basketball side of the team, as has been reported, and amazed that he appears to have been emboldened, rather than humbled, by seeing so many of his decisions fail.
"You would think that after making an ass of yourself, whether it's 4-on-5 or one bad hire after another, that you'd become more collaborative and seek out help," says a well-placed source. "Vivek has done just the opposite. Instead of putting together a brain trust, he's his own brain trust -- he and whoever the last person he talked to is."
A favorite complaint of Ranadive's critics is that the credit for the killer revenue projections rightfully belongs to Chris Granger, the Kings' president and an NBA veteran. "The success on the business side is despite [Ranadive], not because of him," says a league powerbroker with an intimate knowledge of the process in Sacramento.
Then there is the gripe that feels sharper, more personal: that Ranadive is obsessed with his former team, the Warriors. One league source who knows the owner well says Ranadive, who still lives in the Bay Area, has an "unhealthy fixation on the Warriors." Sources close to the Kings partnership say that Ranadive "can't help himself" from claiming credit for innovations in Golden State. Ranadive hired a former Warriors assistant coach (Mike Malone), insisted the team run a Warriors-like offense (despite having few shooters who can fan out to the wings in transition and virtually no frontcourt players who excel in pushing the ball) and, sources say, determined that Malone would have two seasons to make the playoffs. Why two? Because the Warriors' Mark Jackson made the playoffs in that amount of time. Kings business executives use catchphrases, calling the team a "real estate company" or a "technology company," that were popularized in Oakland during Ranadive's time there.
Ranadive lobbied hard to be the controlling governor in Sacramento based on his experience as a Warriors minority partner and his ties to India, a market that's a prime focus of the NBA. There's a running joke in the NBA that the Warriors led Ranadive's Kings campaign as a means of ridding the partnership of its most abrasive owner.
At the lowest moments over the past year, there have been fleeting thoughts among partners of an audit, as a means of exposing Ranadive's poor stewardship of the franchise's basketball operations. But nothing serious has been considered. According to sources with knowledge of the owners' thinking, though, resignation reigns; the way the ownership is structured, Ranadive is King of the Kings. Only a breach of fiduciary responsibility, or instances of gross incompetence, could force meaningful change. So long as the franchise resides solidly in the black, that's unlikely to happen.
In the meantime, the team's basketball hopes are hitched to the volatile yet brilliant DeMarcus Cousins. The best guess is that organizational stability, and the trust it engenders, are the key to getting the best out of him. But it's what these owners can least deliver. The top brass could scarcely be less united. Disarray is the order of the day. One Kings source says that in 2015 there were as many as five owners in the draft room, one of whom was trying to make a side deal for a second-round pick.
---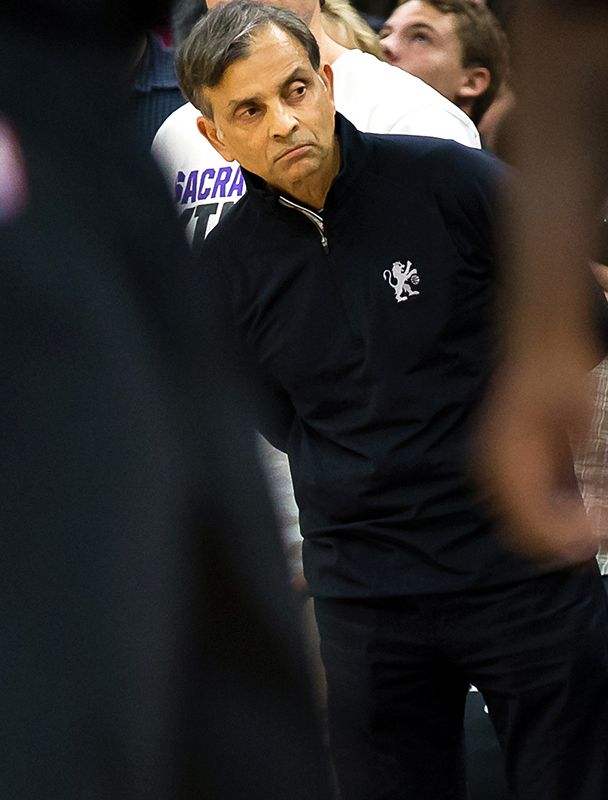 "IT'S UNBELIEVABLE," SAYS Vlade Divac of his electric luxury sedan, the Tesla Model S. "It's like a spaceship."
Growing up in the former Yugoslavia, Divac bowed at the altar of Nikola Tesla, the eccentric engineer credited with creating the first alternating current motor and pioneering wireless technology. During Divac's playing career, "Nikola Tesla" served as his alias when checking into hotels.
Divac is a believer in the car's autopilot function, but as a safeguard, he says he stays alert while the vehicle navigates the road on its own. Once, however, with his wife in the car on the long straightaway through the Central Valley toward Los Angeles, he thought he'd get some shut-eye.
"I was like, 'You know, put it on autopilot, so maybe I'm going to take a little nap, and just wake me up in half an hour,'" Divac says. "After two seconds she was like, 'No f---ing way.'"
But an NBA front office isn't an automated machine. It requires a wide-ranging level of expertise. Divac is the Kings' vice president of basketball operations and general manager. "Nobody in that position has ever been less qualified, less capable or a nicer person," says one league insider.
In league circles, Divac's hire was met with raised eyebrows. As a scout for the Lakers, and after a spell running Serbia's Olympic Committee, he had been largely removed from the NBA for nearly a decade. To cynics who perceived the Kings' basketball operations arm as dysfunctional, the appointment of Divac was indicative of Ranadive's inability to admit that there's a lot about basketball he doesn't know.
Sources close to the Kings' nerve center say chief operating officer Matina Kolokotronis was the catalyst behind Divac's hire. "She's the only person in the organization that Vivek really trusts," says a longtime league executive. "She's the connective tissue of the organization. Her institutional knowledge is second to none, and she's politically wired in Sacramento. She knows where every body is buried." Now in her 20th season with the Kings, Kolokotronis is the team's one-woman ode to continuity. She has done it all, including negotiating player contracts, housing international players in her guest house, running the team's foundation and working the back channels of Sacramento's civic power structure. Her critics see her as a consigliere who is far too involved in basketball matters.
Sources say that Kolokotronis saw Divac's predecessors in management, Pete D'Alessandro and Chris Mullin, as driven by self-interest and prone to cracking on Ranadive on background to the media. League sources say that after the NBA's vice president of basketball operations Kiki Vandeweghe declined an offer from the team following general manager D'Alessandro's departure in June 2015, the Kings turned to Divac in the name of finding someone who would be loyal to Ranadive at a moment when the franchise's favorability ratings needed a boost.
---
THE KINGS HIRED Divac in the spring of 2015 after a tumultuous season marked by palace intrigue. The goodwill between a grateful market and its savior, Ranadive, was quickly expiring, and in an effort to stabilize the franchise, the Kings brought home Divac, the franchise's most popular alumnus, and empowered him to run basketball operations.
What they didn't get was someone with his finger on the pulse of the team-building arcana. By way of example, league sources say -- and Divac denies -- that when the Kings and Sixers struck a deal to send Nik Stauskas to Philadelphia, Divac was surprised to learn that the trade had to be confirmed on a conference call with the league. Multiple agents express astonishment at how poorly versed Divac is in the NBA's collective bargaining agreement.
Several agents and executives who shared their thoughts on background have found working with the Kings to be confounding, and negotiations, in the words of one, to be "abnormal." They describe an organization whose constituencies cannot get on the same page, each guided by divergent philosophies and competing preferences. Those on the other side of the table say that not only is it difficult for the Kings to reach organizational consensus on a transaction but they have trouble coming together on the basic decision of even how to proceed. "Getting real proposals is a challenge," a rival executive says. "There's just so much ambiguity about how the decision-making process works [in Sacramento] and what information actually gets back to whom."
The Kings attempted to recruit longtime team executive David Morway, who had previously been with the Milwaukee Bucks and now consults for the Utah Jazz, to serve as Divac's deputy. Discussions fizzled when Morway couldn't get iron-clad assurances the organization would pony up sufficient dollars to upgrade its lean infrastructure in areas such as analytics, medical and player development. In April, the Kings ultimately settled on Ken Catanella, who spent the previous five seasons in the Detroit front office and is well-versed in the salary cap and a devotee of analytics. Observers wonder whether Ranadive will defer to Divac and Catanella -- and director of scouting Mike Bratz -- enough to break up a long string of decisions that didn't pan out.
That Ranadive might meddle, or that Divac has some holes in his résumé, need not be a crisis, except that this is a team attempting to recover from a decade of what can only be described as epic missteps. Through an array of owners and executives, the team has turned eight years of top-eight draft picks into Tyreke Evans, DeMarcus Cousins, Bismack Biyombo (traded in a deal that eventually netted Jimmer Fredette), Thomas Robinson, Ben McLemore, Nik Stauskas, Willie Cauley-Stein and Marquese Chriss (traded for picks that ultimately netted Georgios Papagiannis, Skal Labissiere and Bogdan Bogdanovic).
Even worse have been some of the trades. In the summer of 2014, the Kings dealt Isaiah Thomas -- current MVP of the Celtics -- in exchange for a trade exception and the rights to Alex Oriakhi. They floored the league a year later when, in a salary dump, they sent out a first-rounder and the rights to swap another first-round pick if it lands in the top 10 next summer -- all to compensate the Sixers for taking on about $16 million in guaranteed contracts, including Stauskas, Carl Landry and Jason Thompson. Free agent Rajon Rondo didn't help them win basketball games in 2015-16, and Arron Afflalo, their most notable acquisition this past summer, has been demoted. Though Rudy Gay's deal is relatively modest in today's dollars, it's difficult to identify a notable free-agent signing in recent years that has struck gold or even copper.
There's little optimism that Ranadive will step back from basketball operations. The theory is that Divac, who is regarded as green but pragmatic, might learn to guide the owner's delusions to more solid ground. And if the Kings can make the playoffs -- they are just outside the playoff picture today -- they'd generate some national TV exposure for their stunning, light-filled arena and a nice chunk of additional revenue for a few home dates, a windfall one NBA business source pegged at upward of $4 million. Cousins hasn't yet tasted the postseason and after watching him prosper from afar with Team USA, Kings officials believe that a playoff berth could further his development.
"We have a short goal and a long goal," Divac says. "Basically if we can get to .500, that would be a successful season. We are trying to build something for the future. You can't do it overnight, but step by step, you know, I think we are going in a good direction."
---
IF THE FATAL flaw of the Kings is instability, nowhere is it more evident than in the vibrant lazy Susan of coaches. Cousins was drafted in June 2010, which means all before his prime -- and without changing teams -- he has already played for Paul Westphal, Keith Smart, Mike Malone, Ty Corbin, George Karl and now Dave Joerger.
The exodus of Malone, in particular, demonstrates Ranadive's strengths and weaknesses. Ranadive was eager to refashion the Kings into a zippy squad that embraced the brand of up-and-down basketball that had been popularized in recent seasons, much like the Warriors. And his essential theory is inarguable. "Pace and space" offenses are some of the best in the league today -- indeed some of the best in NBA history -- and are the direction of some of the best teams, in keeping with the lessons of analytics.
"You would think that after making an ass of yourself ... that you'd become more collaborative and seek out help. Vivek has done just the opposite."
- A well-placed source
Three days after Malone was fired, Ranadive told the media, "We need to go from a rules-based organization, which was important when you had chaos, to a values-based organization -- from kind of a programmatic offense, to a read-and-respond, free-flowing offense. I like to use a music metaphor. We had a Sousa marching band, which was needed when there was chaos, but now we need to shift to a jazz band, where people can be individually showcased and improvised. What we need is a jazz director."
The flaws, however, were twofold -- and fatal. The first was that the Kings didn't have a roster to play that style. The second was that the Kings' only chance of being elite rests on building around Cousins, their only elite player and, by most measures, the game's most productive big man. Cousins is volatile, however, and stability and trust are evidently preconditions for his best play.
Meanwhile, Karl, for all of his many successes and skills, might be a last-round pick if you're looking for the coach least likely to make a star player feel undermined. Karl has won a lot of games, but he has also griped loudly and mightily about his stars at every stop of his nearly 30-year coaching career -- doubling down on that reputation in a recent book titled, appropriately, Furious George. Karl was absolutely the coach to make a fast offense -- under Karl, the Kings boasted the league's fastest pace -- but, predictably, Cousins and Karl fought incessantly, a feud that was well-documented until Karl's firing last spring.
Joerger, for his part, brings a reputation, earned in Memphis, as a coach adept at managing players' personalities and expectations in the locker room. But though he excelled at game management and performed the community relations portion of the job admirably, he hardly projected stability. He grew petulant behind the scenes and took veiled public jabs at the front office for not providing the players he craved, including numerous love letters during media availabilities to Jazz guard Rodney Hood, whom the Grizzlies passed on in the 2014 draft, and labeling the roster "old and slow."
"I was not in a great place last year," Joerger says now. "I know I've made mistakes. I put a lot of pressure on myself in Memphis. I felt an obligation to the organization, to the community. Love that community. Love those players. We had been successful. So you don't want to be the guy who comes in after a Western Conference finals appearance and messes up. You know what I mean? So we had this torch of success going forward and then with the mindset of, 'This is our window. We're in our window.' These guys were in their prime and I put a lot of pressure on myself ... That's when I got a little twisted. I wasn't in a great place personally."
At his news conference after the injury-ravaged Grizzlies were eliminated from the playoffs, Joerger fought back tears as he lauded the team's resilience.
Divac, sources say, had been contemplating candidates such as Nate McMillan, Jeff Hornacek, Vinny Del Negro, Mark Jackson and Patrick Ewing to take over head-coaching duties. Ranadive, however, was told by league confidants that Joerger's relationship with the Grizzlies was on the rocks. Though it proved unnecessary once the Grizzlies let the coach walk, the Kings owner was prepared to offer cash compensation and a draft pick for Joerger, despite the fact that neither Ranadive nor Divac had met Joerger personally. Though the 24 hours between Joerger's firing and a face-to-face interview were tense, the two sides ultimately agreed on a four-year, $16 million contract, with the final season a team option.
Joerger's job now, it's fair to say, is primarily to connect with Cousins. To that end, they both say all the right things a few months in. "He's done everything I've asked him and he's done better in about 100 different ways, and knows he can continue to improve," Joerger says. "The self-realization of that is good. I'm proud of the way he's responding with teammates and coaches. He's a big-hearted dude."
"I don't have a complaint in the world," Cousins says of Joerger. Indeed, a couple of Cousins' teammates say Joerger has displayed a certain knack with the big man, who, apart from his ongoing public dispute with the league's officials, has been a more pliable and coachable player this season. Teammates say Cousins' impulse control has improved and that he has toned down some of his harsher criticism in practice, behavior more than one teammate from the 2014-15 squad labeled "bullying."
"[Joerger] has been in a situation where he understands people's paths, what they had to get through to get to where they are," Kings shooting guard Garrett Temple says. "I think this year there's a level of respect and understanding of how to approach certain things ... Joegs is a guy who, if he can't do a full court in shootaround, then 'Cuz is going to do half court today."
---
THIS IS VIVEK Ranadive's fourth season as the controlling partner of the Sacramento Kings. His team has won 108 of a possible 291 games in that span -- a .371 win percentage.
There is little optimism that Ranadive will voluntarily step back from basketball operations. Though he insists in conversations that Divac has been empowered to make player personnel decisions -- he told one source that the only decisions he has made are trading for Gay and refusing to deal Cousins -- not a single league source for this story outside of Sacramento said that ultimate authority resides anywhere but with Ranadive.
One league insider says Ranadive told him some months back that he aspires to assemble a big three in Sacramento, with Russell Westbrook joining Cousins and Rudy Gay. Multiple sources say that Gay, who tore his left Achilles tendon on Jan. 18, has remained with the team rather than being dealt away because Ranadive believes deeply that the small forward would not leave Sacramento; this despite Gay's stated decision -- before his current injury -- to opt out of his contract next summer and his desire to be elsewhere as soon as possible, a sentiment expressed to the organization repeatedly.
"Welcome to basketball hell," Gay reportedly said to Karl upon the coach's arrival. But to Vivek Ranadive, it's inconceivable that Gay, or perhaps anyone, would want to play anywhere else.
Arnovitz has been an NBA writer for ESPN.com since 2008. Before that, he was a contributor and editor at NPR.