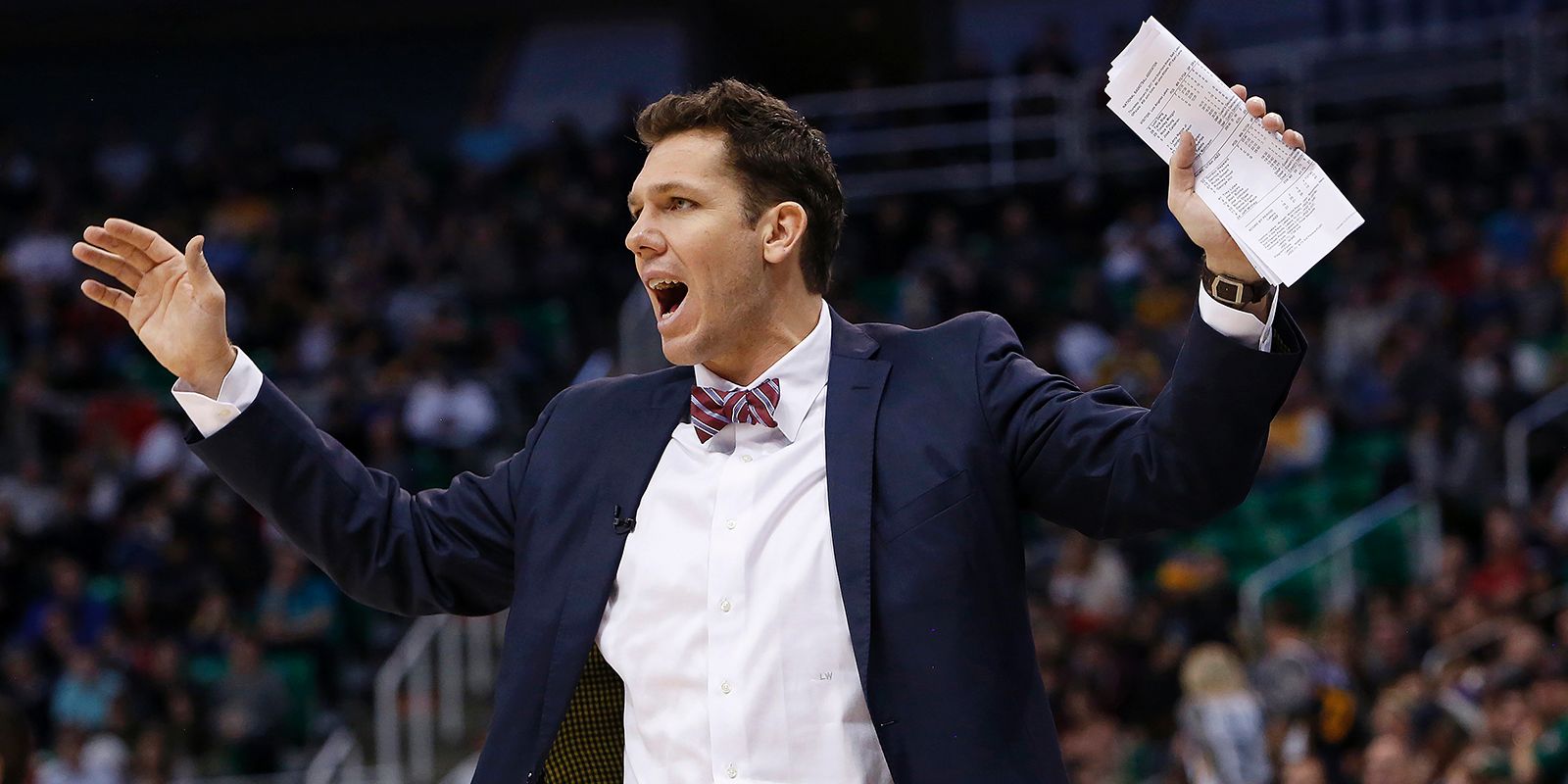 Born Of A Dreamer, Guided By A Bird
Luke Walton followed his father to Boston at the height of the Celtics' dynasty. What he saw would inform the coach he has become -- and what he hopes his Lakers will someday be.
A "nightmare," Bill Walton calls it.
He's not talking about the many blessed periods of his life. He's not talking about winning a record 88 straight games for UCLA in the early 1970s, as a carrottop 6-foot-11 revolution -- a passing, jump-shooting, rebounding, shot-blocking do-everything dream who led the Portland Trail Blazers to their only title, earning Finals MVP and NBA MVP honors in the late '70s. He's not talking about all the magical things that happened to make him, to this day, the world's tallest and loudest evangelist for the Church of Delightful Teamwork.
He's talking about what followed, the grinding injury-induced, soul-aching decline in the early '80s, when, as he says, "all those dreams came crashing down." Less than a decade removed from his heyday, Walton had devolved into a frail visage of his former self, constantly on crutches, languishing in what seemed like his final days with the god-awful Clippers. He's talking about the years when he should have been in his prime but instead was shuttling in and out of hospitals, catering to a string of foot and ankle injuries that sabotaged what could have been one of the greatest careers ever. He's talking about those years as a dad, all the years he worried that all his stress and negativity would poison Adam, Nate, Chris and Luke, who were too young to have seen their father when he worked in the embrace of selfless champions like John Wooden and Jack Ramsay.
"I'm a huge believer in early childhood education," he says, by which he means that in his personal religion -- backed by plenty of evidence he's happy to share -- there's a sacred window of time, a few early years in every life that largely shape the rest. At that point, he says a life is at its most impressionable, easily molded.
When he was around their age, he found one of the great loves of his life -- this game -- through the radio, listening to legendary Lakers broadcaster Chick Hearn narrate mythical figures whipping the ball around, playing the "team game," Walton says. "That was what shaped me." He says all this in a long, beautiful setup to be sure you truly feel just how desperate, fearful and worried he was, as a father, in the mid-1980s, when that window was open for all of his sons, and, facing one of the darkest chapters of his professional life, he was in no position to show them what love looks -- no feels -- like on the basketball court.
That's what his boys needed, and he didn't have much time left to get it for them. So in the summer of 1985, he looked to the team he learned to love through the radio, believing it could rescue both him and his boys. "When I begged and pleaded and ultimately bought my way onto the Celtics, yes, it was a selfish move on my part," Walton explains, "but I also really wanted the children to know what it was like to be part of a special team. I had no idea how special it would be."
---
Susie Walton was outnumbered. Whenever Bill Walton's wife turned her back, her boys were stirring up trouble, such as putting all the couch cushions at the bottom of the stairs of their three-story Cambridge home and then leaping down from the second floor. "Bill, take them to practice," she'd often say, exasperated. "I need five minutes by myself." And so he'd haul them off to Hellenic College in Brookline, just outside of Boston, where then-Celtics guard Rick Carlisle remembers the Celtics had just had a new Jacuzzi installed for therapy -- a snazzy addition in those days.
"Almost from day one," Carlisle says, "nobody would get in it because there was a cloud of mud in there from those kids going in there and basically bathing in it."
They also poured grape soda in the tub -- and carried out an array of pranks on behalf of players. "We were their henchmen," Luke says. "Anything they wanted us to do, we did it. And we had no limits." Shaving cream in someone's sneakers? No sweat. Throwing their clothes into the showers? Easy. Danny Ainge preferred using the boys to help create diversions so that he could sneak Icy Hot (or its equivalent) into teammates' jockstraps. Kevin McHale and Larry Bird would send the boys on mischievous errands, then tell Bill after the fact. "Guys, please!" he'd tell them. "These kids are hard enough to manage."
They brawled because they were brothers and boys at that age, but Adam, the oldest, believes in other factors. The first: Uncle Bruce, a 6-6 ex-Dallas Cowboys lineman. "My dad said he was never scared of anyone except his brother, and that's the type of mentality that he used to put into us, where he expected us to fight as hard as him and his brother fought," Adam says. "So we were all really nice kids because our mom was so super nice that we were brought up super nice. But we used to fight like we were the meanest kids on the block."
Bill and Susie weren't strict disciplinarians, forward Scott Wedman says. They were free spirits, and so were their kids. Regardless, blood was shed, most notably at the team's charity fashion show, where they wore tuxedos but started horsing around backstage. A nose was bloodied -- various accounts dispute which nose, exactly. "Man, I can't take you guys anywhere!" Bill told them. Bill's teammates laughed. "Believe me: they were little hellions, man," McHale says.
It wasn't unusual for family to hang around the team; the Celtics encouraged it, which Susie first saw at a Christmas party, when she spotted dozens of players' and executives' children running around. "We didn't hang out with a lot of basketball people until we got to the Celtics, because when you got to Boston, it was one big family," Susie says now. "Bill found his home in Boston, and the whole Celtics group embraced the kids." Her boys sprinted down the aisles of the team bus, attended practice, and Bird says he can still picture them bouncing around the locker room. "They were everywhere," he says. "They were part of it -- as close as you can get to the team without being on the team."
The Waltons dined often at Bird's Brookline house, where the boys bounded into his basement to play Pac-Man, pinball or Nerf basketball in their socks. Nate slipped and chipped a front tooth, then bragged at school about where it happened, considering it a badge of honor. "They wouldn't damage stuff," Bird says, "but if you yelled at one of them, Luke is probably the one that would take it serious. The rest of them, 10 minutes they'd do the same thing." Though Luke was only 5, he and Bird grew as close as family, especially because Luke looked as if he could be Bird's son, with both bearing golden mops. But their personalities -- quiet, measured, funny, focused -- seemed to click, too. "As a kid, I thought we were actually friends, [like] 'Larry and I are friends.' But we had a great relationship." Luke showed up to school clad in Celtics wristbands, socks, a Celtics jacket and, always, a Larry Bird T-shirt.
Saddled with injuries, Bill played only 10 games that next season and didn't play again. After playing two seasons in Boston, the family moved back to San Diego, where they rooted for the Celtics, Red Sox, Patriots and Bruins. "Who'd have thunk a girl from Southern California would say that Boston is her favorite all-time city to live in, but it was great," Susie says. Bird visited them and told the boys bedtime stories about how he'd shoot during the winter by wearing socks on his hands. He played pickup basketball in their driveway -- Bird and Luke on one team against Bill and another Walton boy. Luke admits that his Boston experience sounds surreal, but at the time, hanging around a historically stacked roster was all he knew.
How stacked? Oh, it just featured five future Hall of Famers on the court in Bird, McHale, Walton, center Robert Parish and guard Dennis Johnson, plus another on the sideline in head coach K.C. Jones, who won eight titles as a Celtics guard. Reinforcements included a former All-Star in Wedman, a future All-Star (and NBA head coach and GM) in Ainge, as well as two future NBA coaches in Carlisle and Sam Vincent. And watching over everyone while taking drags of his customary stogie, was team president Red Auerbach, who presided over nine Celtics titles as a head coach and six as a general manager. "That Boston Celtics team," Bill says, "was very, very, very, very, very, very, very, very special."
And the boys made an impression. "They all had great intellectual curiosity about basketball and life," Carlisle says. "But I could tell that Luke was the one that had the greatest interest in the game. To be a kid his age at that time and to be around a team that had five Hall of Famers is an exceptional situation to be in."
Bill indeed hoped that situation would leave an indelible mark just as his own sports background had with him. From his first coach when he was 8, a local fireman named Rocky Graciano, to an undefeated senior year at Helix High School, to winning titles for Wooden at UCLA and then a title in Portland, Walton calls his basketball life "over the top -- better than perfect." And like any parent, he wanted better for his kids. "The importance of what sports means in a young person's life, I had that," Bill says. "Every coach I ever had as a child was a John Wooden disciple and that had such an impact on me, but I'm also a huge Celtics fan of Red Auerbach and Bill Russell and the entire Celtic history -- that is what made me fall in love."
Luke would go on to be coached by Lute Olson at Arizona, then Phil Jackson in the NBA, then coach alongside Steve Kerr with the Golden State Warriors, some of the most respected names in the game's history. But, today, Luke looks back on his two years in Boston and says, "That's when I first fell in love with basketball."
---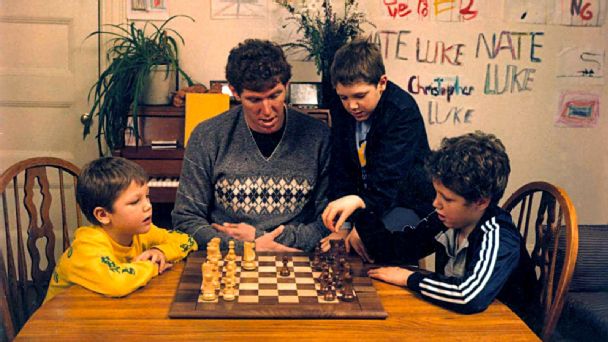 For the first time, Luke hated basketball. "I hated it," he says. That feeling swept over him one summer in Los Angeles late in high school. He had been invited to play in an AAU tournament, filled with other high-profile prep players, but having never played AAU ball before, he wasn't sure what to expect. At the bare minimum, Luke believed they'd play the same style that he and his brothers believed in, the same style they'd been raised on and played at rec centers all over San Diego: one featuring ball movement and joy.
Their father had preached team basketball for years, declaring it the only way to play, and he'd reference the stars who embodied that style -- Bird, Russell, Magic Johnson, etc. "Then you're on a great team, the sense of selflessness, the sense of team, the sense of passing, the sense of we'll do whatever it takes to get this done for everybody -- that's always been my dream in life," Bill says. "That's why I love Bill Russell so much. That's why I love basketball. That's why I love John Wooden. That's why I love the team. That's why my children have so many positive experiences through sport." But when his boys were tykes, his lessons sounded like gibberish.
It was only when they moved to Boston and saw the Celtics play that everything started to click. "OK, Dad, we get it. We now know what you're talking about," they'd tell him. But it wasn't as though they believed the Celtics were special, unique. "It wasn't that we said, 'Ah, these guys are doing it better than everybody else,' " Nate says. "We said, 'Everybody else is doing it wrong compared to how the Boston Celtics play.' " From then on, the Walton boys dribbled sparingly, cut back door and measured success in double-digit assists. "It didn't matter what else you did," Adam says, "If you didn't have 10 assists, it didn't matter." So Luke's dismay, upon seeing that first AAU game, and players shooting as soon as they touched the ball? Palpable. "I've never not had fun playing until then," he says. In fact, he couldn't understand how, for the first time, the game he loved had made him feel miserable. He left the court fuming, telling himself he'd never play in AAU again.
But Luke could always find solace in Larry Bird VHS highlights, which he and his brothers watched often. Luke spent hours in the backyard, mimicking Bird. "Every move I saw him make in those videos, I would try to do," he says. "Then I'd set up the whole game in my mind, like we were playing a seven-game series and I was out there with Larry and I'd get the game-winning shot. And if I missed it, the other team won that game." Unfortunately, Luke adds, with a wry grin, he couldn't quite shoot like Bird. But there was another element to Bird's game that Luke carried into every game: Make your teammates better. A cliché ideal? Perhaps, but one that Bill preached for years -- that the ultimate measure of a player was how much he helped those around him. After games in high school, when he was good enough to pour in plenty of points, he'd ask himself, "Am I out there making my teammates better?" If he ever needed a reminder, he only needed to look around his bedroom: The walls were covered with posters of Larry Bird.
The lessons that the Celtics imprinted and set in motion carried on through Luke's decadelong NBA career and two years as an assistant with the Warriors before coming to the Lakers as the NBA's youngest head coach, at 36. "He'll be fine," Bird says. "He'll be a lifer."
Last season, when McHale was coaching the Rockets, he looked down the sideline when they faced the Warriors, he saw Luke and memories came flooding back from 30 years ago. "I followed them from that point on," McHale says of his time with the Walton kids. "Now, as hard as it is to believe, I actually cheer for the Lakers to win games, only because of Luke."
(Fear not, Lakers fans questioning Luke's loyalty in the NBA's top rivalry: his Celtics fandom faded when he was part of the Lakers team that lost to Boston in the 2008 Finals. "I got to a point where not only did I not like the Celtics," Luke says, "but I did not like the Bruins, I did not like the Patriots and I did not like the Red Sox.")
Nate returned to the Garden some years later, looked in the hallway and spotted kids running around. He wondered why they weren't in the locker room. "Oh, we stopped doing that after Bill Walton's kids were here," one Celtics official told him. (A Celtics spokesman said he couldn't remember any such rule changes.) When Nate heard that, he laughed.
---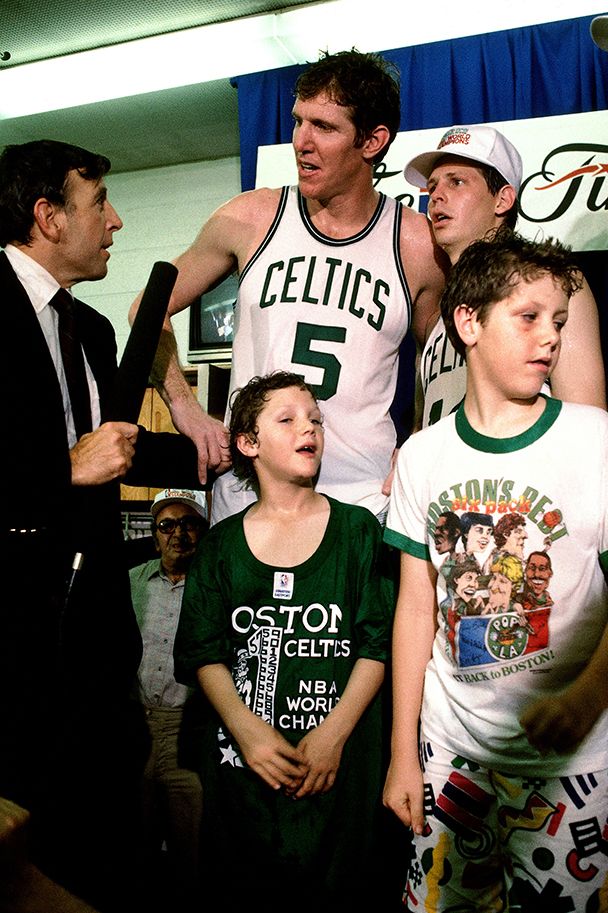 It's a late December afternoon, and Luke Walton, still in gray practice sweats after his team wrapped a session at a nearby arena, is picking at citrus grilled salmon at a corner table inside a downtown Charlotte, North Carolina, steakhouse.
"For me growing up," he says between bites, "all I wanted to do was play basketball, and that Celtics team, they were my god.
"Everything that I've seen of basketball I thought should be played the way that Celtics team played. That was the standard of how basketball should be played -- fast-paced, free-flowing, passing, high-scoring type of basketball. It was beautiful and historic."
A reporter mentions a YouTube clip -- and Luke knows it. Knows it well. Why, Bill sent him that very same clip just last fall, when Luke was the Golden State Warriors' interim coach, filling in for an injured Kerr.
"If you've got it, I'll watch it," Luke suggests.
An iPhone is propped up against a nearby pitcher of water. Luke trains his eyes on its screen.
"Please place this team in historical perspective," broadcaster Brent Musburger is asking Auerbach a few seconds in. "How good is this Celtics team in comparison with your other champions?"
"I think it's one of the greatest, if not the greatest, team that I've ever been associated with, especially over a long season," Auerbach is saying, donning a fresh "World Champions" hat. "They just produced every time they had to. They're a great bunch of guys. The chemistry was great. I'm very happy, very happy for them."
The screen fades to black. White text appears: "1986 Boston Celtics Tribute." Another sound bite from a broadcaster plays in the background, "The Boston Celtics, maybe one of the greatest if not the greatest passing teams of all time." Then highlights roll.
Luke leans forward, engaged. "They're just toying with people," he says between bites as he watches the ball zip back and forth on a few textbook fast breaks, never once hitting the ground. "It's crazy. The game is 30 years later, and we still can't run a fast break nearly that nice."
Luke watches Bird feed Bill on the right block, then cut along the baseline, where Bill gives it right back via a no-look, over-the-shoulder pass. Bird converts an easy-as-pie layup.
"Big Bill ..." Luke says, smiling.
He marvels as he sees Bird -- "the best shooter in the world," Luke says -- giving up an open jumper for a teammate who's even more wide open.
The montage of fastball passes continues. "And the crazy thing is the simplicity of it," Luke says. "When you really break it down, it's just making the quick ... easy ... pass," clapping once for each word to emphasize them. "They're not doing anything crazy. They're literally making the open pass to whoever's open as soon as they're open. They're running." Then Luke pauses, watching his dad finish a fast break by throwing down a one-handed dunk. "Big Bill ..." Luke says, smiling again.
"That Boston Celtics team was very, very, very, very, very, very, very, very special."
- Bill Walton
Luke tries to continue, but he goes quiet for a few plays, admiring in silent awe. On screen, he witnesses Bird on the right wing, pump-faking his defender into the air, then dishing to McHale in the right corner, who immediately dishes it back to a driving Bird. But as soon as McHale's defender moves over to guard Bird, Bird gives it back to McHale, who's now wide open for a baseline jumper. "Ooooh," Luke says. "That might've been my favorite one so far."
A beat later, Luke watches Bird back down his defender, then, as a second defender commits, Bird lasers a two-hand, no-look pass to Parish, wide open under the rim.
"Look at that," Luke says.
Bird fakes a behind-the-back pass to lure a defender, who bites hard, before Bird zips a crisp bounce pass to an open teammate for a jumper.
"That was one of my favorites," Luke says.
Luke watches Bird driving left, hard, but at the last second, as Bird soars toward the rim, another defender leaps to stop him. Undeterred, a flying Bird scoops a pass around that defender's back to Bill, who's now wide open, driving down the lane. But at the last second, as Bill soars toward the rim, another defender leaps to stop him. Undeterred, a flying Bill scoops a pass around that defender's back to a nearby McHale, who's wide open for a dunk.
"That's f---ing incredible," Luke says, leaning back, his eyes wide, laughing. He lets it soak in for a second, then puts his fork down. "It's f---ing beautiful. I'm serious. Like, in a nerdy way, it's emotional watching that, like how beautiful that basketball is."
He has seen these highlights before, many times through the years. He saw many of them live, even if he's too young to remember specifics. They resonate deeper than other memories because they were his very first -- and, by the way, he believes the way those Celtics played is more relevant today than ever. He believes it's a scheme teams are trying to return to, with skilled players, positionless basketball, spacing, moving the ball. "It's still the most effective way to win," Luke says. "You've just got to find guys that are willing to do it, because there's no value put on that anymore."
Throughout the clip, the opposition looks demoralized, defeated. Luke knows that look well. "That's what the Warriors are doing to teams now."
---
Sitting there, at the table in Charlotte, Luke calls upon a game just a few days ago that gave him goosebumps. In a dazzling display of ball movement, the Warriors had assisted on each and every one of their first 36 baskets during a blowout win over the New York Knicks. Luke was so blown away that he connected with one of his former colleagues there for the lowdown on what happened.
"The funny thing is, literally they got to the point in the game where they were playing the game within the game," Luke says. "They didn't even care about the game. They were only going to shoot if they were going to get an assist or give someone an assist on it. They were having so much fun doing it. For another team, it's just f---ing demoralizing. You're running your ass off and the ball moves faster and then at the same time, they've got the best shooters in the world."
From afar, members of that 1985-86 Celtics squad have watched the Warriors and see some of themselves. Carlisle, now the Mavericks' head coach who was a reserve guard for those '85-86 Celtics and is a highly respected X's and O's aficionado, says, "One thing that I noticed about Golden State the year that they won it and then last year, both years where Luke was there -- I know he was pretty intimately involved in the offense -- they were running more kinds of actions that we were running back in 1986 than any team had in any time since then."
It would be easy -- perfect, really -- to draw a straight line through history, from those pass-happy, talent-rich Celtics to their soulmate Warriors, and say that the hard link is Luke Walton and that Luke infused these Warriors with what those Celtics instilled in him. What a storyline that would be, but Luke kills that notion on the spot. The Warriors' scheme was devised solely by Kerr, who created a simple goal: at least 300 passes per game.
"It's a nice, even number that's not that hard to get to," Luke says. "If you pass the ball that many times, it looks like you're playing the right way."
During his two seasons with the Warriors, in which they twice reached the Finals and stood 48 minutes from consecutive championships, the team that Walton helped coach ranked seventh in passes per game, averaging 319.5 during that span. (The league average during that span was 302.3.) And when Luke joined the Lakers, he brought the same goal: 300 passes every game.
Luke winces when the Lakers fall short, but he points to ball movement regardless, after practices, shootarounds, off to the side, as there's no element that he cites more. And slowly, the Lakers are improving. Last year, they ranked 28th in the NBA in passes per game (281.7). Through Jan. 31, they rank 21st (290.9). "Even in Portland, we missed shots in Portland, but we had [332] total passes, which was, like, our second-highest total of the season," he said after a January loss, "so we're sharing the ball."
There's one word Luke uses more than any other to describe the joyous ball movement he learned to love all those years ago in Boston. "It's beautiful," he says.
Ask him about the 2014 NBA Finals performance by the San Antonio Spurs, who shredded the defending champion Heat, passing the ball 472 more times over the course of the series, and Luke says, "It was beautiful. It was absolutely beautiful."
While coaching the Warriors, he saw it -- not really during games because he was caught up in the action, but at night, when he'd watch the film. "This is masterful," he'd tell himself as the footage rolled. "It's beautiful."
Even now that he has left the Warriors, it's a beauty that Walton still craves. And so, whenever possible, usually on Lakers off nights, he retreats to the downstairs living room couch of his Manhattan Beach home to watch his former team. Sometimes he'll watch the first half with his 2½-year-old son Lawson, who remains a big Warriors fan, before putting Lawson to bed at halftime and returning to watch alone. Other nights, he fires up his DVR and watches them at some late hour when everyone else in the house -- including his wife, Bre, and their 7-month-old daughter, Landen -- are asleep, his only company a 9-year-old English bulldog named Gus, sprawled out across Luke's lap.
---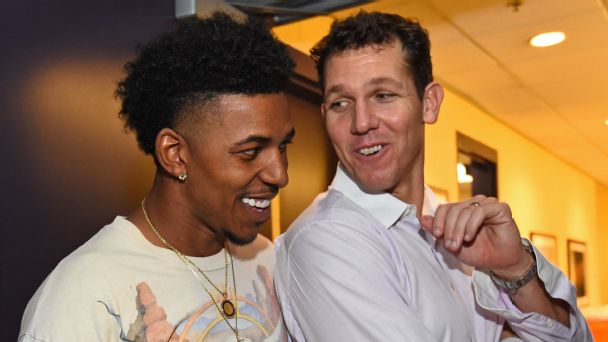 It's late December, in the Lakers' practice facility in El Segundo, and Luke is sitting on an equipment box off to the side of the court. He's wearing a purple and gold T-shirt and gray shorts, surrounded by championship banners and retired jerseys of Lakers legends.
Three decades ago, his fanciful, psychedelic father hatched a wild gambit, transplanting his family 3,000 miles away into the thick of basketball legend, hoping those famed Celtics would mold his boys as they once molded him.
"I didn't know that," Luke says.
He goes quiet for a moment, taking the measure of history.
Three decades later, magically, miraculously, against odds too long to imagine at the time or even now, everything somehow unfolded precisely as Bill planned -- better, in fact, maybe 10 times better.
"I went in with such high hopes, and it blew every expectation, dream and aspiration that I had," Bill says. "Then for the children to see that early on in their lives -- I mean, what an honor, what a privilege for me, as the dad, the dad who hasn't been able to do enough, to be a better dad."
"That's awesome," Luke says. "The memories I had there, which are some of the first memories I have, period: the way he was with his teammates, the way I saw them interact with each other, the way they treated us."
Adam and Nate tagged along with the Birds to an All-Star Game. The Waltons hung out with the Kennedys. Cambridge police shoveled the family driveway of snow and offered to drive the boys to school and Bill to practice. Once, while caught in gridlock traffic on the way to a game at the Garden, Bill found the nearest stranger, gave him the keys and asked if he'd drive it to the Garden, and after the game, the car was there. Players and their wives and family members dined together almost every night.
The Celtics led the league in rebounding, 3-point field goal percentage and defensive field goal percentage; ranked second in assists and field goal percentage. They went 19-2 against teams with 50 or more wins and had a 20.3 average scoring margin in series-clinching games. They finished 50-1 at home -- 10-0 during the playoffs and an NBA-record 40-1 during the regular season. They finished 67-15, all told, en route to thumping the Houston Rockets for Boston's 16th championship. Bird won his third straight MVP and second Finals MVP.
And Bill? The Celtics traded Cedric Maxwell and a draft pick to the Clippers for the 32-year-old not far removed from a four-season stint in which he played only 14 games. But several Celtics welcomed a living legend, and just as Bill grew up listening to the Celtics on the radio, Ainge came of age in Eugene, Oregon, listening to broadcasts of UCLA and the Trail Blazers when Walton dominated. Ainge looked up to Bill, and so did Bird and McHale.
"Then when we got to really meet him," Ainge says, "and see how fun and quirky and goofy he was and how great he was to play with -- even [for] a guy who didn't have his feet and didn't have the same athleticism that he once had, but how brilliant of a player he was and how brilliant his mind was, that just made us that much more happy to have them around."
Added Bird: "Bill brought so much to our team. He wanted to win every game, and he didn't have long to go because of his health. He knew we had a good team and that year had to be the year."
And Bill turned back the clock, playing a career-high 80 games, averaging 7.6 points and 6.8 rebounds, winning NBA Sixth Man of the Year.
"You cannot describe in words what it was like to be impacted by the heat of Larry, Kevin, Chief, DJ and Danny," Bill says. "The atmosphere in the arena. The impact on the community. Being on that team and having Larry Bird as the shining light, it was like being on a tropical island every single moment. To have the boys experience that was just a dream of a lifetime for me, because the Celtics, they did not give me my career back -- they gave me my life back."
Luke gestures toward the court, where a few Lakers are still getting up shots after practice. A cacophony of squeaking sneakers and balls bouncing fills the gym.
"I want our environment to be like that," Luke says. "I want our guys competing and talking trash to each other but being friends and going to dinner off the court and playing unselfish and taking pride in the way that we pass the ball and all those things -- which is exactly how it was in Boston."
Back in Boston. Thirty years ago. When Luke Walton first fell in love.
Holmes is a staff writer covering the Los Angeles Lakers for ESPN.