About
We the Fans is a multiplatform storytelling project about life and love as a football fan. ESPN chronicled the lives of Dallas Cowboys season-ticket holders who come together on game days to back the silver and blue. Follow their stories in a four-episode documentary series airing tonight from 7 to 11 p.m. ET on ESPN and the ESPN App.
Watch Trailer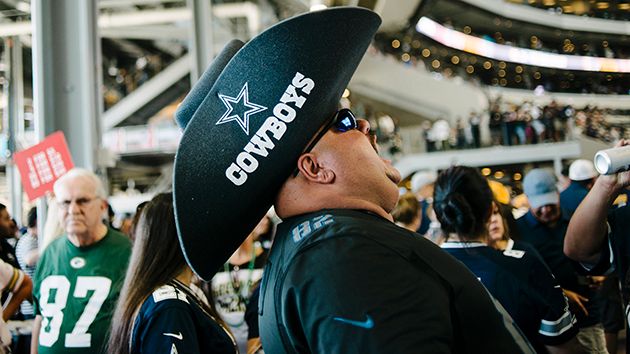 Meet The Super Fans
Carolyn Price
The No. 1 Fan
Carolyn Price's blood has run silver and blue since before most fans were born. She still believes.

Kevin Martinez
The Survivor
Hurricane Harvey was the latest personal tragedy the Cowboys are helping to pull him through.

Andrew Brown
The Activist
He loves his team, but this season he prioritized a higher ideal and devoted his season tickets to pairing police officers with Dallas-area youth.

The Rymshas
The Family that Plays Together
They live in New England, but they hate the Patriots.

Tim Sehon and Justin Paul McCurry
The Newlyweds
The Cowboys are a mutual love that helped bring them together, forever.

Rezzy Davis
The Entrepreneur
She works two jobs and is starting a business on the side in Austin, but on game days it's all about the trek to Arlington with husband Brad Watson.

A Season with the Dallas Cowboys' Biggest Fans
The Dallas Cowboys fans who come to AT&T Stadium fortify an NFL tradition unlike any other. Tune in to follow their stories in a four-episode documentary series airing tonight from 7 to 11 p.m. ET on ESPN and the ESPN App.
Photography By:
Brandon Thibodeaux for ESPN
Week 1
September 10, 2017
Welcome to
Cowboy Country
Carolyn Price
Lancaster, Texas
The No. 1 Fan
Like the late Crazy Ray, the Cowboys' original superfan and her good friend, Carolyn Price became known as the team's No. 1 fan because she's everywhere, all the time -- from training camp through the season. As she's proud to declare, she has been a Cowboys fan longer than most fans have been alive.
"They know not to call me while the game is on. Why would you call me? What would you want?"
Kevin Martinez
Baytown, Texas
The Survivor
The Cowboys have always been his refuge, through the loss of his grandfather, and later his first wife. And again last year, when Hurricane Harvey flooded the home he shared with his current wife, Dee Dee, and three children. His friends in the superfan group Borracho Tailgaters helped pull him through.
"Family's extremely important to me, and I realized that more after the storm."
Andrew Brown
Dallas, Texas
The Activist
In his words: "Win, lose or tie, a Cowboys fan until I die." But Brown took a stand when no team would sign Colin Kaepernick for the 2017 season. Brown's own protest was to boycott games and instead send police officers and high school students to the games together.
"We have to use our sphere of influence or power in this moment, which is spending money at games."
Rymsha Family
Sandwich, Massachusetts
The Family That
Plays Together
The Rymshas operate a small chain of liquor stores in New England, but members of the family turn up their noses at the NFL dynasty in their backyard. Instead, Richard Rymsha flies his family down to most Cowboys home games to "defend the turf" against chirping visitors in the lower bowl at AT&T Stadium. What three words describe him after a Cowboys victory? "Screw the Pats."
"Living in Patriots country is a tough thing."
Week 11
November 19, 2017
Pride of Texas
Tim and Justin
Arlington, Texas
>
The Newlyweds
One is from Mississippi and the other is from small-town Texas. They both love the Cowboys so much that they bought a house within 3 miles of AT&T Stadium to start their life together.
"The reason most of America hates the Cowboys is because we stand for more than just a football organization. We're an empire."
Week 12
November 23, 2017
Chargers

28
at
06

Cowboys
Prime Time
Rezzy Davis
Austin, Texas
>
The Entrepreneur
A native of the Philippines who moved to Austin as a preteen girl, she still enjoys "keeping it weird" with her MFP -- Most Favorite Person -- husband Brad Watson. By day, she's a corporate event sales manager. By night, she's a bartender. In between, she runs a company selling her own line of lipstick.
"I plan on being a Dallas Cowboys season ticket holder for life."