Top Search of the Month: NFL draft

The NFL playoffs and the Super Bowl dominated headlines throughout January, but the majority of ESPN.com's searchers were looking ahead to April ... April 26 to be exact. The 2008 NFL draft will feature an amazing collection of talented players who should help turn around the misfortunes of hard-luck teams such as the Dolphins, Rams, Falcons and, um, Patriots.
Quick Hits
No. 6 Senior Bowl: Consistently routs the Junior and Sophomore bowls in searches, but has yet to reach the immense popularity of the Redshirt Bowl.

No. 20 Kenny George: Sure, he received some searches for being college hoops' tallest player at 7-foot-7, but never underestimate the allure of people with two first names (Tommy John, Frank Thomas, Paul Shirley).

No. 25 Cricket: Second-most searched world sport on ESPN.com, but definitely the most searched insect.
Surprise Search of the Month: Terrelle Pryor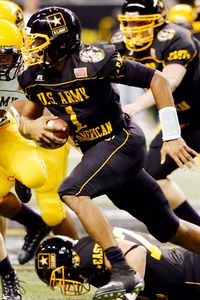 Searches for the outstanding high school QB spiked after his MVP performance in the U.S. Army All-American Bowl on Jan. 5, but they also remained consistently high throughout the month as anticipation for his college commitment announcement steadily grew. Turns out Pryor is making everyone wait until national signing day on Feb. 6 -- or possibly beyond -- to find out which lucky college will get him. Still, he easily earned "Surprise Search of the Month" honors on ESPN.com after averaging more than 100 searches per day throughout January.
The Complete Top 25
Maalek Marshall is ESPN.com's Search Editor.
Note: The results listed are the summation of actual search results that were manually typed in by site users of ESPN.com in said month of 2008. All prelinked searches (including columnist archive links) were excluded from this summation.