It turns out there actually is something in which both Tiger Woods and Michael Jordan can be defeated … highlights! According to our users' votes in the Greatest Highlight bracket (Chris Berman's look "back, back, back, back" in time at sports' most memorable moments), "Doug Flutie's Hail Mary" and "Boise State's Statue of Liberty play" can now claim that distinction. Similar to the Democratic and Republican primaries, participation in the Greatest Highlight voting process was extremely high as searches for the bracket averaged more than 1,300 per day throughout February.
Quick Hits
Surprise Search of the Month: Kevin Hart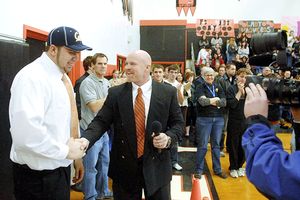 There's a comedian named Kevin Hart who has appeared in "The 40-Year-Old Virgin," "Scary Movie 3" and "Scary Movie 4," but what this Kevin Hart did was no laughing matter. The story of this young offensive lineman from a small Nevada high school who lied about being recruited by several Division I schools was both tragic and captivating. Searches for Hart were high all month as users followed this story from its inception, when he claimed to be duped by a fake recruiter, to its conclusion, when his shocking admission prompted a police investigation.
The Complete Top 25
Maalek Marshall is ESPN.com's Search Editor.
Note: The results listed are the summation of actual search results that were manually typed in by site users of ESPN.com in said month of 2008. All prelinked searches (including columnist archive links) were excluded from this summation.