Top Search of the Month: Olympics

Highlighted by historic performances from U.S. swimmer (no. 2 search) Michael Phelps and Jamaican sprinter (no. 22 search) Usain Bolt, it comes as no
surprise that "Olympics" was the top search throughout August. Every Olympics has a few special moments, but many of the storylines in Beijing were
exceptional (Phelps, Bolt, "The Redeem Team," gymnastics battles/scandals, beach volleyball, etc.) and kept users consistently searching throughout the Games
and beyond.
Quick Hits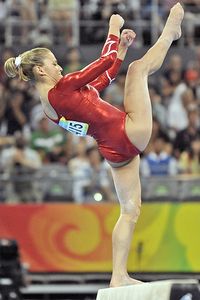 There's always so much emphasis on winning gold during the Olympics, but U.S. gymnast Alicia Sacramone's performance against China in Beijing highlighted how
difficult it is when athletes' mistakes contribute to their team not winning. Though the U.S. women still won the silver, Sacramone blamed herself and her
mistakes for costing them the gold. It seems many users related to Sacramone's situation and wanted to express their support as evidenced by the amount of
conversation replies in the stories about her (more than 1,000 combined) and the volume of searches. After only receiving 27 searches in July, Sacramone is
August's surprise search with more than 3,700 searches (an increase of more than 13,700 percent).
The Complete Top 25
Maalek Marshall is ESPN.com's Search Editor.
Note: The results listed are the summation of actual search results that were manually typed in by site users of ESPN.com in said month of 2008. All prelinked searches (including columnist archive links) were excluded from this summation.