In addition to watching sports, there are three things that ESPN.com users love: lists, polls and predictions. Addressing one-third of that list are our NFL Expert Picks. Our group of experts (Eric Allen, David Fleming, Mike Golic, Merril Hoge, Ron Jaworski, Chris Mortensen, Mark Schlereth and Seth Wickersham), collectively known as the "brain trust of Bristol University," battle each other, the Accuscore Game Cast, the top Pigskin Pick 'em choices and even the "Sunday Countdown" crew (Cris Carter, Mike Ditka, Tom Jackson, Keyshawn Johnson and Chris Mortensen … yes, he plays twice) each week of the NFL season for ultimate "Nostradamus" status. Our experts should be glad their weekly efforts aren't in vain. As the highly anticipated 2008 NFL season got under way in September, searches for our NFL experts' picks steadily increased with each unpredictable week to top all other searches by month's end.
Quick Hits
No. 4 NFL Power Rankings: A perfect segue from the top search, and representing a combination of both lists and polls, the NFL Power Rankings were a weekly favorite for searchers throughout the tumultuous month of September as major injuries and amazing comebacks had many preseason sure shots and duds trading spots.

No. 13 USC: The major upsets weren't limited to pro football as the collegiate gridiron also endured many surprises throughout September, most notably unranked Oregon State's shocking defeat of the then No. 1-ranked USC Trojans.

No. 17 Tom Brady: Fans who root against the Pats (as well as many who play fantasy football) are accustomed to seeing Brady listed on the injury report each week yet still managing to pick apart teams as if he didn't even have a paper cut. This year, however, is a different story as Tom Terrific suffered a season-ending injury in the first quarter of the season opener, which prompted a massive amount of searches on his status.
Surprise Search of the Month: Dante Love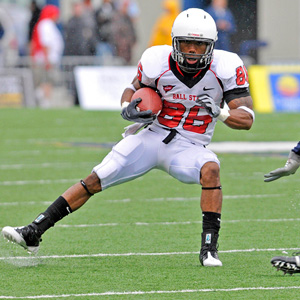 Football's often classified as a brutal sport and in addition to all the magnificent plays and hard hits there are sometimes devastating injuries. Wide receiver Dante Love was in his senior year at Ball State and having a great start to the season with three TDs and 25 receptions through the first three games when he suffered a severe spinal injury during the Cardinals' fourth game against Indiana. Love received a mixed blessing after it was announced that after surgery he would recover with full use of his faculties, but would never be able to play football again. Love's story was clearly one that concerned users followed closely throughout September as he received more than 1,500 searches after only 12 searches in August (an increase of more than 12,500 percent).
The Complete Top 25
Check out the new ESPN Search Index for all the latest sports buzz in search, including the top daily searches, surprises and movers.
Maalek Marshall is ESPN.com's Search Editor.
Note: The results listed are the summation of actual search results that were manually typed in by site users of ESPN.com in said month of 2008. All prelinked searches (including columnist archive links) were excluded from this summation.