Some details of our new design
Main Engagement and Carousel
Front-and-center location across a majority of the site to provide the top editorial picks of our stories and videos.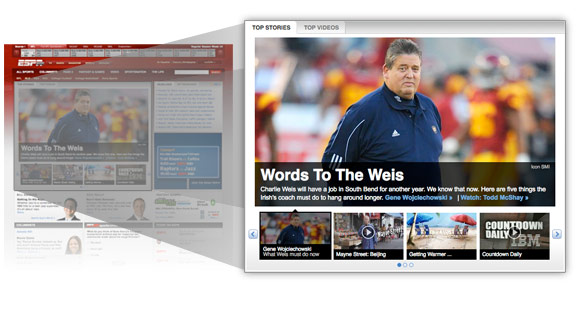 16x9 Video Players
You'll notice a larger video player. In fact, video is more prominent and available throughout the site.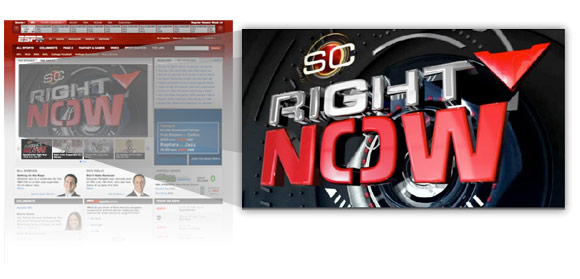 Personalization
Personalize your ESPN.com experience by selecting teams, players, sports and columnists you'd like to track in the Personalization Corner. You can find this with the myESPN drop-down menu. Your selected teams will be highlighted in scoreboards, as well as MyHeadlines throughout the site. You will have easy access to everything you are tracking on myESPN. Coming soon: Your fantasy teams will be available in the myESPN drop-down menu.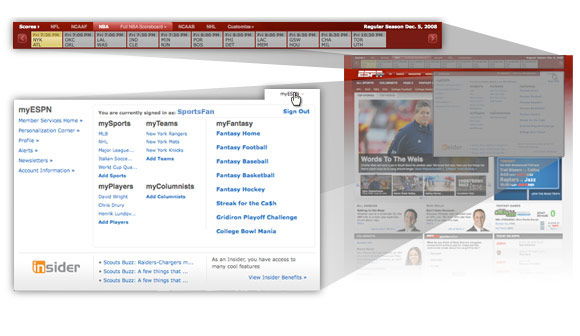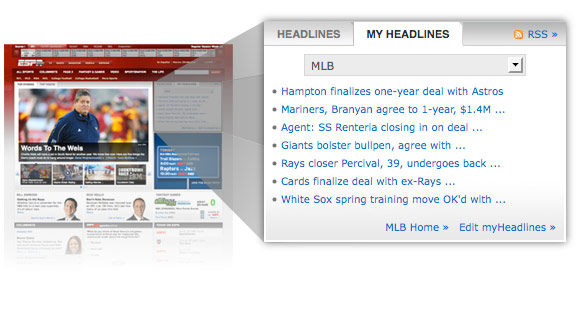 Navigation
We've simplified navigation so that it's easier to find what you are looking for.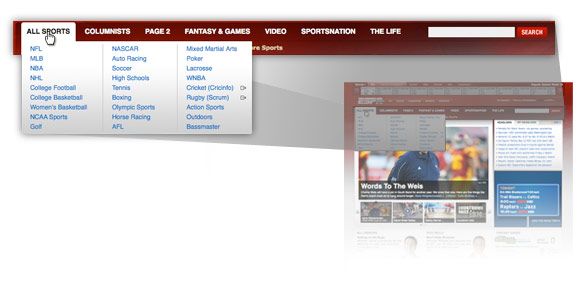 Here's a quick guide to our new navigation:
All Sports: One-click access to sports news.

Columnists: The centralized location for commentary and great sports writing.

Page 2: Click here to explore the world of Page 2's off-beat humor.

Fantasy & Games: All fantasy news and leagues, mini-games and interactive games.

Video: Access to new, enhanced video content.

SportsNation: Where sports fans sound off about the day's news and events.

The Life: For the sporting life, you can find tickets, travel, contests and shopping. Buy game passes, book your travel, compete in contests or shop for cool things.