Top Search of the Month: Boxing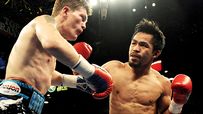 May was quite a month for boxing as evidenced by it taking the top spot in searches. The heavily anticipated fight between Manny Pacquiao and Ricky Hatton ended up being rather "Tysonesque" in length, but it was the biggest reason "boxing" searches were tops in May. Also contributing to boxing's dominance in search was Floyd Mayweather's expected announcement that he is returning to competition … and former MMA sensation Kimbo Slice's very much unexpected announcement that he might enter the ring.
Quick Hits
No. 7 LeBron James: King James experienced both extreme highs and lows as he won the NBA's Most Valuable Player award but his heavily favored Cavs failed to make the Finals despite his excellent play throughout the playoffs.

No. 10 Brett Favre: Sure, there are always rumors that Favre will unretire in the offseason, but the possibility of him being under center for the Packers' division rival Vikings was enough to keep user interest in him high all month long.

No. 18 Preakness: This year's Preakness featured an exciting win by Rachel Alexandra, who was only the fifth-ever filly to win the popular second leg of the Triple Crown and the first one to do it in the past 85 years.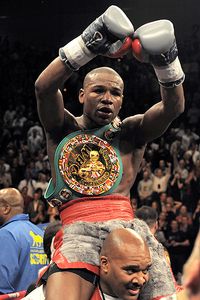 It isn't often that one of the Top 25 searches is also the surprise search, but Floyd Mayweather was the exception. The funny thing is the guy didn't even have a fight in May. However, it was Manny Pacquiao's dominating defeat of Ricky Hatton that was the catalyst for drumming up all the extra interest in "Money" Mayweather. Even though Mayweather is focused on his July bout against Juan Manuel Marquez, many people were more interested in his inevitable meeting with Pacquiao as displayed in a rather lively interview with Brian Kenny. Pretty Boy Floyd also fanned the flames of the ever-growing rivalry between him and Pacquiao by announcing his return to boxing on the same day as the Pacquiao-Hatton fight. Mayweather typically receives his fair share of searches each month, but searches for him increased by more than a whopping 650 percent in May (2,696 searches in April; more than 20,000 in May) easily making him the "Surprise Search of the Month."
The Complete Top 25
Check out the ESPN Search Index for the latest buzz in search, including the top daily searches, surprises and movers.
Maalek Marshall is ESPN.com's search editor.
Note: The results listed are the summation of actual search results that were manually typed in by site users of ESPN.com in said month of 2009. All prelinked searches (including columnist archive links) were excluded from this summation.