Unlike the classic 2008 College World Series in which Fresno State truly lived up to its Cinderella moniker and won the tournament as an unseeded team, 2009's CWS featured a battle between two heavyweights. Texas and LSU entered the tournament seeded Nos. 1 and 3, respectively, and they pushed each other to a decisive third game in which the Bayou Bengals triumphed. However, the lack of a Cinderella did not deter user interest as the tournament received the lion's share of searches throughout the month of June.
Quick Hits
Surprise Search of the Month: Bryce Harper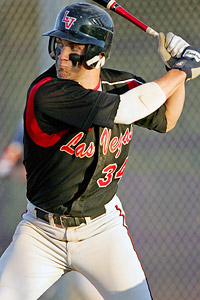 Even though he's still only 16 and won't be eligible for the MLB draft until 2010, Las Vegas High School catcher Bryce Harper has both MLB scouts and baseball fans salivating over his high batting average, cannon arm, surprising baserunning speed and prodigious power. Harper's performance at the 2009 International Power Showcase Home Run Derby at Tropicana Field, where he launched a record 502-foot homer, made the young man dubbed "The LeBron James of Baseball" quite popular on YouTube … and in searches. After only 219 searches in May, Harper is the Surprise Search of the Month -- and even managed to crack the Top 25 -- after receiving more than 10,000 searches in June (more than a 4,500 percent increase).
The Complete Top 25
Check out the ESPN Search Index for the latest buzz in search, including the top daily searches, surprises and movers.
Maalek Marshall is ESPN.com's search editor.
Note: The results listed are the summation of actual search results that were manually typed in by site users of ESPN.com in said month of 2009. All prelinked searches (including columnist archive links) were excluded from this summation.