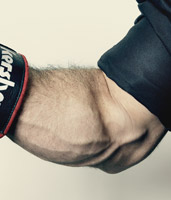 Other riders keep a looser grip to give themselves more balance on the bull. I wasn't taught to do that growing up in São Paulo, so I rely more on strength. I hardly lift any weights because I don't want to be too tight. Strong arms have been passed through generations in my family.
-- Guilherme Marchi, Professional bull rider
PHOTO GALLERY

---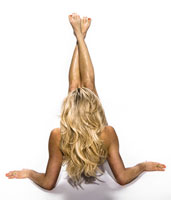 Working out didn't used to be part of the snowboard culture. But I knew if I wanted to have a long career, I needed to be strong. It starts with my upper body. Problem is, one military press and I swear my arms get two inches bigger. I have to tell my trainer to take it easy on my arms so I don't rip through my sleeves.
-- Gretchen Bleiler, Pro Snowboarder
PHOTO GALLERY/VIDEO

---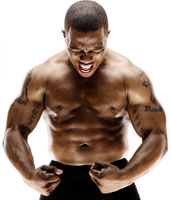 I work out three days a week, and Tuesdays are all about lower body. Squats, dead lifts, single-leg extensions, box jumps, I do it all. Having strong legs helps with my balance; these things help me move the pile.
-- Ray Rice, Baltimore Ravens RB
PHOTO GALLERY/VIDEO

---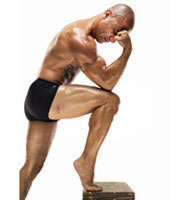 Handling a race car for three hours, my forearms get worked so hard they practically grow by themselves. Ultimately, being fit protects me from fatigue. And if there's one rule in racing, it's this: Tired drivers make mistakes.
-- Tony Kanaan, IndyCar driver
PHOTO GALLERY/VIDEO

---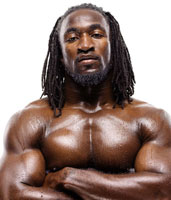 I build up my neck and shoulders to prevent stingers. I use manual resistance for my neck and dumbbells for my shoulders. I also work my traps a ton. Guys may say I have the best body in the NFL, but I don't check the mirror. I'm not the type.
-- Greg Jones, Jacksonville Jaguars
PHOTO GALLERY/VIDEO

---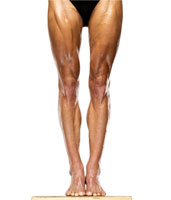 I like to say we train 24/7. Triathlon requires me to use my whole body, so I can't neglect any area. But besides my mind, I like my legs best. They come from my mom, and they've carried me to three Ironman world championships.
-- Chrissie Wellington, Triathlete
PHOTO GALLERY/VIDEO

---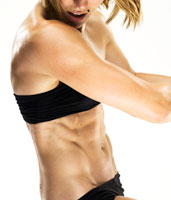 My core is engaged the entire time I'm riding. So if I'm as strong and fit as I can be, my confidence is high when I get on a bike. I build up my strength by lifting and with exercises that use my body weight, like push-ups and sit-ups.
-- Jolene Van Vugt, Motocross Rider
PHOTO GALLERY/VIDEO