Category archive:

New York Yankees
March, 30, 2012
03/30/12
8:43
AM ET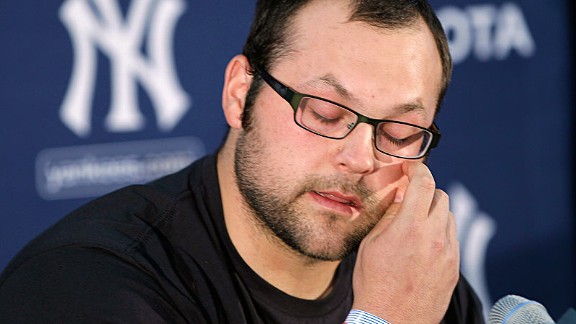 AP Photo/Kathy WillensNew York Yankees relief pitcher Joba Chamberlain gets emotional as he speaks about his relationship with his son. Chamberlain injured his right ankle while jumping on a trampoline with him.
New York Yankees pitcher Joba Chamberlain really can't be blamed for getting emotional while trying to defend jumping around on a trampoline with his 5-year-old son, a decision that ended in a serious ankle injury that jeopardizes his season, if not career.
He was encouraging a little physical exercise and bonding with his child. But Yankees fans apparently don't see it that way, chastising Chamberlain for being stupid, and disrespectful of his bosses for being so careless. Some of them said he should have known that adults don't have any business flopping around on a trampoline.
But take heart, Joba. You're certainly not alone in getting injured on a trampoline, and, according to accounts of your accident, you weren't nearly as careless as some other adults injured in trampoline accidents in recent years. From 2007 through 2010, more than 400,000 people nationwide ended up in an emergency room after trampoline play, according to the U.S. Consumer Product Safety Commission. That's enough people to fill eight Yankee Stadiums. (Here's just a sample of adults injured on trampolines in 2010.)
About 7 percent of the injured were between 25 and 64 years old. (Chamberlain is 26.) A CPSC study done in 1999 showed that leg and foot injuries were the most common injuries, accounting for 40 percent of all incidents. Chamberlain's specific injury is an open dislocation of the subtalar joint in his right foot.
Yankees general manager Brian Cashman was diplomatic when asked whether he thought Chamberlain's decision to go to the trampoline facility was too risky considering his profession.

"For the sake of what he's going through, I'm just gonna refuse to answer that question," Cashman said. "He's going through enough, and I'd rather just keep the focus from my perspective, and what's coming out of my mouth, is, 'What is the injury, and how we're gonna have to deal with it,' rather than the rest of that."
Trampolines have been a known danger for years, with the CPSC instituting new safety standards for the equipment in 2000. Since then, there have been seven trampoline recalls. Chamberlain's accident occurred at Boing! Jump Center in Tampa, Fla. Most centers, including Boing!, require participants to sign a waiver acknowledging inherent risks involved in the activity, including the possibility of a laundry list of injuries.
"At one point in the early 2000s we saw a rise in popularity and the rise in the incidents," said CPSC spokeswoman Kim Dulic, who added the agency would look into whether it needed to take any action involving the Tampa trampoline center. "Given the new safety standards and safety tips that we offer, I think the product can be used safely."
Chamberlain's description of simply landing wrong on his foot mirrors that of many other adult trampoline jumpers who hurt their ankles or ended up with strains, sprains or fractures, according to hospital reports. There have been a few extra-unlucky jumpers, including one 28-year-old who sprained his ankle as he got off a trampoline and stepped in a pile of walnuts.
And for as much grief as Chamberlain gets for jumping on the trampoline, at least he wasn't the drunk 19-year-old who was injured when he fell through a trampoline, or the 24-year-old who managed to lacerate his chin with his own knee, or the guy who jumped from his roof onto a trampoline at home and fractured a vertebrae in his lower back.
Still, it's doubtful that any of the other injured jumpers are professional baseball players getting paid millions of dollars to keep their bodies safe and sound for the mound, where there are plenty of other, more legitimate ways to get injured. Trampoline jumping isn't among Major League Baseball's list of prohibited activities -- yet.
And while it's still unclear whether Chamberlain will be able to pitch this season, it's very clear he won't be returning to a trampoline anytime soon -- if ever. Maybe a nice game of catch in the backyard with his son is a better bonding activity?
February, 8, 2012
02/08/12
7:59
AM ET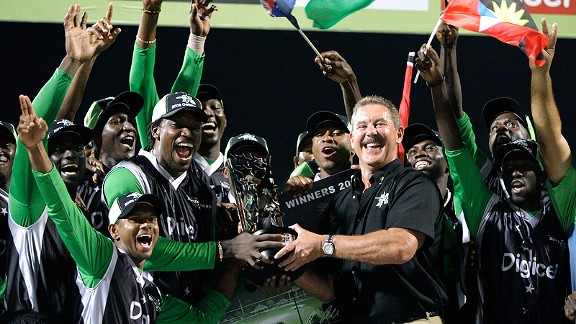 AP Photo/Andres LeightonAllen Stanford, front right, presents the trophy to the Stanford Superstars after they won the Stanford 20/20 for 20 cricket match in 2008. It was the richest cricket match of all time, with a total prize pool of $20 million.
A handful of athletes and sports promoters across the globe likely have turned their attention to Houston the past few weeks, as they keep tabs on the trial of financier and sports sponsor R. Allen Stanford, which is playing out before a federal jury.
Stanford is facing a long list of federal fraud charges stemming from what prosecutors say was the reckless misuse of at least $7 billion in investors' money in a giant Ponzi scheme. Authorities allege that Stanford also used investors' funds to support his lavish lifestyle and personal pet projects, including the sponsorship of several high-profile cricket matches. The case is in its third week in court.

Among his many celebrity friends, Stanford was tight with PGA golfer Vijay Singh, whose name recently came up during trial in reference to Stanford's decision to spend Christmas in 2008 with Singh in California's Napa Valley wine country. When Stanford was indicted in 2009, Singh offered to pay the $500,000 bond, but federal rules wouldn't allow him to do that because Singh, from Fiji, was not a U.S. citizen.
Receivers, acting on behalf of Stanford's creditors, started legal action last year against IMG Worldwide, which represents Singh, to recoup sponsorship fees and advertisements that they allege Stanford paid for with revenue from fraudulent certificates of deposit. Some of the money Stanford gave IMG Worldwide -- about $10.5 million -- went to pay for golf endorsement fees, the Stanford International Pro-Am and sponsorship for Singh. The receivers also are pursuing $1.3 million paid to the Miami Heat, $5.1 million to the ATP Tour, $6.4 million to the University of Miami, $4.5 million to Texas A&M and $12.9 million to the PGA Tour, among other sports-related entities.
Athletes, including several Major League Baseball players, are among the many thousands of investors whose assets were tied up in Stanford's fall. Among the investors are former star pitcher Greg Maddux, who works in administration for the Texas Rangers; retired New York Yankees slugger Bernie Williams; Tampa Bay first baseman Carlos Pena; former Boston Red Sox right fielder J.D. Drew; and outfielder Johnny Damon, who is a free agent. Receivers had frozen the ballplayers' funds, a total of about $9.5 million, but a federal appeals court judge ruled in late 2009 to release them.
Until the case is resolved, it will remain unclear who will end up owing money and who will end up receiving money.
Iverson's taste in bling bigger than his wallet
The financial foibles of former Philadelphia 76ers player Allen Iverson are well known, with several media reports that Iverson is either broke or at least heavily in debt.

Getty ImagesIverson
Iverson's latest blow came from a Georgia judge who ruled that a jewelry store can tap into Iverson's bank account to receive payment on an overdue bill. The jeweler, Aydin & Company, alleged in a lawsuit that Iverson purchased $675,500 worth of jewelry, including a watch and a diamond bracelet. He paid $300,500 toward the bill in 2009 but never paid the $375,000 balance. Including interest, Iverson owed $662,540. Iverson didn't respond to the lawsuit, so the judge ordered him to pay the $375,000, the interest that had grown to $405,753 and attorneys' fees and court costs of about $80,000, for a total of about $860,000. When Iverson still refused to comply with the court order, another judge ruled in January to proceed with garnishing the ballplayer's checking account, although it's unknown how much money is there for the jeweler to collect.
One of the first rules of business: Don't mix friends and funds
Also in January, Boston Red Sox outfielder Carl Crawford has been sued in a Texas court for a real estate deal gone bad by a former friend who alleges Crawford hung him out to dry on a construction contract.

US PresswireCrawford
Arturo McDowell claims that Crawford invested $75,000 in McDowell's construction company in 2007 on the condition that McDowell mentor Crawford's younger brother, GerCory. The company went under later that year, but McDowell started another company soon after and continued to mentor the younger Crawford, according to the lawsuit. In 2010, the Crawford brothers and McDowell started a business together called Pro-Source, with McDowell investing $123,000 of his own funds and entitled to 40 percent of the profits.
According to court documents, the partnership started to go south when, in February 2011, the company received a contract to build a $700,000 home for the Crawford brothers' father. McDowell claims that the brothers have refused to share any profits from that deal or from a subsequent smaller contract that Pro-Source had completed. On Jan. 20, McDowell filed a lawsuit against the Crawfords for damages of $500,000, claiming that, "Carl and GerCory have entirely shut Mr. McDowell out of Pro-Source after taking his money." The brothers have yet to file any response.