Category archive:

Texas Longhorns
May, 4, 2012
05/04/12
7:54
AM ET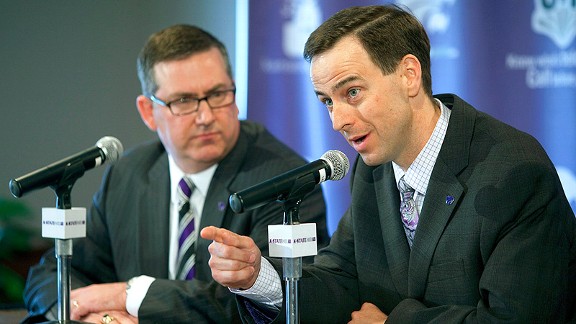 Travis Heying/Wichita Eagle/Getty ImagesKansas State University athletic director John Currie, right, and Kansas State University president Kirk Schultz in speak to the media in March.
Kansas State athletic director John Currie keeps a laminated 3-by-5 index card outlining the department's budget for the current fiscal year in his pocket at all times.
It's not as impressive as an autographed photo of head football coach Bill Snyder, but Currie credits the card -- and what it stands for -- for helping the department generate enough money to cover all its expenses and for its healthy budget surplus.

In fact, out of the 99 public schools in the Division I Football Bowl Subdivision whose records were open to review by The File, Kansas State ended the 2010-11 fiscal year with the most net income -- about $23 million. That's the difference between what the athletic department gets in revenue from ticket sales, donations, TV contracts and so forth, and what it spends on recruiting, equipment, salaries and other expenses.
"We've been successful because we've increased our revenue and managed our expenses," Currie said. His best advice to other athletic departments is to "build relationships and manage priorities." Currie uses the index card to show potential donors exactly where their money will be spent, and he said that transparency has encouraged growth in money pledged to the department.
Out of 120 D-I schools -- public and private -- 100 either broke even or ended the year with a surplus, according to figures reported to the NCAA and to the U.S. Department of Education. But the information covering private schools and those that don't have to release financial records is limited and not always comparable. (A database showing many of the revenue and expense categories for all 120 schools for the past four fiscal years can be found here.)
To come up with the most detailed breakdown and even comparison, "Outside the Lines" and The File submitted open records requests to all public D-I schools (except those in Pennsylvania that are not subject to open records laws) and asked for copies of the audited financial reports that schools submit each January to the NCAA.
Of those 99 schools, 79 either broke even or showed a surplus for the 2010-11 fiscal year, the most recent for which numbers are available. If that sounds different than what you hear from the NCAA, well, it is. The NCAA determines profitability after it subtracts athletic department revenue that comes from student fees, state funds and money from the university. By that measure, only 19 public schools were in the black. "Outside the Lines" aired and published stories nearly a year ago in which that methodology was debated.
At Kansas State, only about $3.3 million of the department's revenue came from student fees and support from the university. Even so, Kansas State tops the profitability list and is followed by Texas, Louisiana State, Alabama, Florida and Michigan. Kansas State's overall operating revenue was about $70 million, an increase of about 31 percent from the prior fiscal year, which was Currie's first at Kansas State. The year before he came, the department was running a $2.8 million deficit, based on the figures submitted to the NCAA.
From fiscal year 2009-10 to 2010-11, contributions and donations went up by 62 percent, for a total of $26.5 million, making it Kansas State's largest revenue source.
Currie said that during his tenure and that of university president Kirk Schulz, the department expanded its grassroots base of donors from 5,400 to 7,500, developed a major gifts program and expanded its fundraising reach nationwide. And there's that card, which emphasizes the department's goal to be transparent about its funding with the hope that people will understand the needs, he said.
"They say, 'Oh, OK, there's no big mystery anymore. I get it,'" Currie said. Although Kansas State might not have the fan base or the lure of bigger programs such as Texas, LSU or Alabama -- which make most of their money from ticket sales -- "our fans and our contributors, they don't look at [donating] as a short-term deal. They look at it as a long-term investment."
Kansas State's rise to profitability didn't come without some pain, as Currie recalls having to cut staff his first year in office to help trim expenses. He points out that Kansas State has the smallest full-time headcount in the Big 12, with 132 athletic department staff members. It has also cut back expenses in other areas, including football recruiting.
In 2010-11, the department still got about $1.5 million in direct support from the university, although that number has been steadily decreasing and is scheduled to be eliminated within the next few years, Currie said.
A little more than a quarter of the top D-I public schools got most of their funding from the university or state in 2010-11. In an era of university budget cuts when more athletic programs are being asked to pay their own way, several departments strive to reach a point where they can sustain themselves financially. Currie said he isn't sure if Kansas State provides a model -- because every university has its own challenges and limitations -- but he said every program should start by defining priorities.
"We don't spend any time worrying about Texas' budget. We're not ever going to have a budget like them," he said. (Texas' $150 million budget is more than twice as large.) "Let's focus on the things we can do well as we go about our business."
The financial records The File collected come from three sources. Financial records for all public D-1 schools, except those in Pennsylvania, come from the forms they submit every January to the NCAA and include detailed breakdowns of revenues and expenses. Pennsylvania schools are not subject to open records laws. Their figures -- and the figures for private schools -- come from mandatory reports made to the U.S. Department of Education. That information is limited to fewer categories. Finally, figures for the U.S. Naval Academy come from a form it has to file each year with the IRS. To see more categories for all schools for the past four fiscal years, check out our online database.
September, 13, 2010
09/13/10
1:12
PM ET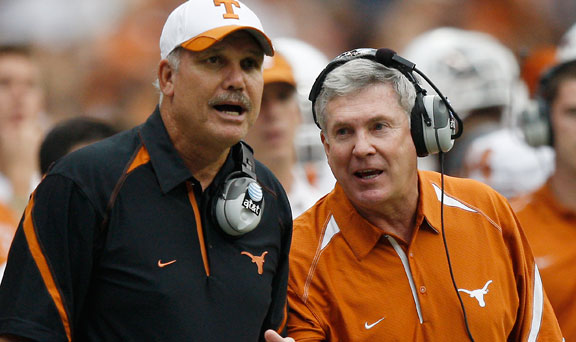 "Hey, Duane, you wouldn't believe how much I bring home a year."

Ohio State coach Jim Tressel pockets 10 grand for ambling by a Coca-Cola event. Louisville sends its new coach, Charlie Strong, on a paid annual vacation that lasts a month. Gary Pinkel's contract with Missouri gives him control of a $25,000 fund that he can use for the, uh, betterment of the team.
Big-time coaches have perks that make Wall Street bankers blush. And to find out how the biggest make out, The File reviewed the contracts of 53 of the 70 highest-paid FBS coaches from top tier public institutions (private ones like Duke are exempt from public disclosure laws). As it turns out, having a seven-figure salary is just the start.
On the air
You'd think that coaches would be talked out after game day, but many of them can't wait to do their own radio shows -- and our review of their contracts shows why. Texas' Mack Brown, who has the nation's highest paying contract at $5.1 million annually, pockets a whopping $875,000 for talking X's and O's to his fans on radio and TV. That's actually more than 47 of his colleagues earn in total, but it pales to the Rush Limbaugh-like $1.4 million average that Georgia Tech's Paul Johnson will earn every year through 2015 for hosting his eponymously named radio show, or the $1.65 million that is part of Rich Rodriguez's multimedia payday at Michigan.
1. Rich Rodriguez, Michigan: $1.65 million (Includes "TV, radio, Internet, shoe and/or apparel sponsorships" and other promotions.)
2. Jim Tressel, Ohio State: $1.38 million (Includes media promotions and PR.)
3. Paul Johnson, Georgia Tech: $1.3 million (in 2010)
4. Les Miles, LSU: $975,000
5. Mack Brown, Texas: $875,000
6. Mark Richt, Georgia: $800,000
Flight time
Oklahoma's Bob Stoops makes $4.1 million annually. Not included in that total: 45 hours of private flight time. Many coaches sign contracts that allow for "reasonable plane use," but Stoops is one of four guys with specific clauses for personal, nonbusiness jet travel. Translation: Any time. Any place. No charge for carry-ons.
1. Bob Stoops, Oklahoma: 45 hours
2. Kirk Ferentz, Iowa: 35 hours
3. Nick Saban, Alabama: 25 hours
4. Jim Tressel, Ohio State: 20 hours
On the ground
You can't expect a coach to pile up those recruiting miles on his own wheels, can you? Most of the coaching contracts we reviewed contain a provision for the coach to receive at least one car, and more than half of them (31) allowed for a deuce. (Hey, if one car is dirty, you just send it off to be cleaned and drive the other.) Add in insurance payments, and you get a tight race for the richest ride. We're giving a slight edge to Clemson's Dabo Swinney, who gets two new cars every year.
1. Dabo Swinney, Clemson: Two new cars annually.
2. Turner Gill, Kansas: Two cars, "the model of which shall be the highest line of the manufacturer."
3. Gene Chizik, Auburn: Two cars, plus gas and service payments for both.
4. Kevin Sumlin, Houston: Two cars, plus university-issued gas cards.
5. Greg Schiano, Rutgers: One Cadillac Escalade.
File under ...
Lucky to escape: This Boston Police Department report describing Tom Brady's Sept. 9 collision with a minivan mentions that the impact was so intense it toppled a steel pole holding up a traffic light at a busy intersection. Amazingly, Brady walked away from his crumpled Audi unhurt. For those doubting he's tough enough to justify his new deal, worth an average of $18 million a season, we say nuff said.
Floyd Mayweather's bad vacation: About 90 minutes before Brady's accident, Floyd Mayweather barged into the Las Vegas home of his son's mother, Josie Harris, allegedly screaming that he was going to have her and her new boyfriend "taken care of." After police escorted him out, he re-entered through his son's room and, Harris claims in this request for a Family Court order of protection, "yelled fiercely at [her three] children as he continued to beat me in front of them that if they ran or tried to call the police, he would beat them the same way." Since Mayweather lost out on the chance to fight Manny Pacquiao, he's declared that he'll be on vacation for the next year. If this is what he does with down time, this guy needs to get back to work, and fast.
Dodger divorce drama: It's usually the kids who get hurt in the divorce. But in the case of Los Angeles Dodgers owners Frank and Jamie McCourt, three fans are claiming that they're the ones with lasting damage. The fans -- Albert Perez, Gerardo Rodriguez and Alfredo Rodriguez -- blame security understaffing at a USC/UCLA game that was held at Dodger Stadium in February for injuries sustained in a bathroom brawl during the game. They say McCourt purposely hired too few security guards because he's trying to publicly demonstrate that he doesn't have as much money as his wife claims in court. Give the fans credit for being creative. McCourt knowing what's going on in Dodger Stadium? A Dodgers spokesman refused comment.
The hit king: Saturday night marked the first time that Pete Rose was allowed to take part in an official Cincinnati Reds event since his banishment from baseball in 1989. The Reds called him out at Great American Ball Park to commemorate the 25th anniversary celebration of record-setting hit No. 4,192. But the night was bittersweet, as MLB refused to let him address the crowd. All these years later, MLB still wants to make sure that this report speaks the loudest about Rose.
Additional research assistance by Ben Arledge and Dale Brauner.
August, 16, 2010
08/16/10
11:07
AM ET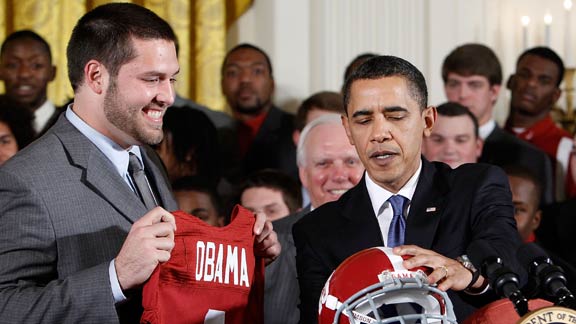 Alex Wong/Getty ImagesThe Tide's trip to D.C. turned out to be a pretty expensive photo op.
For our introductory column here at "The File," we're following the money in the BCS. So when we saw President Obama welcoming the BCS champs of Alabama to the White House in March, it made us wonder: How much does the ultimate photo op cost? Here's how that $97,327 total breaks down:
$79,314: A chartered plane from Tuscaloosa and back again
$3,500: Four buses to transport the team to and from the airport
$6,000: Four more private buses to tour the team around D.C.
$1,671.30: Bill from Metropolitan Police Department, Homeland Security Special Ops, for crowd control
$3,512: Breakfast, Classic Fare Catering
$3,329.95: Lunch tab from Chick-fil-A
As for the president's description of Nick Saban: "There aren't too many coaches in the country who have the knowledge, the motivational skills, the program discipline to win two national championships in six years."
Priceless.
---
When Tim Tebow sneezes ...
Last September, Tim Tebow was laid low by a flu-like bug that ripped through Florida's roster. Did that mean he was sidelined? Nope. To keep the QB in the lineup against Kentucky -- and avoid having him infect the rest of the team -- the Gators paid almost $10,000 for a private plane to get Tebow to Lexington, according to documents provided by the Florida Athletic Department. Although school officials blacked out Tebow's name on this official flight itinerary, his stats were bold-faced news: 123 yards rushing, 103 yards passing and three TDs in a 41-7 win. Florida clearly figured it was worth an extra $42.50 a yard to have Tebow in the lineup. Heisman voters, not so much.
---
Mascot makeover
He works every Michigan State home game, stars in "SportsCenter" commercials and twice has been named Muscle & Fitness magazine's "buffest mascot." That's a lot of wear and tear on Sparty, as we found when we sent a public records request to Michigan State asking for the cost of a mascot makeover. (We're pretty sure it's the first one like that MSU has received, as evidenced by the assistant who kept saying, "What do you want again?") If you've ever paid $2,650 for a pair of leather boots, you know what it's like to dress for a capacity crowd of 75,005.
---

Delany
Big Ten chief no fan of the press
While the game of musical chairs called BSC realignment was in full swing this summer, Big Ten commissioner Jim Delany was hunkered down in his office, trying to keep a wall of silence around the negotiations.
This March 3 e-mail from Delany to his conference athletic directors -- obtained through a freedom of information request to a Big Ten school -- shows that Delany was just thrilled that Ohio State president Gordon Gee and Wisconsin AD Barry Alvarez refused to talk to a Chicago Tribune reporter doing a story on the expansion.
"Fyi -- I appreciate Gordon and Barry being unavailable for this story per my request as we move our process forward," he writes. "I made myself unavailable also and it had the consequence of making me a focus of the story. To reiterate as a collective we have no conference stake in contributing either on or off the record or via background on these stories."
Delany goes on to suggest that talking to the press, among other things, is "an affront to those who are practicing discipline by refraining from commenting [and] inconsistent w [sic] the protocols of collegiality and trust which are the foundational elements of moving big and meaningful issues thru a governance system such as our own."
To see more bad grammar, and the five reasons Delany doesn't like the press, you can read the full text of his e-mail here.
---
Well equipped
Think your office feels like an equipment locker? Take a look at what it takes to outfit a real one. We asked Texas to tell us what's in its spring locker stockpile and got back a 28-page response listing everything from visors (181) to practice jerseys (197) for 111 players and 14 coaches. The Longhorns did such a painstaking job, we didn't have the heart to ask for the number of mismatched socks.
Public information research by Dale Brauner, with assistance by Benjamin Arledge.