Category archive:

Alabama Crimson Tide
January, 3, 2012
01/03/12
4:23
PM ET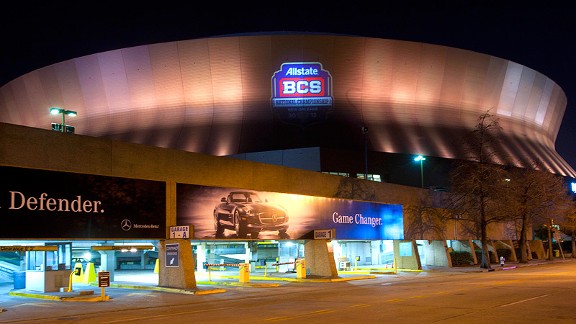 AP Photo/Dave MartinThe Sugar Bowl committee directs the BCS National Championship Game this year after doing the same for Tuesday's Sugar Bowl.
If you dug deep for tickets that are priced at face value between $300 and $350 for the 2012 Allstate BCS National Championship Game, we here at The File thought you might like to see where your money has gone. The Sugar Bowl, after all, is a registered 501(c)(3) charity that doesn't pay taxes on the cash you give it. With net assets in the neighborhood of $34 million, it has a lot of money to spread around.
A quick look at the Sugar Bowl's IRS disclosure form suggests it's very charitable. The filing reports that the organization, which this year directs the Sugar Bowl on Jan. 3 and Monday's title game, gave away $6.21 million in grants in the fiscal year ending June 2010, a princely sum by any standards. But look a little closer, and you'll find that figure is not what it seems.

The first $6 million of that isn't really a grant. It's a payment to the BCS, which distributes the money back to schools. If you believe in less government and more free market economics, this would appear to be a good thing. The BCS is plowing tax-free money back into higher education.
Except that's not really how it works. The money that the bowls send to the BCS is actually used to subsidize the high-priced tickets they force universities to buy.
Consider last year's Sugar Bowl. Arkansas and Ohio State signed game contracts requiring them to buy blocks of 17,500 tickets. At the end of the day, the Razorbacks came up $342,980 short on their unsold tickets while the Buckeyes ended up eating $149,330. Add in expenses, and even though they received $3.9 million in combined payouts from the BCS (via their conferences), Arkansas reported a measly $5,525 profit, while Ohio State made $288,876.
The Sugar Bowl maintains that it needs that ticket money to host its game and related activities. "You name the sport, we're involved in [financing] it," Sugar Bowl spokesman John Sudsbury says.
But go back to that grant figure. Minus its $6 million payment to the BCS, the Sugar Bowl donated just $210,056 to charities in the fiscal year ending June 2010. Its grant recipients included the Southern Yacht Club ($16,500) and the Friends of New Orleans Lacrosse ($12,536).
ESPN owns seven non-BCS bowl games and holds the BCS broadcast rights through 2014.
What's even more interesting is how much the Sugar Bowl spends on itself. According to this document that the Sugar Bowl filed with the state of Louisiana two years ago, it's projected operating budget for 2009-10 was $5.6 million, roughly the same amount it sent to the BCS.
The figure that stands out most is $1.1 million. That's the amount that went to pay the salary of its chief executive, Paul Hoolahan ($593,718), and two top aides.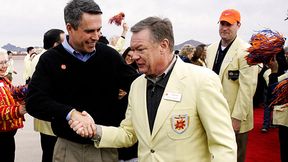 AP Photo/Paul ConnorsFormer Fiesta Bowl CEO John Junker, right, and Boise State coach Chris Petersen in 2009.
Looked at another way, 20 percent of an operating budget that was almost as large as the Sugar Bowl's total BCS payout went to three people. Hoolahan made twice as much as Ohio State.
How good is Hoolahan at what he does? In addition to pocketing more than the top three executives of the Rose Bowl, he persuaded the state of Louisiana to give his bowl $1.4 million for its 2010 game. While he had to promise that the money wouldn't be used for staff salaries, the Sugar Bowl used it to help cover its BCS disbursement, which, as we've seen, at least partially went to paying for the tickets that finance his salary.
Hoolahan isn't the only one making out like a bandit. In Miami, Orange Bowl CEO Eric Poms banked $507,000 in the fiscal year ending June 2010, and that doesn't include perks like having an off-duty Florida Highway Patrol officer shuttle him around.
How did these guys get so rich and powerful without anyone knowing their names? Like good party hosts, they fly under the radar while making sure everyone had a drink in their hand. The Orange Bowl holds cruises for athletic directors and conference execs. The Sugar Bowl holds parties.
But in Phoenix, the Fiesta Bowl's former CEO John Junker may have gotten a little greedy. He is accused of reimbursing employees for donations they made to political candidates who could keep the gravy train rolling. A series of articles by Craig Harris of The Arizona Republic exposed that and more: lavish parties, bloated salaries and, inevitably, strip club bills.
The feds are looking into the deposed Junker's reign, his former chief operating officer is under indictment, and a lobbying group known as Playoff PAC is asking the IRS to look at all of the bowls, alleging a pattern of frivolous spending, undisclosed lobbying payments and bloated salaries.
Where is this heading? Maybe to the worst four-letter word a bowl chief can hear: UBIT.
It stands for "unrelated business income tax." Here's why it matters: Nonprofits get a free pass on income related to their charitable missions, but anything outside that mission is subject to being taxed. The Orange, Sugar and Rose bowls claimed exactly zero in UBIT revenue in their fiscal year 2010 filings. The Fiesta Bowl reported $3,054.
Marcus Owens, a former high-ranking IRS official who ran its Exempt Organizations Division, says unrelated business income "has always been a playground for tax lawyers." It appears to him that the bowls have gone too far in writing off advertising and sponsorship revenues. He is advising Playoff PAC, which plans to file a complaint with the IRS later this month alleging the BCS bowls serially under report taxable income.
Granted, it's hard to get worked up about corporate business taxes, but this is one investigation that the bowl chiefs really don't want. According to Owens, the NCAA litigated the issue in the 1990s and came away with a federal court ruling that the organization didn't have to pay taxes on income such as advertising in once-a-year game programs. But the business of college sports is much bigger now, and Owens says the IRS may be tempted to take another look.
Enjoy the game. To the people running it, it might as well be called the UBIT Bowl.
September, 13, 2010
09/13/10
1:12
PM ET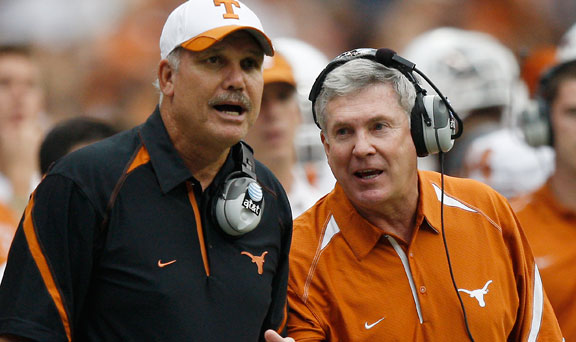 "Hey, Duane, you wouldn't believe how much I bring home a year."

Ohio State coach Jim Tressel pockets 10 grand for ambling by a Coca-Cola event. Louisville sends its new coach, Charlie Strong, on a paid annual vacation that lasts a month. Gary Pinkel's contract with Missouri gives him control of a $25,000 fund that he can use for the, uh, betterment of the team.
Big-time coaches have perks that make Wall Street bankers blush. And to find out how the biggest make out, The File reviewed the contracts of 53 of the 70 highest-paid FBS coaches from top tier public institutions (private ones like Duke are exempt from public disclosure laws). As it turns out, having a seven-figure salary is just the start.
On the air
You'd think that coaches would be talked out after game day, but many of them can't wait to do their own radio shows -- and our review of their contracts shows why. Texas' Mack Brown, who has the nation's highest paying contract at $5.1 million annually, pockets a whopping $875,000 for talking X's and O's to his fans on radio and TV. That's actually more than 47 of his colleagues earn in total, but it pales to the Rush Limbaugh-like $1.4 million average that Georgia Tech's Paul Johnson will earn every year through 2015 for hosting his eponymously named radio show, or the $1.65 million that is part of Rich Rodriguez's multimedia payday at Michigan.
1. Rich Rodriguez, Michigan: $1.65 million (Includes "TV, radio, Internet, shoe and/or apparel sponsorships" and other promotions.)
2. Jim Tressel, Ohio State: $1.38 million (Includes media promotions and PR.)
3. Paul Johnson, Georgia Tech: $1.3 million (in 2010)
4. Les Miles, LSU: $975,000
5. Mack Brown, Texas: $875,000
6. Mark Richt, Georgia: $800,000
Flight time
Oklahoma's Bob Stoops makes $4.1 million annually. Not included in that total: 45 hours of private flight time. Many coaches sign contracts that allow for "reasonable plane use," but Stoops is one of four guys with specific clauses for personal, nonbusiness jet travel. Translation: Any time. Any place. No charge for carry-ons.
1. Bob Stoops, Oklahoma: 45 hours
2. Kirk Ferentz, Iowa: 35 hours
3. Nick Saban, Alabama: 25 hours
4. Jim Tressel, Ohio State: 20 hours
On the ground
You can't expect a coach to pile up those recruiting miles on his own wheels, can you? Most of the coaching contracts we reviewed contain a provision for the coach to receive at least one car, and more than half of them (31) allowed for a deuce. (Hey, if one car is dirty, you just send it off to be cleaned and drive the other.) Add in insurance payments, and you get a tight race for the richest ride. We're giving a slight edge to Clemson's Dabo Swinney, who gets two new cars every year.
1. Dabo Swinney, Clemson: Two new cars annually.
2. Turner Gill, Kansas: Two cars, "the model of which shall be the highest line of the manufacturer."
3. Gene Chizik, Auburn: Two cars, plus gas and service payments for both.
4. Kevin Sumlin, Houston: Two cars, plus university-issued gas cards.
5. Greg Schiano, Rutgers: One Cadillac Escalade.
File under ...
Lucky to escape: This Boston Police Department report describing Tom Brady's Sept. 9 collision with a minivan mentions that the impact was so intense it toppled a steel pole holding up a traffic light at a busy intersection. Amazingly, Brady walked away from his crumpled Audi unhurt. For those doubting he's tough enough to justify his new deal, worth an average of $18 million a season, we say nuff said.
Floyd Mayweather's bad vacation: About 90 minutes before Brady's accident, Floyd Mayweather barged into the Las Vegas home of his son's mother, Josie Harris, allegedly screaming that he was going to have her and her new boyfriend "taken care of." After police escorted him out, he re-entered through his son's room and, Harris claims in this request for a Family Court order of protection, "yelled fiercely at [her three] children as he continued to beat me in front of them that if they ran or tried to call the police, he would beat them the same way." Since Mayweather lost out on the chance to fight Manny Pacquiao, he's declared that he'll be on vacation for the next year. If this is what he does with down time, this guy needs to get back to work, and fast.
Dodger divorce drama: It's usually the kids who get hurt in the divorce. But in the case of Los Angeles Dodgers owners Frank and Jamie McCourt, three fans are claiming that they're the ones with lasting damage. The fans -- Albert Perez, Gerardo Rodriguez and Alfredo Rodriguez -- blame security understaffing at a USC/UCLA game that was held at Dodger Stadium in February for injuries sustained in a bathroom brawl during the game. They say McCourt purposely hired too few security guards because he's trying to publicly demonstrate that he doesn't have as much money as his wife claims in court. Give the fans credit for being creative. McCourt knowing what's going on in Dodger Stadium? A Dodgers spokesman refused comment.
The hit king: Saturday night marked the first time that Pete Rose was allowed to take part in an official Cincinnati Reds event since his banishment from baseball in 1989. The Reds called him out at Great American Ball Park to commemorate the 25th anniversary celebration of record-setting hit No. 4,192. But the night was bittersweet, as MLB refused to let him address the crowd. All these years later, MLB still wants to make sure that this report speaks the loudest about Rose.
Additional research assistance by Ben Arledge and Dale Brauner.
August, 16, 2010
08/16/10
11:07
AM ET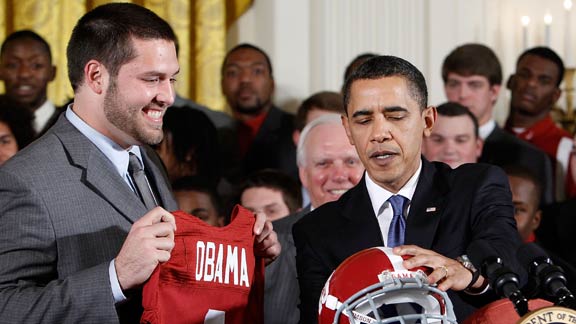 Alex Wong/Getty ImagesThe Tide's trip to D.C. turned out to be a pretty expensive photo op.
For our introductory column here at "The File," we're following the money in the BCS. So when we saw President Obama welcoming the BCS champs of Alabama to the White House in March, it made us wonder: How much does the ultimate photo op cost? Here's how that $97,327 total breaks down:
$79,314: A chartered plane from Tuscaloosa and back again
$3,500: Four buses to transport the team to and from the airport
$6,000: Four more private buses to tour the team around D.C.
$1,671.30: Bill from Metropolitan Police Department, Homeland Security Special Ops, for crowd control
$3,512: Breakfast, Classic Fare Catering
$3,329.95: Lunch tab from Chick-fil-A
As for the president's description of Nick Saban: "There aren't too many coaches in the country who have the knowledge, the motivational skills, the program discipline to win two national championships in six years."
Priceless.
---
When Tim Tebow sneezes ...
Last September, Tim Tebow was laid low by a flu-like bug that ripped through Florida's roster. Did that mean he was sidelined? Nope. To keep the QB in the lineup against Kentucky -- and avoid having him infect the rest of the team -- the Gators paid almost $10,000 for a private plane to get Tebow to Lexington, according to documents provided by the Florida Athletic Department. Although school officials blacked out Tebow's name on this official flight itinerary, his stats were bold-faced news: 123 yards rushing, 103 yards passing and three TDs in a 41-7 win. Florida clearly figured it was worth an extra $42.50 a yard to have Tebow in the lineup. Heisman voters, not so much.
---
Mascot makeover
He works every Michigan State home game, stars in "SportsCenter" commercials and twice has been named Muscle & Fitness magazine's "buffest mascot." That's a lot of wear and tear on Sparty, as we found when we sent a public records request to Michigan State asking for the cost of a mascot makeover. (We're pretty sure it's the first one like that MSU has received, as evidenced by the assistant who kept saying, "What do you want again?") If you've ever paid $2,650 for a pair of leather boots, you know what it's like to dress for a capacity crowd of 75,005.
---

Delany
Big Ten chief no fan of the press
While the game of musical chairs called BSC realignment was in full swing this summer, Big Ten commissioner Jim Delany was hunkered down in his office, trying to keep a wall of silence around the negotiations.
This March 3 e-mail from Delany to his conference athletic directors -- obtained through a freedom of information request to a Big Ten school -- shows that Delany was just thrilled that Ohio State president Gordon Gee and Wisconsin AD Barry Alvarez refused to talk to a Chicago Tribune reporter doing a story on the expansion.
"Fyi -- I appreciate Gordon and Barry being unavailable for this story per my request as we move our process forward," he writes. "I made myself unavailable also and it had the consequence of making me a focus of the story. To reiterate as a collective we have no conference stake in contributing either on or off the record or via background on these stories."
Delany goes on to suggest that talking to the press, among other things, is "an affront to those who are practicing discipline by refraining from commenting [and] inconsistent w [sic] the protocols of collegiality and trust which are the foundational elements of moving big and meaningful issues thru a governance system such as our own."
To see more bad grammar, and the five reasons Delany doesn't like the press, you can read the full text of his e-mail here.
---
Well equipped
Think your office feels like an equipment locker? Take a look at what it takes to outfit a real one. We asked Texas to tell us what's in its spring locker stockpile and got back a 28-page response listing everything from visors (181) to practice jerseys (197) for 111 players and 14 coaches. The Longhorns did such a painstaking job, we didn't have the heart to ask for the number of mismatched socks.
Public information research by Dale Brauner, with assistance by Benjamin Arledge.