Category archive:

Georgia Bulldogs
December, 15, 2010
12/15/10
10:22
AM ET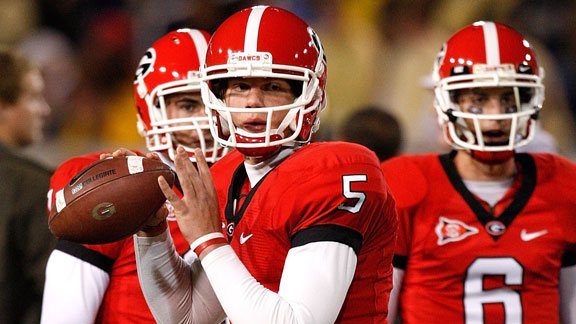 Kevin C. Cox/Getty ImagesUGA didn't disclose a specific reason for kicking QB Mettenberger off the squad.
This story appears in the Dec. 27 issue of ESPN The Magazine.
Show us a coach who's open about his players' indiscretions, and we'll show you a university donating its bowl money to charity. Everywhere you look these days, it seems like the same five words keep popping up: undisclosed violation of team rules. By The File's count, the phrase has appeared in more than 200 news stories since January 2009, with UVTRs serving as an umbrella explanation for why Coach suspended or cut Joe Star. And they are especially popular in football, thanks to the sheer number of players.
Zach Mettenberger was one of the most highly recruited quarterbacks in the nation two years ago, but Georgia dumped him in April for an unspecified violation of team rules, even though most Bulldogs fans knew he'd been arrested for groping women at a bar. Mettenberger, who pleaded guilty to a pair of battery counts in May and was sentenced to a year of probation, transferred to Butler Community College in Kansas, and took the team to the NJCAA title game this fall. On Dec. 6, he announced he is headed to LSU.

Sometimes, the undisclosed violations tag can help a player reach the next level without having to answer a lot of messy questions. No one made much of a fuss about Chris Ivory when the running back signed with the Saints as an undrafted free agent last May. The former Cougar had been kicked off the team in August 2009 for an undisclosed violation that might have been forgotten if not for a bombshell that dropped in October, just before Ivory's Week 6 breakout against the Buccaneers. A county prosecutor in Washington said that Ivory had been indicted in connection with an assault that occurred two weeks before he was cut from the Cougars.
It's not surprising that Washington State coaches had kept mum about the incident: A fellow student said Ivory hit him over the head with a bottle at a house party. (Ivory says he was booted for missing a practice and showing up late for team meetings.)
The UVTR trend goes beyond the apparent legal caution shown by Washington State's coaching staff. Athletic departments regularly use dubious interpretations of privacy laws to hide their teams' dirty laundry. All of which leads to the question of who's benefitting more from so much secrecy: players or coaches?
Three former Alabama players who were planning to transfer recently told The Wall Street Journal that they were cut for UVTRs that they were never informed of, leading them to speculate that coach Nick Saban wanted to protect the image of the program for recruiting purposes. An Alabama spokeswoman replied that it was hard for the school to "deal with inquiries that are so blatantly pointed toward discrediting one individual, particularly when the university is prohibited from addressing specific cases due to student privacy laws."
The same privacy claims came up again in October when UCLA's Rick Neuheisel more than once refused to talk about his decision to suspend four football players, even though there were numerous media reports that the Bruins in question had each failed three drug tests. Asked if he thought his team had a marijuana problem, Neuheisel cut off questioning by saying privacy laws were tying his hands. "I don't have any comment on that," he said. When The Magazine asked UCLA what law Neuheisel was invoking, a spokesman pointed to the federal Family Educational Rights and Privacy Act. But that law restricts only the release of students' educational records; it has nothing to do with whether a guy slept through a film session or committed a criminal act. "FERPA is being broadly used where it shouldn't be to evade transparency," says David Ridpath, a professor of sports administration at Ohio University and a former compliance director at Marshall and Weber State. "It was never meant to keep us from finding out what a tight end did wrong to get dismissed."
You can't blame coaches for trying to extend the length of the shroud. When former Chiefs running back Larry Johnson was charged in two assault cases in 2008, Kansas City coach Herm Edwards was more concerned about commissioner Roger Goodell than about the media. Edwards called Goodell and privately explained that he was benching Johnson for three games, then cited a UVTR in talking to reporters. When the Johnson incidents became public, Goodell credited Edwards with setting the right tone, then slapped Johnson with an extra game suspension for violating the league's conduct policy.
"In situations when a guy's grandmother is reading all this bad stuff about him in the press," Edwards says, "your first instinct is, How do I help him turn this around?" Problem is, it's just those kinds of big, headline-grabbing stories that make us think the worst when we hear about UVTRs.
After Colorado State announced that the NCAA had suspended linebacker Ricky Brewer for the 2009 season, the Denver native began to feel the eyes of his community boring into him. "There was a lot of speculation about my character," says Brewer, who was a junior at the time. "My parents are heavily involved in their church, and it hurt me to know that the number one thing people thought was that I was involved with a big fight or steroids use." So last spring, Brewer told Rams coach Steve Fairchild that he wanted to talk publicly about what he'd done: test positive for marijuana at the 2008 New Mexico Bowl. "It caught me off guard," Fairchild says. "I thought, Why are we dredging it up again? But then he explained his reasoning, and I found it courageous. He turned it around and made it a big life lesson."
Brewer's candor is the exception. UVTR casualties usually just vanish into the wilderness of Division II, where they look for friendly coaches willing to hear the player's side of the story. "You can't recruit at this level without calling other coaches to see if a guy who's been dismissed deserves a second chance," says North Alabama coach Terry Bowden. Last year, Bowden's father, Bobby, convinced him to resurrect the career of Preston Parker after the wide receiver's DUI arrest led Florida State to dismiss him from the team. Parker eventually landed in the NFL with Tampa Bay.
Ivory took a similar route, spending last year at D2 Tiffin (Ohio) University, run by former Cougars assistant coach Dave Walkosky. That's where the Saints noted Ivory's speed and invited him to attend training camp. "He had the tools," says Saints running backs coach Bret Ingalls. But did he have the character? New Orleans coach Sean Payton has said he was aware of the Ivory allegations before the draft and wasn't alarmed. Back in Washington, the county prosecutor has agreed to postpone proceedings until the end of this season, which has given Ivory a chance to turn his life around. Through Week 13, he had rushed for 636 yards, averaging 5.2 yards a carry, with five touchdowns.
And yet questions remain for some people. Art Caplan, a medical ethicist at the University of Pennsylvania, thinks Ivory's success sends a mixed message about how much secrecy should be acceptable in sports. "If you want to treat your team like a business, you keep everything bottled up," he says. "But if you want to run it for the good of society, you need to be more open about what's going on behind closed doors."
Anyone seen a coach who's trying to win for the good of society?
October, 25, 2010
10/25/10
1:05
PM ET
Getty Images (L and R)Shaq, Plax and Leach all make great Halloween costumes. Just cut and paste.
We see a lot of crazy things digging through documents here at The File. That's why we're holding our first annual Freaky File Awards just in time for Halloween. Print and staple these docs to your shirt and you can masquerade as some of the looniest people, places and things in sports. It's fun for the kids and money-saving, too! So without further ado, the envelopes please ...

Scariest sports fan
It's hard to imagine how much booze had previously been too much for Timothy Cassidy when he went to the New York Mets home opener against the Philadelphia Phillies in 2007. But the 300-pound fan found a new bottom in the upper decks, getting so blasted that he tumbled on 57-year-old lawyer Ellen Massey and broke her neck. According to this lawsuit, Cassidy was berating fans just before his tipsy tumble by saying, "Why aren't you cheering for the Mets? I'll kick your (expletive) ass!" Massey was in court on Oct. 15, arguing that Shea Stadium's employees were to blame for her injuries because they should have known when to cut Cassidy off. A Mets lawyer countered that Cassidy didn't stand out in the "rowdy, boisterous crowd." Oh, boy, welcome to Queens.
Weirdest allegation against Shaq
When Shawn Darling, an ex-con who once worked for O'Neal, accused the Big Man of planting porn pix on his computer to frame him, plenty of eyes rolled. (Really, Shawn? Really?) But a second suit filed by one of O'Neal's alleged mistresses, Vanessa Lopez, also claims O'Neal has a propensity for electronic eavesdropping. In this September suit, Lopez alleges that after she ended their affair, Shaq began harassing her and "proceeded to hack into Lopez's text messages and voice mails without Lopez's knowledge or consent using some extremely sophisticated software." Well, that gives the term "Hack-a-Shaq" a whole new meaning now doesn't it?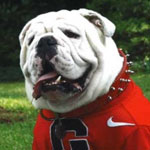 Strangest mascot gravesite
Two things we like: Dogs and Georgia. But combine them with a dead mascot and you get the weirdest gravesite in the SEC. When the English bulldog known as UGA VII woke up feeling ill last fall, he didn't make it to the end of the day. In just his second year as the team's mascot, he popped off from a heart attack with a 16-7 record. Grieving Bulldogs fans buried him next to his father (yes, UGA VI) by the bushes at Sanford Stadium. Fortunately, the feel-good days are back. His successor -- UGA VIII -- made his debut on Oct. 16 and helped Georgia shut out Vanderbilt 43-0.
Freakiest fight between a university and its ex-coach
There's nothing remarkable about bad blood between a program and its ex-coach. (See: Bobby Knight.) But ever since Mike Leach got run out of Lubbock, Texas Tech has been raising the ante on him with unusual ferocity. Leach insists that he never ordered concussed sophomore wide receiver Adam James to stand in an electrical closet, telling the New York Times, "He was never locked anywhere. At no point was he locked anywhere." But Texas Tech isn't letting it go. In a recent motion to get Leach's wrongful termination suit dismissed, it quotes Leach as telling a trainer to put James' "f---ing p--sy -ss in a place so dark that the only way he knows he has a d--k is to reach down and touch it."
Creepiest Colt
Pat McAfee was so happy with his four punts for a 46.8 yard average in the Indianapolis Colts' squeaker win against the Washington Redskins on Oct. 17 that he decided to get an early jump on Halloween a few days later by prowling around downtown at 4:47 a.m. shirtless, soaking wet and apparently imitating Frankenstein's monster by trying to get into a woman's locked car. In this arrest report for public intoxication, the responding officer notes, "I asked Mr. McAfee how much he had to drink." His response: "A lot 'cause I'm drunk." (Listen here to see what he looked like from the stalkee's view.)
Angriest transgender golfer
We can understand why Lana Lawless, who set the world record for long drive play by hitting a 254-yard shot in 2008, would want to sue the LPGA and Long Drivers of America after getting banned from its 2010 tournament. After all, the ex-cop who had a sex change operation in 2005 says that she "felt like a female since birth and has had gender reassignment surgery to harmonize her anatomy with her feelings." Now she's taking action against the tournament and its sponsors.
Best invisible man imitation
Brian Hartline is happy to talk about his role as a key part of the Miami Dolphins' offense, but the one route he's staying mum about is the one that his Ford pickup took on July 3. As this accident report shows, Hartline's pickup veered off I-595 while going 65 mph and hit an Escalade legally parked on the shoulder. The wideout wasn't at the scene when the cops arrived and refused to talk with them until nearly a month later. Huddled negotiations failed to shed light on his whereabouts that morning but yielded the charge of failing to report a crash as the owner of a motor vehicle and a $115 fine.
Battiest basketball ream-out
How much does it take to get fired at Tennessee? Judging from this letter that basketball coach Bruce Pearl got from men's athletic director Michael Hamilton on Sept. 9, all it takes is illegally hosting recruits at your summer barbecue, making 34 of 96 recruiting calls that the NCAA deems impermissible and pumping your assistants for information about their NCAA interviews before you meet with an investigator yourself. Oh wait. That's not enough to get you fired. So never mind the memo line in the letter, "Notice of termination." Tennessee is negotiating a brand new contract with Pearl that's only $1.5 million less than the old one that was due to pay him $12.5 million over the next four years.
Most haunting mistake
Plaxico Burress, a.k.a. New York State Inmate 09R3260, learned the hard way that correction officers don't have the same sense of humor as football coaches when he wanted to call his lawyer one morning last November. Burress lied about having permission from his prison counselor, only to get caught and written up for misbehavior. That came back to haunt him when he applied for work release in January, and again in August. He was denied both times, leaving him ineligible again until next June 6, the date he'll be up for full release, assuming he gets time off for good behavior.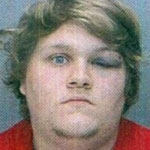 AP Photo
Vilest vomiter
Thankfully, there wasn't a lot of competition for this award. But Matthew "Pukemon" Clemmens had it in the, uh, bag. On April 14, the 21-year-old literally got spitting mad at a Phillies-Nationals game when a 15-year-old girl told him to stop cursing and acting like a boor. His response? He spit at her and her dad, an off-duty cop. When guards were called, Clemmens put two fingers down his own throat and heaved in their general direction. As this police report notes, Clemmens was charged with assault for "making himself vomit on complainant's daughter and punching complainant 4-5 times" when the dad tried to shield his daughter. In June, a judge sentenced Clemmens to up to three months in jail and 30 hours of community service cleaning bathrooms at Citizens Bank Park, saying he'd humiliated his family and tarnished the city's reputation. Costume hint: Use rubber slime.
The File is also reported by "Diabolical" Dale Brauner and "Wicked" Bill Weisbrod.
September, 13, 2010
09/13/10
1:12
PM ET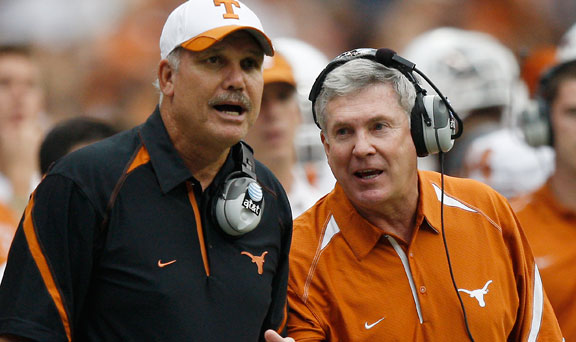 "Hey, Duane, you wouldn't believe how much I bring home a year."

Ohio State coach Jim Tressel pockets 10 grand for ambling by a Coca-Cola event. Louisville sends its new coach, Charlie Strong, on a paid annual vacation that lasts a month. Gary Pinkel's contract with Missouri gives him control of a $25,000 fund that he can use for the, uh, betterment of the team.
Big-time coaches have perks that make Wall Street bankers blush. And to find out how the biggest make out, The File reviewed the contracts of 53 of the 70 highest-paid FBS coaches from top tier public institutions (private ones like Duke are exempt from public disclosure laws). As it turns out, having a seven-figure salary is just the start.
On the air
You'd think that coaches would be talked out after game day, but many of them can't wait to do their own radio shows -- and our review of their contracts shows why. Texas' Mack Brown, who has the nation's highest paying contract at $5.1 million annually, pockets a whopping $875,000 for talking X's and O's to his fans on radio and TV. That's actually more than 47 of his colleagues earn in total, but it pales to the Rush Limbaugh-like $1.4 million average that Georgia Tech's Paul Johnson will earn every year through 2015 for hosting his eponymously named radio show, or the $1.65 million that is part of Rich Rodriguez's multimedia payday at Michigan.
1. Rich Rodriguez, Michigan: $1.65 million (Includes "TV, radio, Internet, shoe and/or apparel sponsorships" and other promotions.)
2. Jim Tressel, Ohio State: $1.38 million (Includes media promotions and PR.)
3. Paul Johnson, Georgia Tech: $1.3 million (in 2010)
4. Les Miles, LSU: $975,000
5. Mack Brown, Texas: $875,000
6. Mark Richt, Georgia: $800,000
Flight time
Oklahoma's Bob Stoops makes $4.1 million annually. Not included in that total: 45 hours of private flight time. Many coaches sign contracts that allow for "reasonable plane use," but Stoops is one of four guys with specific clauses for personal, nonbusiness jet travel. Translation: Any time. Any place. No charge for carry-ons.
1. Bob Stoops, Oklahoma: 45 hours
2. Kirk Ferentz, Iowa: 35 hours
3. Nick Saban, Alabama: 25 hours
4. Jim Tressel, Ohio State: 20 hours
On the ground
You can't expect a coach to pile up those recruiting miles on his own wheels, can you? Most of the coaching contracts we reviewed contain a provision for the coach to receive at least one car, and more than half of them (31) allowed for a deuce. (Hey, if one car is dirty, you just send it off to be cleaned and drive the other.) Add in insurance payments, and you get a tight race for the richest ride. We're giving a slight edge to Clemson's Dabo Swinney, who gets two new cars every year.
1. Dabo Swinney, Clemson: Two new cars annually.
2. Turner Gill, Kansas: Two cars, "the model of which shall be the highest line of the manufacturer."
3. Gene Chizik, Auburn: Two cars, plus gas and service payments for both.
4. Kevin Sumlin, Houston: Two cars, plus university-issued gas cards.
5. Greg Schiano, Rutgers: One Cadillac Escalade.
File under ...
Lucky to escape: This Boston Police Department report describing Tom Brady's Sept. 9 collision with a minivan mentions that the impact was so intense it toppled a steel pole holding up a traffic light at a busy intersection. Amazingly, Brady walked away from his crumpled Audi unhurt. For those doubting he's tough enough to justify his new deal, worth an average of $18 million a season, we say nuff said.
Floyd Mayweather's bad vacation: About 90 minutes before Brady's accident, Floyd Mayweather barged into the Las Vegas home of his son's mother, Josie Harris, allegedly screaming that he was going to have her and her new boyfriend "taken care of." After police escorted him out, he re-entered through his son's room and, Harris claims in this request for a Family Court order of protection, "yelled fiercely at [her three] children as he continued to beat me in front of them that if they ran or tried to call the police, he would beat them the same way." Since Mayweather lost out on the chance to fight Manny Pacquiao, he's declared that he'll be on vacation for the next year. If this is what he does with down time, this guy needs to get back to work, and fast.
Dodger divorce drama: It's usually the kids who get hurt in the divorce. But in the case of Los Angeles Dodgers owners Frank and Jamie McCourt, three fans are claiming that they're the ones with lasting damage. The fans -- Albert Perez, Gerardo Rodriguez and Alfredo Rodriguez -- blame security understaffing at a USC/UCLA game that was held at Dodger Stadium in February for injuries sustained in a bathroom brawl during the game. They say McCourt purposely hired too few security guards because he's trying to publicly demonstrate that he doesn't have as much money as his wife claims in court. Give the fans credit for being creative. McCourt knowing what's going on in Dodger Stadium? A Dodgers spokesman refused comment.
The hit king: Saturday night marked the first time that Pete Rose was allowed to take part in an official Cincinnati Reds event since his banishment from baseball in 1989. The Reds called him out at Great American Ball Park to commemorate the 25th anniversary celebration of record-setting hit No. 4,192. But the night was bittersweet, as MLB refused to let him address the crowd. All these years later, MLB still wants to make sure that this report speaks the loudest about Rose.
Additional research assistance by Ben Arledge and Dale Brauner.