Category archive:

Cincinnati Bengals
March, 16, 2011
03/16/11
6:24
PM ET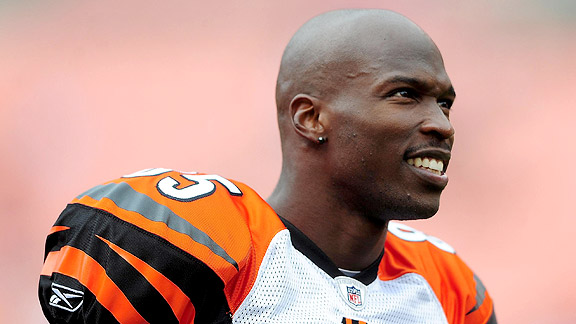 Andrew Weber/US PresswireChad Ochocinco's wardrobe could cost him more than he thought.
A few years ago at the Sundance Film Festival in Park City, Utah, a friend got me into one of those tres chic boutiques overrun with movie stars. I knew before I even looked at a price tag that the stuff on its shelves was too much for me. Only when I eyed a small bracelet that I thought would make a cool present for my wife, however, did I notice something strange. There weren't any cash registers. Not one in the whole place.
That's when I was introduced to the concept of gifting. Yes, folks. If you're a celeb, "gift" can be a verb. Eager designers throw their stuff at high-profile stars, hoping their fashions will get caught by the cameras during a red carpet event or featured on TV.
But you have to hand it to Chad Ochocinco. The wily wideout is taking gifting to a whole new level.
According to the owners of a Cincinnati store called Exclusive Wear, every time Ochocinco stopped by in 2008 and 2009, he acted like it was one of those places without a cash register. He just filled his arms with anything that caught his eye and walked out.
Except Ochocinco isn't an A-list movie star. (He's not even an A-list receiver anymore.) By the time he ran up a bill for $11,717, the owners finally had enough. They hounded him for their money, and when he ignored them they sued. On Tuesday, when Ochocinco failed to show up for a hearing, an Ohio judge entered a default order against him.
So what did the Bengal allegedly grab on his binges? Below is a guide to gifting, Ochocinco style. With the lockout coming, and his bill finally coming due, it's no wonder he's trying out for MLS.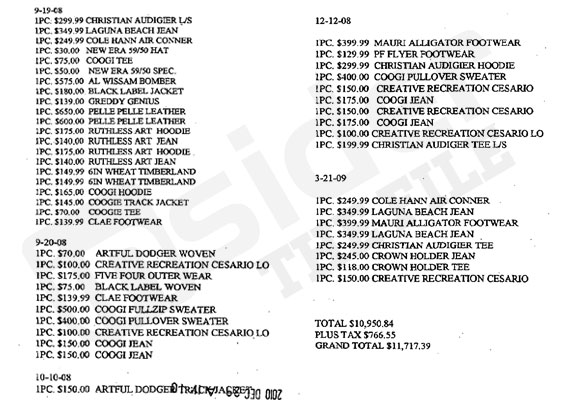 File Under
Muhammad Ali: Every so often, you're reminded what being heavyweight champion of the world used to mean, and what a great champ can still do. In February, Muhammad Ali sent a letter to Iran's supreme leader, Ayatollah Ali Khamenei, asking for the release of two American hikers who have been held on spy charges. This copy of the letter, provided to the File on Wednesday by the Muhammad Ali Center, shows why Ali is often called the world's most influential Muslim. "Please show the world the compassion I know you have in your heart," he writes. "Allah is most merciful. I remain your brother in Islam, always."
Barry Bonds: Want to play the home game version of the Barry Bonds trial? You can start by filling out your very own jury questionnaire, or at least the one that prosecutors propose using. This version, submitted to the federal court judge presiding over the case for approval, spans 22 pages. Our favorite question comes on page 12. We thank the U.S. Attorney's Office for noticing our steroids coverage.