Behind undisclosed team rules violations
December, 15, 2010
12/15/10
10:22
AM ET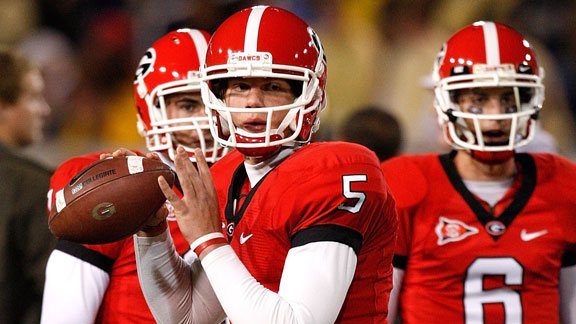 Kevin C. Cox/Getty ImagesUGA didn't disclose a specific reason for kicking QB Mettenberger off the squad.
This story appears in the Dec. 27 issue of ESPN The Magazine.
Show us a coach who's open about his players' indiscretions, and we'll show you a university donating its bowl money to charity. Everywhere you look these days, it seems like the same five words keep popping up: undisclosed violation of team rules. By The File's count, the phrase has appeared in more than 200 news stories since January 2009, with UVTRs serving as an umbrella explanation for why Coach suspended or cut Joe Star. And they are especially popular in football, thanks to the sheer number of players.
Zach Mettenberger was one of the most highly recruited quarterbacks in the nation two years ago, but Georgia dumped him in April for an unspecified violation of team rules, even though most Bulldogs fans knew he'd been arrested for groping women at a bar. Mettenberger, who pleaded guilty to a pair of battery counts in May and was sentenced to a year of probation, transferred to Butler Community College in Kansas, and took the team to the NJCAA title game this fall. On Dec. 6, he announced he is headed to LSU.

Sometimes, the undisclosed violations tag can help a player reach the next level without having to answer a lot of messy questions. No one made much of a fuss about Chris Ivory when the running back signed with the Saints as an undrafted free agent last May. The former Cougar had been kicked off the team in August 2009 for an undisclosed violation that might have been forgotten if not for a bombshell that dropped in October, just before Ivory's Week 6 breakout against the Buccaneers. A county prosecutor in Washington said that Ivory had been indicted in connection with an assault that occurred two weeks before he was cut from the Cougars.
It's not surprising that Washington State coaches had kept mum about the incident: A fellow student said Ivory hit him over the head with a bottle at a house party. (Ivory says he was booted for missing a practice and showing up late for team meetings.)
The UVTR trend goes beyond the apparent legal caution shown by Washington State's coaching staff. Athletic departments regularly use dubious interpretations of privacy laws to hide their teams' dirty laundry. All of which leads to the question of who's benefitting more from so much secrecy: players or coaches?
Three former Alabama players who were planning to transfer recently told The Wall Street Journal that they were cut for UVTRs that they were never informed of, leading them to speculate that coach Nick Saban wanted to protect the image of the program for recruiting purposes. An Alabama spokeswoman replied that it was hard for the school to "deal with inquiries that are so blatantly pointed toward discrediting one individual, particularly when the university is prohibited from addressing specific cases due to student privacy laws."
The same privacy claims came up again in October when UCLA's Rick Neuheisel more than once refused to talk about his decision to suspend four football players, even though there were numerous media reports that the Bruins in question had each failed three drug tests. Asked if he thought his team had a marijuana problem, Neuheisel cut off questioning by saying privacy laws were tying his hands. "I don't have any comment on that," he said. When The Magazine asked UCLA what law Neuheisel was invoking, a spokesman pointed to the federal Family Educational Rights and Privacy Act. But that law restricts only the release of students' educational records; it has nothing to do with whether a guy slept through a film session or committed a criminal act. "FERPA is being broadly used where it shouldn't be to evade transparency," says David Ridpath, a professor of sports administration at Ohio University and a former compliance director at Marshall and Weber State. "It was never meant to keep us from finding out what a tight end did wrong to get dismissed."
You can't blame coaches for trying to extend the length of the shroud. When former Chiefs running back Larry Johnson was charged in two assault cases in 2008, Kansas City coach Herm Edwards was more concerned about commissioner Roger Goodell than about the media. Edwards called Goodell and privately explained that he was benching Johnson for three games, then cited a UVTR in talking to reporters. When the Johnson incidents became public, Goodell credited Edwards with setting the right tone, then slapped Johnson with an extra game suspension for violating the league's conduct policy.
"In situations when a guy's grandmother is reading all this bad stuff about him in the press," Edwards says, "your first instinct is, How do I help him turn this around?" Problem is, it's just those kinds of big, headline-grabbing stories that make us think the worst when we hear about UVTRs.
After Colorado State announced that the NCAA had suspended linebacker Ricky Brewer for the 2009 season, the Denver native began to feel the eyes of his community boring into him. "There was a lot of speculation about my character," says Brewer, who was a junior at the time. "My parents are heavily involved in their church, and it hurt me to know that the number one thing people thought was that I was involved with a big fight or steroids use." So last spring, Brewer told Rams coach Steve Fairchild that he wanted to talk publicly about what he'd done: test positive for marijuana at the 2008 New Mexico Bowl. "It caught me off guard," Fairchild says. "I thought, Why are we dredging it up again? But then he explained his reasoning, and I found it courageous. He turned it around and made it a big life lesson."
Brewer's candor is the exception. UVTR casualties usually just vanish into the wilderness of Division II, where they look for friendly coaches willing to hear the player's side of the story. "You can't recruit at this level without calling other coaches to see if a guy who's been dismissed deserves a second chance," says North Alabama coach Terry Bowden. Last year, Bowden's father, Bobby, convinced him to resurrect the career of Preston Parker after the wide receiver's DUI arrest led Florida State to dismiss him from the team. Parker eventually landed in the NFL with Tampa Bay.
Ivory took a similar route, spending last year at D2 Tiffin (Ohio) University, run by former Cougars assistant coach Dave Walkosky. That's where the Saints noted Ivory's speed and invited him to attend training camp. "He had the tools," says Saints running backs coach Bret Ingalls. But did he have the character? New Orleans coach Sean Payton has said he was aware of the Ivory allegations before the draft and wasn't alarmed. Back in Washington, the county prosecutor has agreed to postpone proceedings until the end of this season, which has given Ivory a chance to turn his life around. Through Week 13, he had rushed for 636 yards, averaging 5.2 yards a carry, with five touchdowns.
And yet questions remain for some people. Art Caplan, a medical ethicist at the University of Pennsylvania, thinks Ivory's success sends a mixed message about how much secrecy should be acceptable in sports. "If you want to treat your team like a business, you keep everything bottled up," he says. "But if you want to run it for the good of society, you need to be more open about what's going on behind closed doors."
Anyone seen a coach who's trying to win for the good of society?