Ghoulish to want Klitschkos to fight?
June, 20, 2011
06/20/11
2:01
PM ET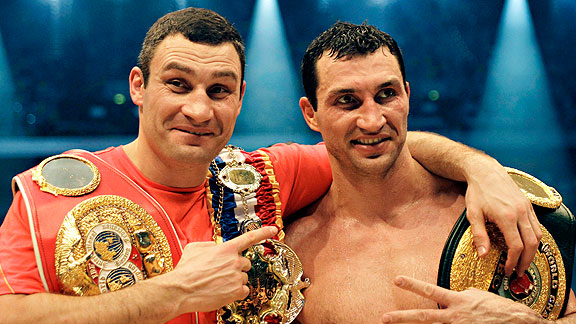 AP Photo/Frank AugsteinThe Klitschkos could teach us a lot about sportsmanship by fighting each other.
This story appears in the June 27, 2011 issue of ESPN The Magazine.
BOXING'S HEAVYWEIGHT DIVISION is such a bore that it was fun to hear WBA champ David Haye recently taunt Wladimir Klitschko about their July 2 title bout, saying the Ukrainian usually boxes "little fat puddings who turn up for a paycheck." There's real animosity between these two, and the extended buildup to their long-delayed fight has injected some life into the sport. When the dust settles in Hamburg, Germany, the winner will hold three of the four heavyweight belts. But just boxing's luck, if Wlad comes out on top, the unification bout that would generate huge pay-per-view profits will never happen. Why? Because it would pit Klitschko vs. Klitschko, Wlad vs. Vitali, who holds the other belt.
As the brothers see it, bloody family spectacles are best left to reality-TV shows or movies like Warrior, the upcoming flick about MMA siblings put on a collision course by their boozing ex-boxer dad (played by Nick Nolte in a bit of reality casting). The Klitschkos long ago promised their mom that they'd never cross gloves professionally, and in 2009 Wlad told London's Daily Mail that if he were to fight his brother, "we'd both be losers."
I don't buy it. The 39-year-old Vitali has parlayed his WBC belt into a career as a politician in the Ukraine, while Wlad, four years his junior, has collected alphabet titles (IBF, IBO, WBO) and Hollywood starlets. Boxing has been very, very good to them, so if the pugilistic stars align, why shouldn't they step up and pay it forward?
I know it may sound ghoulish. The Manning brothers can go to war on the gridiron without ever coming face-to-face, and the Williams sisters can safely gun baseliners from 78 feet apart. Fighting, on the other hand, demands close, punishing contact. Other than a few small-time bouts, there's little history of brothers meeting in the ring. The Klitschkos have made their stand, and in MMA, stars Nick and Nate Diaz just say no too. Even when sibs are game, promoters can't quite stomach the idea. At a recent press conference, Strikeforce CEO Scott Coker rolled his eyes when heavyweights Valentijn and Alistair Overeem said they're ready to rumble. "I'm sure they've had their rumbles growing up," Coker said with a tight smile. "But I think we should keep that in the house and not put it in the cage."