Uphill climb for foreign runners in U.S.
April, 16, 2012
04/16/12
6:49
AM ET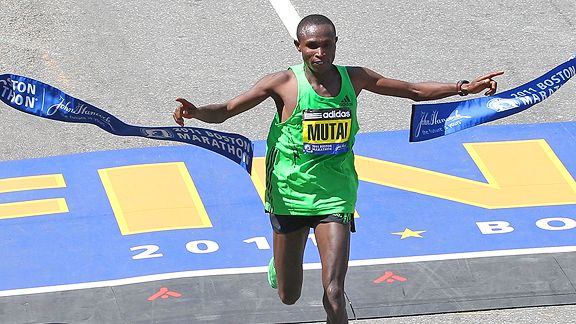 Jim Rogash/Getty ImagesTop runners like Geoffrey Mutai of Kenya, winner of the 115th running of the Boston Marathon last year, have no problems getting into the United States for races, but other foreign runners do.
In Monday's Boston Marathon, Geoffrey Mutai will be running for more than a chance to defend the title he won last year with a course-record-shattering time of 2 hours, 3 minutes, 2 seconds. The 29-year-old Kenyan, who would have set the world record if the International Association of Athletics Federations recognized Boston as a course, is vying to become part of the deepest Olympic marathon team in history. The Kenyans dominate the sport like no other, with the top 5 marathoners in the world coming from the East African nation. The first two, Patrick Makau and Emmanuel Mutai, will be going head to head in the London Marathon on April 22.
But beneath these top ranks, Kenyans and other runners are having a rough time getting into the United States, thanks to tough immigration laws that make it difficult for foreign nationals to enter.
"The problem isn't with the first-rate athletes," says Matthew Turnbull, the elite athletes coordinator for the Competitor Group, which hosts scores of marathons in the U.S. every year. "It's with the midlevel ones who are just trying to eke out a living." And in Kenya, where the average annual income is $736, even a modest four-figure win can change a life.
"

It's a tough ask for someone who lives in a village where there's no electricity to pay their own way.

"

-- Matthew Turnbull of Competitor Group
Athletes are often allowed to enter the U.S. under what is known as a B-1 visitor visa. The problem comes if they accept travel assistance from an agent to make the trip or an appearance fee from a promoter once they get here. At that point, their status changes, and they are categorized as entertainers who must have the harder-to-get P-1 visa.
"It's a tough ask for someone who lives in a village where there's no electricity to pay their own way," Turnbull says. "But if I want to help these athletes out as a promoter, I can't do it. There can't be an exchange of finances."
Just last week, Turnbull received a heartbroken email from a Kenyan marathoner named Geoffrey Kiprotich, whom he wanted to bring into the U.S. for the Nashville marathon in April and have stay for several others over the next four weeks. At best, Kiprotich stood to make a few thousand dollars.
"I am very disappointed today because I didn't get VISA in U.S. Embassy," he wrote the promoter. "They told me that I am suppose to have P1 VISA for long term, not B1/B2 that I requested."
Turnbull describes Kiprotich as "just a hard-working guy and a solid runner who had a modest life in Kenya. He's not a star. That letter means he won't be able to earn a living this season."
A spokesperson for the State Department's Bureau of Consular Affairs said the agency issued 33,528 class-P visas in 2010 -- the last year for which data was available. However, the spokesperson declined to say how many were denied or what percentage that represents of the total applicant pool.
The problem, experts say, is a two-tier process that involves the U.S. Citizenship and Immigration Services and the State Department. In the first step, an athlete has to fill out this petition, which goes to the USCIS for review. The USCIS has been so deliberate in processing the forms -- some might say achingly slow -- that requests declined almost 25 percent between 2006 and 2010, while rejections rose by two-thirds, according to this story in The New York Times. As the story notes: "Visa procedures for foreign artists and performers have grown increasingly labyrinthine, expensive and arbitrary, arts presenters and immigration lawyers say, making the system a serious impediment to cultural exchanges with the rest of the world."
In sports, Turnbull says that amounts to a tariff on foreign competition. He points to his personal experience with Vivian Cheruiyot, a Kenyan Olympian who won world championship gold last year in the 5,000- and 10,000-meter runs. In 2010, he tried to get Cheruiyot to the Carlsbad Marathon in California and was denied.
"If LeBron James wants to go to Kenya, no one stops him," the promoter says. "But if you're an American promoter and you want a Kenyan, it seems you're treated differently. It's almost a restriction of trade."
A Boston Marathon spokesman said the race had no problem bringing Geoffrey Mutai, its defending champion, into the U.S. In a statement, the spokesman said: "In our 27 years of sponsorship we have hosted nearly 600 elite athletes from 45 countries. The visas are taken care of by athletes and agents in their country of origin. The majority of athletes do not have trouble obtaining visas."
But even athletes with valid visas have trouble traveling. In January 2006, the world record holder in the 5,000 meters, Ethiopia's Tirunesh Dibaba Kenene, was traveling to a race in Edinburgh, Scotland, when she missed a connecting flight in London's Heathrow Airport and was detained. She was released in time to get to Edinburgh for the starting gun but was exhausted and finished poorly.
"If that was the Williams sisters, could you imagine what would have happened?" Turnbull says of Venus and Serena, the power tennis duo.
Mutai is at the top of his game and a favorite to win in Boston. But there are 625 other marathons across the U.S. With less famous Kenyans getting denied a chance to race in them, Turnbull says they are losing a chance to make their livings, and fans in places such as Palm Beach, Fla., and Nashville, Tenn., are losing a chance for an important cultural exchange.
"There has to be an easier way to get athletes in and out of countries to compete," he says.
---
File Under
Athletes sue: An Omaha, Neb., law firm filed a lawsuit Wednesday in Douglas County District Court against the University of Nebraska at Omaha after the college refused to turn over records in response to a request the firm made about the school's decision to move from Division II to Division I last March.
The firm is representing 13 current and former UNO football players who were affected when UNO dropped its century-old football program in the wake of its move to a new division and conference. The university also dropped its top-ranked wrestling program right after it won the Division II national championship.
"Outside the Lines" aired a story last spring about the university's move to Division I and its controversial decision to drop the two programs, which caught coaches, players and fans by surprise.
The firm filed its first public records request June 24, 2011, seeking 25 items, including records of emails, text messages and other correspondence involving the move and the decision to drop the programs; financial documents; student-athlete records; contracts; and other records. From then until January 2012, attorneys on both sides exchanged letters disputing the scope of the request. The university made several demands that the firm narrow its request and asked for fees as much as $9,000.
The firm withdrew its original request and submitted a significantly shorter request in November. More debate ensued, and a university attorney refused to fulfill the request unless the firm specified particular search terms. There is no provision within Nebraska's public records law that requires someone limit a request by using certain search terms or keywords. Attorney Mike Degan said the university never cited a statute specifying a specific exemption to the state's public records laws in its denial.
"The problem here is the lack of transparency," Degan said. "Obviously this was something that was being discussed for a considerable period of time." He said student-athletes deserve to know why their programs were canceled just weeks after UNO induced them to sign letters of intent.
One of the students represented by the firm is Tiras Bolton, who signed a letter of intent to play football for UNO shortly before the program was terminated. He gave up other scholarship opportunities to play at UNO, where he is still enrolled as a student, but he's not playing football.
If the firm prevails and UNO is forced to release the records, Degan said attorneys would need to review the documents, along with their clients, before deciding whether to take any further action against the university, possibly to compensate the student-athletes for lost opportunities.
"These are lives that have truly been impacted," Degan said. "There's no reason the university could not have been more forthright."
University officials responded to the lawsuit by saying they have reasonably addressed the firm's requests.