The 7-on-7 debate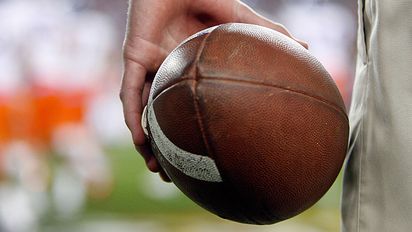 Christian Petersen/Getty Images
High school 7-on-7 tournaments may jeopardize players' eligibility.
In recent years, 7-on-7 football has grown in popularity. These touch football tournaments allow standout high school football players to showcase their skills beyond the regular season. But the NCAA is concerned that 7-on-7 football may also attract those who are looking to profit from these athletes and jeopardize their eligibility before they even set foot on a college campus. Joe Schad takes an in-depth look at 7-on-7 football.
Story
|
Watch
More from ESPN.com
Featured Story
DEREK BOOGAARD
Long before NHL enforcer Derek Boogaard hit his head on the ice in December, the man who was paid to scare, intimidate and pummel his opponents was dealing with his own share of pain. Story



• ESPNNewYork: Enforcers, friends
• Saunders: Tragic death

Facebook
"Outside the Lines" is on Facebook!

Do you enjoy watching "Outside the Lines"? Well, now you can weigh in on our daily topics on our official Facebook page. You can "like" the fan page, submit comments and post pictures. Join OTL's Facebook page now!
OTL Show Schedule
| | | |
| --- | --- | --- |
| Day | Time | Channel |
| Sunday | 9 a.m. ET | ESPN |
| Monday | 3 p.m. ET | ESPN |
| Tuesday | 3 p.m. ET | ESPN |
| Wednesday | 3 p.m. ET | ESPN |
| Thursday | 3 p.m. ET | ESPN |
| Friday | 3 p.m. ET | ESPN |