At 85 years old, Harrison Dillard is more than spry. He still has the grace and stamina of an athlete. This past summer, he drove from Cleveland to California and back again. He attended the Olympics in Beijing. He spoke on the subject of sports and society at the prestigious Aspen Institute. This old sprinter won't slow down and the subject of his own mortality appears to be far from his thoughts.
Still, on election night, when Barack Obama was elected the 44th president of the United States, Dillard could not help saying to himself, "I lived long enough to see it."
What Dillard has seen over the past eight decades is a nation transformed, especially from the perspective of African-Americans. The world into which Dillard and his generation were born was so different, so foreign from today's reality, that it seems impossible that any human could have been alive both then and now.
But Harrison Dillard -- the only man ever to win Olympic gold medals in both the 100-meter dash and the 110-meter hurdles -- has not just borne witness to the struggle for civil rights. He was also an agent of change, as were so many African-American athletes. The playing fields were a testing ground for integration, a place where African-Americans were given the crucial opportunity to prove that all men are created equal. Dillard and others like him -- from Jesse Owens to Jackie Robinson to Arthur Ashe -- helped alter the ways in which white America perceived black America. They helped fashion a better if still imperfect dynamic between whites and blacks. Undeniably, they helped clear the path upon which Barack Obama eventually traveled to the White House. In the context of the civil rights movements, sports, clearly, was anything but a diversion.
Read More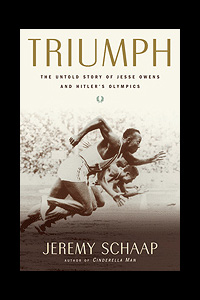 • Jeremy Schaap's book, "Triumph: The Untold Story of Jesse Owens and Hitler's Olympics," can be purchased here.
When Jesse Owens came home to Cleveland after winning four gold medals at the Berlin Games in August 1936, 13-year-old Harrison Dillard was waiting for him. Dillard was among the tens of thousands lining the city's streets to celebrate the man who had stood up to Hitler and put the lie to his theory of Aryan supremacy.
On a frigid afternoon last month, Dillard was back at the corner where more than seven decades ago he had cheered Owens.
"He stopped right here," Dillard says, "and he waved and said, 'Hiya kids, howya doin'?' I ran home and told my mom I wanted to be just like Jesse Owens."
Few men were closer to Owens. When Dillard was in his teens, Owens taught him the basics of hurdling. Owens gave Dillard a sense of purpose -- and, once, a pair of sneakers.
In 1948, at the London Games -- the first Olympics since Berlin -- Dillard was just like his idol. The world-record holder in the high hurdles but an unpolished sprinter, he pulled off a stunning upset to win the 100-meter dash and also won gold in the 4 x 100-meter relay. Reversing roles, Owens was now cheering his protégé.
"He said, 'Good,'" Dillard says now. "He said, 'I knew you could do it,' and that was all he said."
By the time Dillard won his two Olympic titles in London, he was 25. Just three years earlier, he had been a combat soldier in the predominantly black 92nd Infantry Division, fighting in Italy. In the months after the war ended in Europe, he competed in several armed forces meets. At the GI Olympics in Frankfurt, Dillard was so spectacular that he left one prominent spectator in awe.
"He's the best goddamned athlete I've ever seen," General George S. Patton Jr. told reporters. "Old Blood 'n' Guts," it's worth noting, had been on the same Olympic team, in 1912, with a pretty fair athlete named Jim Thorpe.
Like Owens, Dillard returned to the U.S. from the Olympics as both a hero and a second-class citizen. White America celebrated his achievements in banner headlines and gushing news reels, but even as his less accomplished white teammates were offered lucrative jobs and endorsements, Dillard found his options much more limited. It was a country, after all, in which millions of blacks could not exercise their right to vote. The racial climate was unchanged when, in 1952, Dillard returned from the Olympics in Helsinki with two more gold medals -- in the 110-meter hurdles (finally) and again in the 4 x 100-meter relay.
But change was afoot and Dillard would come to meet the men who were central to the struggle, everyone from Joe Louis to Jackie Robinson to the Rev. Martin Luther King Jr. When Dillard was a young man, Louis was seemingly the most important athlete on the planet. He and Owens were symbols of hope for black America.
"Just the fact that we had those two individuals just gave us a feeling of pride that, yes, we could do things if given the opportunity," Dillard says. "I think that's the way we looked at it mostly. If the opportunity is provided, and we have a chance, we can do pretty much what anybody else does."
Jimmy Cannon, the syndicated sports columnist, famously wrote of Louis, "He's a credit to his race. The human race."
"Here was someone who was not what you would call the most well-spoken person that you knew," Dillard says, "what he said was very short, very often cryptic, but it would be very wise. I remember during the war when he said, 'We're gonna win 'cause God's on our side.' Whether that's literally true or not, it always showed how deep his thinking was."
Like Owens, Louis endeared himself to white America by standing up to German fascism, knocking out Max Schmeling in the first round of their rematch at Yankee Stadium in 1938. In stark contrast to Jack Johnson, the only previous black world heavyweight champion, Louis did not offend the sensibilities of white Americans. On the contrary, he was non-confrontational.
"By comporting himself as a champion, he showed that, 'Well, I'm no different than anybody else,'" Dillard says, "'I don't go around and I don't steal. I won't rob. I will earn my living.' And I think people began to think a little more. And when you put all those little things together, that black athletes did, and what they said, I think that that's when you begin to think that they did, indeed, have a role in breaking down segregation. True, many of them were not marching. They were not the Martin Luther Kings. But just the mere fact that they were doing what they did best ... they were letting that speak for them."
Owens and Louis had achieved greatness in individual sports. When they were at their best, Major League Baseball and the National Football League were segregated. The NBA did not yet exist. But then, on April 15, 1947, Jackie Robinson became the first black player in the major leagues since the 19th century. Dillard says Robinson's contribution to the cause of civil rights cannot be overstated.
"After all," he says, "this was the game that blacks were not allowed to play. It had to be an immeasurable blow to white people, to their segregated ways of thinking. Baseball is America's game. Here's a guy who can play our game at the highest level. Something must be good about him besides the fact that he can throw and catch a baseball."
Dillard knew baseball. At mid-century, he was working for the Cleveland Indians, for Bill Veeck, who in 1947 had signed Larry Doby, the first black player in the American League. Dillard got to know both Doby and the incomparable Satchel Paige, who had dominated the Negro leagues for twenty years and pitched for the Indians in 1948 and 1949.
Paige was "very slow, soft-spoken," Dillard says, "and he'd always be able to say something funny, something that would make you laugh. No matter what you were talking about, he was always able to say something and you'd wind up laughing about it." Dillard says that Paige's manner perhaps "helped to perpetuate a stereotype."
Doby, he says, was an entirely different kind of man, a man more like Robinson.
"He was a very serious individual," Dillard says, "able to talk really intelligently about a range of subjects. Whatever you wanted to talk about, he would go ahead and give you an opinion, and I think that that helped. It helped among the [white] ball players to get them to view him more as an individual, as a person who had feelings, who thought about things. And I think that those were the reasons sports and athletes, in particular, helped people change their thoughts about segregation."
After leaving the Indians, Dillard worked in radio and for the Cleveland schools system. He and his wife raised a family. All the while, he had a front-row seat watching America change. It was in Cleveland where Doby would integrate the American League, where the Browns would integrate pro football and where, in 1967, Carl Stokes would become the first black mayor of a major American city.
Few of Dillard's fellow pioneers are alive. Robinson died in 1972. Louis in 1981. Owens, his mentor, in 1980. Dillard wishes they had lived to see what he saw on election day in November 2008 -- and what he will see Tuesday.
Of Owens, Dillard says, "I think he'd feel pretty good now. I think he'd grin that big grin that he had and say, 'It finally happened. It finally happened.'"
Jeremy Schaap is an ESPN anchor and national correspondent, based in New York since 1998. He is a New York Times best-selling author ("Cinderella Man: James J. Braddock, Max Baer, and the Greatest Upset in Boxing History") and a contributor to "ABC World News Tonight" and "Nightline."