Celtics guard Rajon Rondo might be considered undersized when it comes to the NBA, but there's no question his estimations of his racing ability are larger than life.
For the second December in a row, Rondo has thrown down the gauntlet to the fastest man he can find.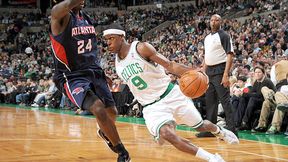 After challenging Usain Bolt to a footrace last year, Rondo wants to take on Tennessee Titans running back Chris Johnson.
This, of course, comes courtesy of Johnson's Twitter account: "My bradda @lambo6 [Rondo's teammate Marquis Daniels] called me and said they point gaurd rondo want to race me for 2k that's easy money set it up on espn."
Johnson already has demonstrated his quickness. Besides closing in on the NFL's single-season rushing record this year, the 24-year-old out of East Carolina posted a 4.24-second 40-yard dash at the 2008 NFL combine (the fastest time since the event started using electronic timing in 1982) and was one of the top high school sprinters in the nation.
Rondo is one of the speedier players in the NBA, but Johnson's not just NFL fast. He's fast fast.
No reply yet from Real_RajonRondo.
I can't speak for ESPN as a whole, but I'd certainly be happy to run the stopwatch.
The winner can race Bolt.