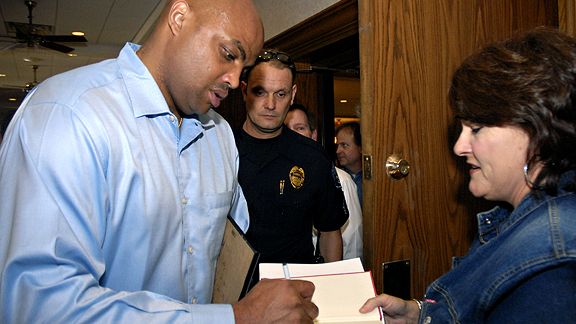 AP Photo/Mike WintroathCharles Barkley wasn't too shabby on "Saturday Night Live." Granted, was I expecting more?
Charles Barkley hosted "Saturday Night Live" on Saturday. Our first question was "Why?" As Barkley himself noted in the opening monologue, he has been retired for years, had nothing to plug, and mostly spends his time gambling, playing bad golf and "occasionally getting arrested."
Athletes who host SNL are judged by a different standard than actors or comedians. So how did Sir Charles compare? Page 2 breaks it down.
THE FUNNY
Michael Jordan: As he did on the court, Jordan set the standard for jock as host. With appearances by Public Enemy and Spike Lee at the height of their relevance, the 1991 season premiere felt like a cultural milestone -- the coming-out party for hip-hop culture. Also, there may never have been a funnier moment than when future senator from Minnesota Al Franken, as Stuart Smalley, told Jordan, "The night before a game, you must lie awake thinking, 'I'm not good enough. Everybody's better than me … "
Peyton Manning: There's no way around it: Manning, too many commercials or not, is genuinely funny. He has great comic timing, and he's more than willing to look silly to get a laugh. That United Way PSA spoof in which he teaches kids to steal cars? Classic stuff.
'A' FOR EFFORT
LeBron James: On the subject of willing to look silly for a laugh, James' best moment was probably the sketch in which he dressed as a Solid Gold Dancer.
Tom Brady: Brady was willing and has a good sense of humor, but doesn't have the stage presence of Peyton. Then again, he has more Super Bowl rings, so that might make up for it. Brady's highpoint was probably a spoof of a sexual harassment education film in which he walks around in his underwear.
Charles Barkley: Barkley's hosting is like his basketball game. He's good enough to coast, so he does.
THE FORGETTABLE
Wayne Gretzky: An Elvis movie parody with Gretzky as singing busboy and Jan Hooks as Ann Margaret? How could it have possibly missed?
Michael Phelps: The shame is that Phelps' notorious bong hit photos didn't surface until a few months after. But it didn't matter. At that point Tina Fey was blowing up with the Sarah Palin impression and people would have tuned in to see a toad host.
THE FORGOTTEN
Deion Sanders, Andy Roddick, Derek Jeter, Jeff Gordon and Lance Armstrong: In fairness, the lackluster appearances weren't only the hosts' fault. Some of these years, there just wasn't any reason to watch the show, no matter who hosted.