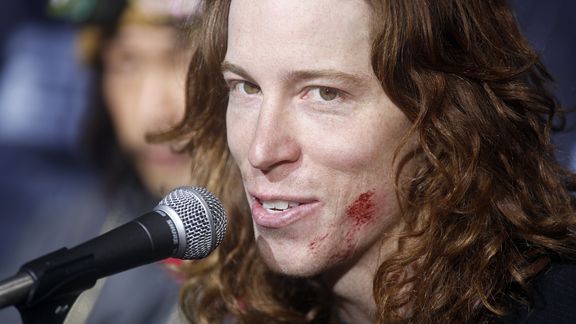 AP Photo/David ZalubowskiShaun White sports the effects of crashing while practicing a Double McTwist 1260.
Page 2 caught up with Shaun White, fresh raspberry on his chin, just after the snowboarding superstar won a third straight halfpipe gold at the Winter X Games in Aspen, Colo.
Are you tired of your nickname "Flying Tomato"?
Well, I've actually got a new nickname that's kinda been catching on. There's a drummer for the Muppets called "Animal," and apparently I look like him. [Takes off headband and shakes hair in front of face.] So, Shaun "Animal" White is the new nickname. That other name is dead.
You're 23. How long can you keep competing at this level?
I think it's yet to be known. For me, I reached a new height this year -- more than I even imagined. What's cool is that, like, before this season there were no double-corks in the half pipe. Tonight, there were three in one run. So, the progression is just making this gigantic leap. Right after this, I think, things are going downhill. I mean, everybody is backing off. For me? I don't know, 30-something maybe? 32?
Who are you rooting for in the Super Bowl?
I don't want to say. It's like politics, you know?
Last question: Can you get me in to see Snoop Dogg tonight?
Do you want in too? You want to hang with Snoop? For sure, we can help with that.
[Editor's note: He didn't.]