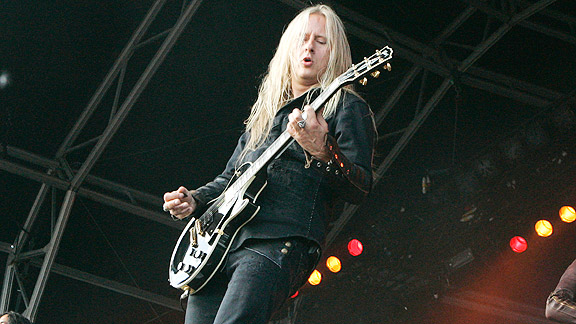 Chiaki Nozu/WireImageAlice in Chains guitarist Jerry Cantrell unleashes sonic fury at a 2009 concert in Stevenage, England.
Alice in Chains isn't just a resilient, visionary band from Seattle. The band's members are also ESPN.com fantasy football stars.
Even better, the band and some friends have put some sweet items up for auction, and 100 percent of the proceeds will benefit St. Jude Children's Research Hospital.
Here's a sampling of items:
• Brett Favre autographed Vikings jersey
• Jerry Cantrell's G&L Guitar signed by Alice in Chains
• Autographed Zakk Wylde Buzzsaw custom-epiphone guitar
• Jackson King V guitar autographed by Scott Ian of Anthrax
• A drum and Dean ML X guitar autographed by Vinnie Paul of Pantera
The auction ends on Thursday. Check out the complete list of auction items here.