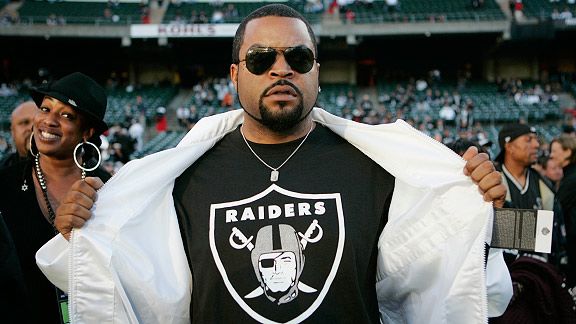 AP Photo/Paul SakumaIce Cube has been a huge fans of the Raiders and made a film about it.
LOS ANGELES -- When Al Davis moved his Oakland Raiders to Southern California in 1982, the rebel owner forged a seemingly perfect marriage. Playing for a city that shared its swagger, the Los Angeles Raiders made four consecutive playoff appearances, punctuated by a 38-9 drubbing of the Washington Redskins in Super Bowl XVIII.
But it took a sound to make the Raiders a national brand. They'd find it in the shadows of Los Angeles Memorial Coliseum -- from the mouths of five young, insanely talented, spitting-angry black men.
A rap crew hailing from the impoverished, gang-riddled streets of South Central LA was beginning to leave its mark on hip-hop music. With the release of their seminal album "Straight Outta Compton," they'd seized it by the throat, scaring the bejesus out of the rest of America in the process. Calling themselves N.W.A., an acronym for, well, something not safe for print, Ice Cube, Eazy-E, Dr. Dre, MC Ren and DJ Yella found a kindred spirit in the local outlaw football team. And in their silver and black, they'd found their look.
The year was 1988. The Raiders and N.W.A would be forever linked.
This wacky concoction of sport, city and popular culture is captured in "Straight Outta L.A.," a documentary from director O'Shea "Ice Cube" Jackson, the N.W.A emcee and lyricist turned solo artist and movie star. Being unveiled Friday at the Tribeca/ESPN Sports Film Festival and premiering May 11 on ESPN as a part of the network's "30 for 30" series, the film features interviews with other hip-hop icons and Raiders legends, but it also offers a deeply personal take on the phenomenon by one of its primary perpetrators. Cube was there. This is his story.
Ice Cube gave Page 2 a ring to discuss his doc, the good ol' days and the painful present. It's good that we got him now. Watching another season of Raiders football might kill him.