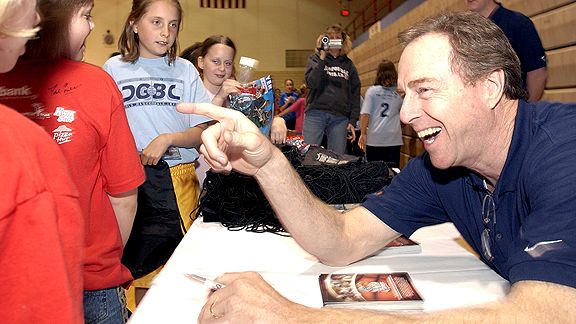 Randy Belice/NBAE/Getty ImagesFormer Celtics great Dave Cowens has this phobia: "Sitting at a table with all these photos and no one wanting an autograph! Will they even know who I am?" Uh, Dave, of course they will.
Let's see: Dave Cowens was NBA's co-Rookie of the Year in 1971 for the Boston Celtics. He was NBA's MVP in 1973. He was inducted into basketball's Hall of Fame in 1991. And in 1996, he was named to the NBA's 50th Anniversary All-Time Team.
And, for one night, in the mid-1970s, he worked as a Boston cab driver.
"I just wanted to see what it's like," said Cowens, who is 6 foot 9 and about 230 pounds. "I paid $35 to become part of the Independent Taxi Operators Association. As long as you filled up their car at the end of the shift, you get to keep the fares you made."
You've got to be kidding me.
"I really wanted to show my buddy around Boston and thought it'd be a cool way and we'd have some fun," said Cowens, born in Newport, Ky. "We picked up a few fares. We took some long routes around the city. And no one recognized me."
Could that happen today?
"That was before cable television, before all these eyes on you off the court," said Cowens, who now works for the Detroit Pistons. "I was a free spirit then."
And did you really leave the sport midseason to sell Christmas trees?
"It was 1976 and I was getting burned out on playing basketball, [general manager] Red Auerbach said, 'If your heart is not into it, go. When you're ready, come on back,' " Cowens said. "So I went to my family farm in Kentucky and sold Scotch Pine trees. I was just exploring other opportunities. But I did return to the court a few months later."
And let's not even discuss this TV commercial for the now-defunct Bradlees discount department stores.