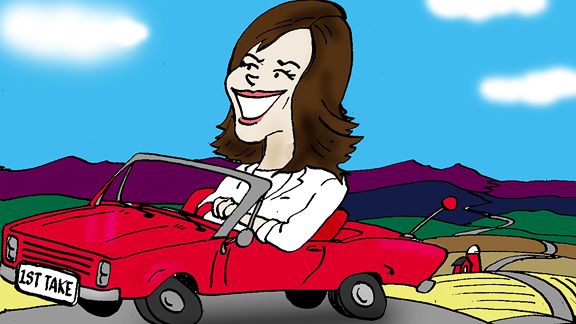 ESPN Page2Dana Jacobson is making a trek through the Midwest to watch five baseball games.
Anchorwoman Dana Jacobson spends five days a week interviewing athletes and celebrities as a host of "First Take" on ESPN. So, next week, while on vacation, you'd think she'd want to get away. But, nope.
Jacobson, a Michigan native who joined ESPN in 2002, will travel the Midwest taking in five baseball games at five ballparks. And she'll be documenting her travels to the stadiums of the White Sox, Cardinals, Brewers, Twins and Cubs for Page 2 and "First Take" and you can follow along on Twitter.
Page 2 chased down Jacobson before she got on the road.
1. What's the reason for doing this trip?
Well, for starters, I had vacation time. I was trying to think of something to do, for the most part on my own, where I might meet people, have some fun and take me somewhere I either hadn't been or hadn't been to in awhile.
I'm ashamed to say, yes, ashamed, that I've never been to Wrigley Field. I grew up in Michigan, went to Chicago several times in college, I work in sports, but somehow I'd never been. So I decided enough was enough, I'd go to Chicago and finally go to a game at Wrigley. Then I started thinking, well, maybe I can get to a Brewers game because Milwaukee isn't that far away, and then it just became a challenge.