As usual, life is good for Snoop Dogg.
He's calling from the 7-Eleven on Sunset Boulevard in Hollywood, where he's promoting a partnership in 7-Eleven's "Cup for the Cause" charity campaign. "We came together to create a cup for my Snoop Youth Football League. So it's beautiful," he said.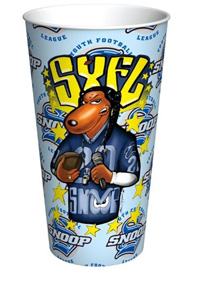 7-ElevenThe Cup for the Cause project allows celebs, such as Snoop Dogg, to design coffee cups to be sold in stores nationwide.
Another children's project dear to his heart right now is his planned collaboration with his kids, Corde and Cordell, with the kids of good friends David and Victoria Beckham, on a Christmas recording.
"We're in talks for that," Snoop said. "I'm waiting for Becks to get back in town. I'm about the kids. You got his kids and my kids, and we bring them together."
Unsure of whether it'll be a one-song project or a whole album, Snoop is aiming for big things. Asked if he's got any ideas for any more collaborators, he didn't hesitate.
"Maybe Justin Bieber. I've got Bieber Fever," he said. "We don't play no games, man."
But for now, Snoop was clearly enjoying his clout with the 7-Eleven folks, saying they were letting him have his pick of the store.
"Frosted Flakes, Cup of Noodles, whatever," he said. "I gotta usually pay."
The Cup for the Cause project allows celebs to design limited-edition coffee cups to be sold in stores nationwide. 7-Eleven guarantees a $250,000 minimum donation to each charity, but donations could increase depending on the number of cups sold. Previous participants in the program include Nicole Richie, Good Charlotte's Joel and Benji Madden, Jennifer Hudson and noted jorts-wearer John Cena.
"I actually designed [the cup]," Snoop said, saying he sat with Joe Cool, the artist who's done all his artwork dating to his first album, Doggystyle, and told him what he wanted it to look like.
Despite the Bieber Fever, Snoop was feeling characteristically good. Maybe it was the free Slurpees.
"Life is beautiful, man."