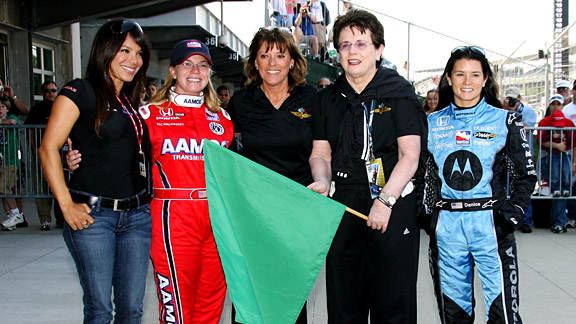 Indianapolis Motor SpeedwayMilka Duno, Sarah Fisher, Lyn St. James, Billie Jean King and Danica Patrick are pioneers. Duno, Fisher and Patrick, along with Ana Beatriz and Simona de Silvestro, are racing IndyCars Saturday.
Back when open wheel racing pioneer, Janet Guthrie, first came onto the circuit in 1976, they didn't have a women's restroom for her to use in the garage areas. Now 34 years later, an IndyCar record five women are slated to race at Chicagoland Speedway Saturday with plenty of ladies rooms at the ready.
The matriarch of that group is Sarah Fisher, 29, who has been part of the circuit since 1999 and was the third woman to race in the Indy 500 behind Guthrie and Lyn St. James.
"I think we've come a long way since then, but both Janet and Lyn made it more acceptable," said Fisher, who was voted IndyCar's Most Popular Driver from 2001-2003. "Because of them, open wheel racing was more open minded in the sense that the guys just wanted to see if you could do the job and run up front. If you could produce results, they were going to accept you."
Joining her at the starting line Saturday will be Danica Patrick, 28, who is currently the highest ranked female in 11th place, and is as famous for her swimsuit shoots and GoDaddy.com commercials as she is for her adept driving skills.
"Danica and I are completely different brands," Fisher said. "I'm the girl next door and the school teacher's daughter and I'm OK with that, but Danica has a sponsor in GoDaddy that's willing to market her as a superstar and I say, more power to her."
The other three female drivers expected to round out the historic five all hail from outside the United States. The first is former model and naval engineer Milka Duno, 38, from Venezuela, who famously got in a towel throwing spat with Patrick in 2008 after the Honda Indy 200 in Ohio. The other two are newcomers Ana Beatriz, 25, from Brazil and the current Indy 500 Rookie of the Year, Simona de Silvestro, 21, from Switzerland.
Fisher, who is the only woman to own her racing team since Guthrie in 1978, also published a book this summer called "99 Things Women Wish They Knew Before Getting Behind the Wheel of Their Dream Job," and offers wisdom like, "Lock Your Emotions in the Glove Box," which is the equivalent of, "There's no crying in baseball."
As for Chicagoland, in what looks to be IndyCar's last stop there after a decade long run, Fisher is optimistic about her chances.
"We were able to bring our chocolate lab, Wrigley, with us to the race for the first time this season," Fisher said. "Wrigs is a good luck charm so I'm thinking we're going to have a top-five finish."