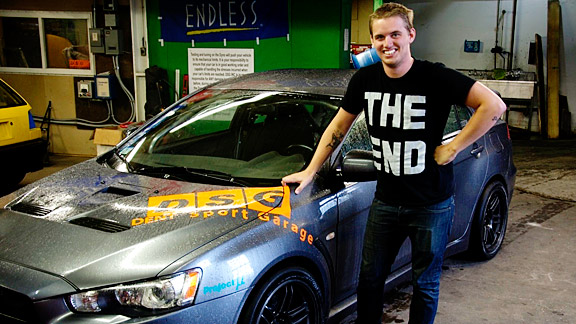 Courtesy of Tab the BandTAB the Band is coming to an arena, TV show and podcast near you!
Most people would think regularly rocking on stage would be enough of an adrenaline rush for one guy, but TAB the Band's guitarist Tony Perry, who also happens to be the son of legendary Aerosmith axman Joe Perry, feels the need to kick it up a notch on his off days by racing his souped-up Mitsubishi Evolution X up and down winding New England mountain roads in the more than century year old sport called hillclimbing.
"Being on stage is one thing, but when I get to the top of a hill, I'll be breathing heavy and my hands will be shaking," said Perry, 23, who has notched a dozen races in the past two years and has a handful of first-place finishes. "The rush is out of control because you have no idea what's around every turn -- it could be a cliff, a rock, a tree -- although I have a huge metal roll cage in my car so I should theoretically live if I was to hit a tree going 120 mph."
But Perry will be doing more conventional driving behind the wheel of the band's van as TAB kicks off a six-week tour opening for the Stone Temple Pilots Tuesday at Mohegan Sun in Uncasville, Conn. The foursome, whose sound has been compared to The Who and Cheap Trick, is made of Perry's two friends from Duxbury, Mass. on drums and guitar, and his brother, Adrian, on bass and lead vocals. The name of their first album, "Pulling Out Just Enough to Win," was taken from an October 2006 Bill Simmons column and received 3.5 stars by Rolling Stone.
"I was a big fan of Bill and saw it in a classic story he wrote about Milton Berle," Adrian said. "I just thought it was a funny phrase and that it would be a great album title."
They released their second album, "Zoo Noises," earlier this year and some of the band's songs have since been featured on shows like "Entourage," "Jersey Shore" and even in the intro and close to DJ Gallo's and Mike Philbrick's Page 2 podcast. And while Tony and Adrian's famous father has played a few gigs with them, he remains hands off when it comes to their music.
"He's not one to hand out compliments easily," Tony said, "but he seems to really like the band so he lets us do our own thing and we'll go to him more for business advice if anything."