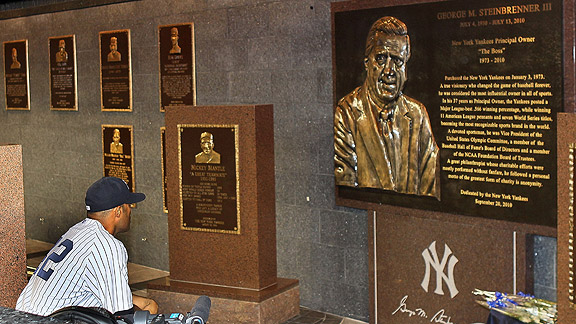 Jim McIsaac/Getty ImagesYankees closer Mariano Rivera kneels in front of the George Steinbrenner plaque at Monument Park.
Like everything else George Steinbrenner, the former New York Yankees owner's new memorial plaque is big. Noticeably so. According to the New York Times, the plaque measures 35 square feet across its face -- dwarfing similar plaques commemorating Lou Gehrig, Joe DiMaggio, Mickey Mantle and Babe Ruth, all of which measure just six square feet.
So how large is too large?
Here at Page 2, we don't have the answer. On one hand, we think the plaque might be a bit self-aggrandizing; on the other, we can't write two sentences without placing our giant floating heads nearby. That said, we suspect the final verdict has less to do with size than with proportion.
As such, here's how Steinbrenner's memorial compares to other real-world disparities:
* In 2008, $114 million for Ohio State, $20 million for Ohio
** For 2010 Hall of Fame game
*** For 2010 Stanley Cup finals, Game 3
**** Outside Lambeau Field
***** Estimated from childhood memory