Like any fan, country music star Kenny Chesney got a little nervous interacting with some of his heroes.
Chesney, an avid football fan who grew up in Tennessee, spent more than a year working on "The Boys of Fall," a documentary about football players and coaches. The movie debuted on ESPN in August and airs again Monday at 7 p.m. ET on ESPN2.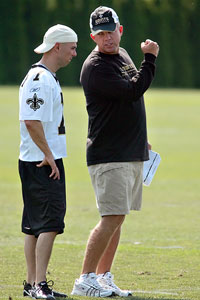 AP Photo/Tony TribbleKenny Chesney practiced with Sean Payton and the Saints in 2007.
"When I first met John Madden, I was so starstruck I could hardly interview him," Chesney said. "Steve Spurrier was really good. He's got his own way of saying things." Joe Namath "was one of the most emotional, passionate interviews we got."
But on a trip to see Brett Favre, he wasn't sure how things would go. "I didn't know him at all, and I landed in Hattiesburg, and I texted him," Chesney said. "In just my country humor or whatever it is, I texted him, 'What's for supper?'"
No reply. "Then 10 minutes later, I texted him again, and said I was just kidding, and got nothing back."
After spending more than an hour interviewing Favre, Chesney said the quarterback asked him and the entire crew of more than 30 people to come into the house.
"The reason he didn't respond to me is he went down the street and got barbecue and baked beans and tea for everybody," Chesney said. "He took me seriously. I told him, 'Man, you didn't have to do this.' Just kinda shows what kind of guy he is."
Chesney said the documentary came out of an idea for a music video for the song "The Boys of Fall" off his new album, "Hemingway's Whiskey," which comes out Tuesday. He had a crew tape his friend, New Orleans Saints coach Sean Payton, speaking to the football team at his old high school in Naperville, Ill. Payton's speech moved Chesney, who decided to pursue a full-length documentary.
"We went all around the country interviewing the best minds in this game, "Chesney said. "It was the most unbelievable journey of my life."
Chesney's focus now is back on his music with the release of the new album. Chesney shares Ernest Hemingway's love of the tropics and appreciates the type of life the writer lived, so he was drawn to the title song, which was originally recorded by Guy Clark.
"I've been asked many times, if you could sit down and have a beer with somebody and pick his brain, well, he'd be one of them," Chesney said. "He lived a wonderful, tragic, interesting, regretful. ... His life was full of a lot of emotion."