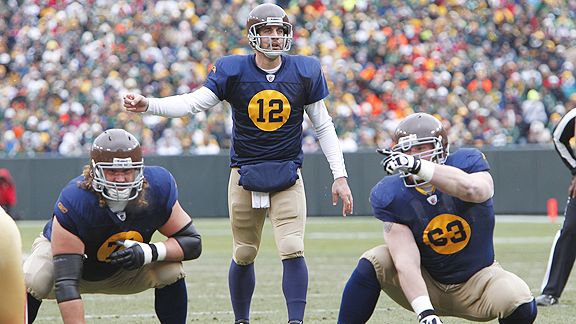 AP Photo/Jeffrey Phelps
Uniforms are always the subject of lively debates, and throwback uniforms all the more so. But the throwbacks worn yesterday by the Packers (which were based on the Pack's 1929 uniforms) seem to have drawn an unusually polarized response.
When ESPN.com's NFC North blogger, Kevin Seifert, posted this photo yesterday afternoon, readers quickly weighed in with more than 150 comments. Many of them weren't exactly complimentary, as you can see from these examples:
• "Worst throwback uniforms ever, anywhere, anytime, any team. I hate throwbacks anyway, but these are downright ridiculous. Without green & gold, no feeling of history or heritage. Just blah!!!"
• "I felt a strong urge to violently barf all over after taking a glance at these gloriously disgusting uniforms. Just plain hideous."
• "The NFL should be embarrassed for allowing this uniform to be worn."
And so on. But while most of the commentary was negative, the design also had its fans:
• "Great uniforms, especially the numbers on the front. Throwbacks are the bomb!"
• "This was an outstanding way to salute a great organization's past glory. Way to go, Packers!"
• "I love the Green Bay throwbacks! They are truly a piece of history. They are unlike anything we've ever seen worn in an NFL game. They actually went back to the leather helmet days. … I hope they wear them again soon."
What do you think? Cast your vote on Green Bay's throwbacks in the comments section:
They are ...
... a disaster. The Pack should stick with green and gold, period.
... a great trip back in time. I love it when teams honor their heritage.
... a mixed bag. This could've been a great design if they hadn't gone with the brown helmets. Maybe it was supposed to look like the old leatherheads, but that part just didn't work.