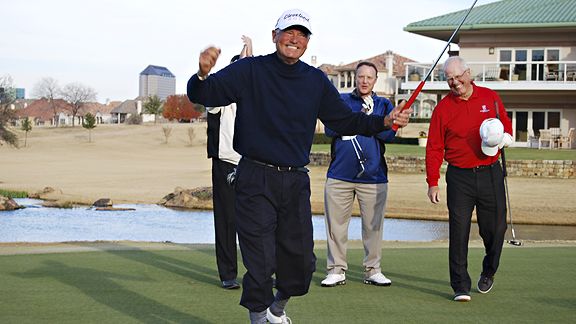 Courtesy of Four SeasonsRichard Lewis celebrates his 600th round of golf at the TPC Four Seasons at Las Colinas near Dallas.
On Sunday, when the frost melted off the TPC Four Seasons at Las Colinas near Dallas, Richard Lewis teed off on his 600th round of the year.
Golfers talk about the grind. Could be a hole. A round. A tournament.
For Lewis, the grind has been a year. In a year of weather extremes, he's smashing the Guinness Book of World Records for most golf played in a year. The previous record was 586 rounds.
No matter what Mother Nature dishes out, Lewis, 64, carries an old Odyssey putter and a set of Clevelands or Taylor Burners in the same Sun Mountain bag and keeps hoofing.
"I'm an obsessive compulsive person," said Lewis, who learned discipline from his Air Force pilot dad and excelled in finance and insurance. "In my total career I didn't even miss five days of work in 40 years. … Whatever the task, I get it done, whatever the cost. This golf epic thing is exactly like business, but it's an easy challenge because golf is what I do for fun."
A 3-handicap, his average score has been 78.5, except in the holiday freeze -- when he was just happy to finish two rounds.
Each morning of 2010, Lewis gets into his metallic blue 2000 Corvette, on its second engine (mileage: nearly 300,000). He won't trade the car -- he knows what he likes and wants to stick with it. He drives 27 minutes to Las Colinas, and hits his first drive at 7:30 am. His second round begins at 10:30 am.
Lewis, who plays by himself, devised a system to make his streak cheat-proof, at a course connected to one of golf's greatest streaks. His club, Four Seasons Resort and Club Dallas at Las Colinas, is home to the HP Byron Nelson Championship, named for the legend who in 1945 won 11 straight PGA Tour events and 18 total.
The club keeps computerized tee time records for its two courses. Lewis always gets his scorecard signed by the starter on the first tee and the marshals on the course. Afterward, he enters his score into the computerized handicap system while the pro watches.
"He's nonstop," assistant pro Nick Hirsch said. "We've enjoyed seeing what he can do and how he pushes himself."
On Dec. 31, Lewis will play his final round (projected to be No. 611) as a fund-raiser for The First Tee of Dallas, with more than $5,000 going to teach golf to underprivileged kids.