A Utah Jazz fan recently created some buzz on the Interwebs for getting a tattoo on his right arm of Jerry Sloan riding a tractor.
In light of Thursday's news that Sloan was stepping down after 23 years as the team's coach, Page 2 naturally had to track down the fan to get one burning question answered: Is he going to add a sunset to the tattoo? Because, seriously, what would be cooler than a tattoo of your favorite sports figure riding off into the sunset aboard a John Deere?
"Yes," said Kyle Bodily, a 23-year-old Jazz devotee from Ogden, Utah. "I'm probably going to be getting that done in the next week."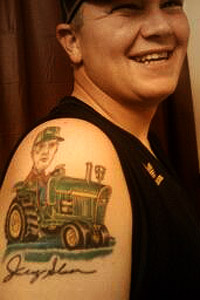 Courtesy of Aaron CarterJerry Sloan will forever adorn the upper right arm of Utah Jazz fan Kyle Bodily.
As you might have guessed, Bodily takes his fanhood a bit more seriously than most. He's in his third year as a Jazz season-ticket holder and owns approximately 30 pair of game-worn sneakers of Utah players and 15 autographed Jazz jerseys. Plus, his bedroom is painted in Jazz colors, thanks to the labor of friend Aaron Carter and aunt Cindy Rice. He knows his stuff when it comes to franchise history, right down to Sloan's affinity for collecting and restoring John Deere tractors.
Does Sloan think it's creepy that a fan tattooed his likeness onto his arm?
"I asked him for permission," Bodily said. "He said, 'It's your body; do what you want.'"
The man who inked the tattoo is Brandon Lewis, owner of Heavy Duty Tattoo in Ogden, who coincidentally has worked as a tattoo artist in Utah for 23 years -- the same period as Sloan's stewardship of the Jazz. Lewis, who said the tattoo took about two hours to complete, is also a big Jazz fan who's disappointed the Sloan era is over.
"I'm bummed out, man, for real," Lewis said. "I realize he's almost 70. ... I just think he's outgrown it."
Bodily said Lewis initially quoted him a $400 price for the tattoo but ultimately charged him only $150 because of the exposure the studio would get from television coverage. Bodily is also considering getting tattoos of the Jazz's division title banners and retired numbers. Ultimately, he said his support of the team won't waver in the Ty Corbin era regardless of results.
"If they win, I support 'em," Bodily said. "If they lose, I support 'em."