Growing up in South Carolina, Lee Brice had two passions: football and music.
For him, the end of one actually led to the beginning of the other.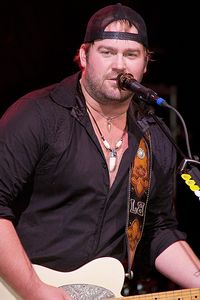 Mindy Small/FilmMagicLee Brice has worked with Tim McGraw, Garth Brooks and Jason Aldean.
Brice, who at the time was 6-foot-3 and about 270 pounds, walked on to the Clemson University football team and eventually earned a scholarship to play as a lineman.
But a freak injury in which he couldn't straighten his right arm forced him to have surgery and end his dreams.
"My elbow just never got better. I seem to have worn it out. I must have overextended myself exercising," said Brice, who now is 30 pounds lighter. "But I met my goal, getting a scholarship to play. So I knew my arm wasn't going to get better and my athletic career was over."
So Brice did what a lot of aspiring Southern musicians did: He moved to Nashville.
"I loved football but it became work for me. It wasn't as much fun after a while. It wasn't deep into my bones like music was," Brice said. "So I made a life decision. I moved. I wasn't going to Nashville thinking I'm going to make it in the music industry by tomorrow. So I worked very hard. There was no turning back for me."
For the past five years, he's been writing songs for country greats Garth Brooks, Jason Aldean and Tim McGraw. And he's recently started singing himself, with all four of his singles hitting the Billboard Hot Country songs charts. The fourth single, "Love Like Crazy," holds the record for the longest run achieved in the history of the country chart.
"I turned my music career into how I played football, treating it like two-a-day practices. I was always working," Brice said. "I'm getting to the point now where I'm paying my bills writing songs. There is nothing else I could ask for. I've been blessed to reach my goals."