Props to Lakers coach Phil Jackson for sticking up for Sacramento.
Sort of.
Jackson, who has a history of tweaking Sacto and its NBA fans, recently said the Kings franchise has no business moving to Anaheim, which is trying to entice the team to abandon 23-year-old Power Balance Pavilion in favor of the sparkling new 18-year-old Honda Center.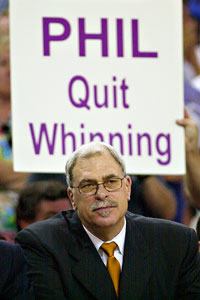 AP Photo/Mark J. TerrillPhil Jackson and Sacramento fans have traded barbs over the years. Could it be that he's standing up for them in their hour of need?
"What other metropolitan area has three teams in it? It's ridiculous to put another franchise in this market," Jackson said. "It just doesn't make sense to do that."
Few, if any, teams have received the kind of fervent support the Kings have received since moving to California's capital in 1985. The team sold out its first 497 games in Sacto over a 12-year span and later sold out 354 consecutive games from 1999-2007. Kings fans also earned the reputation of making the former Arco Arena the loudest venue in the NBA for years.
Still, isn't this the same Phil Jackson who once called Kings fans "semi-civilized" and "redneck in some form or fashion"?
The same Phil Jackson who once called Sacramento a "cow town"?
Could it be that the Zen Master is starting to make amends to the various cities he's insulted over the years?
Such as New Orleans: "It smells better in Oklahoma, I have to say that. I miss that mildew smell from New Orleans that permeates the air, and the revelry that goes along with being in New Orleans is certainly missing in Oklahoma. I feel blessed, there's no doubt about it, that we're here [in Oklahoma City]."
Such as Orlando: "If you want a plastic city like Orlando that has warm weather and golf courses, that's fine. But if you want a city that has meat and grist to it and has a culture, Chicago has it."
Such as Memphis: "It's like Dresden after the war."
Such as San Antonio: A "tourist trap" whose River Walk is a "green rio."
Probably not, but at least it affords us the chance to rehash a few of Big Chief Triangle's most memorable insults. After all, who would've ever thought a dude from Deer Lodge, Mont., and the University of North Dakota could possibly turn into a cosmopolitan snob?