When Tracy Forrest overheard her 10-year-old son Cliff on the phone trying to explain to someone that he wanted to give William Perry his Super Bowl XX ring back, she could tell Cliff was having a hard time being believed.
After all, what 10-year-old would give away something like a Super Bowl ring for nothing?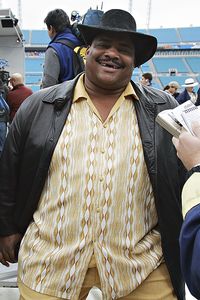 AP Photo/Amy SancettaWilliam Perry was 'appreciative' when 10-year-old Cliff Forrest returned his Super Bowl XX ring to him.
So Tracy got on the phone and lent an adult voice to her child's gesture of goodwill and generosity. That gesture culminated in Chicago on Saturday when Cliff handed the ring to the former Chicago Bears defensive tackle, whose battle against Guillain-Barre syndrome has been well documented.
"My son said he knew he had problems," Tracy said Monday. "I myself have MS, and my son Googled and saw Perry also had an autoimmune disease.
"He said Perry lost the ring through hard times, and that he only had one ring. He said, 'I want him to have the ring back.' That's pretty special for a 10-year-old to want to do that."
Cliff used money he had been saving for college to purchase the ring for a reported $8,500 after seeing it at Mickey Mantle's restaurant and sports bar in New York City. The establishment also has a sports memorabilia section.
It's not known whether Perry sold or auctioned off the ring to help pay for medical expenses.
"When Cliff saw the ring, he said he had to have it," Tracy said. "Once I saw the price, I said, 'Absolutely not. We're not buying the ring.'
"He ended up taking money out of his savings account. We told him it was money for college, but he ended up getting the ring."