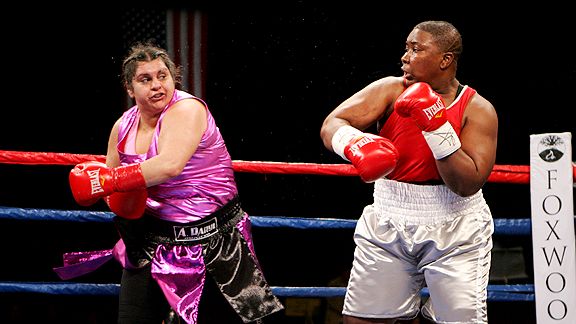 Teddy BlackburnHarlem teacher Sonya Lamonakis (left) is a contender in the female heavyweight division.
Sonya Lamonakis is a 36-year-old elementary school teacher in Harlem who moonlights as a professional boxer. Despite her humble attitude and constant referral to her sport as a "hobby," Lamonakis is a top-five-rated female heavyweight who is being groomed for a title shot. She'll be in action against GiGi Jackson April 16 on the undercard of the Andre Berto-Victor Ortiz fight at the Foxwoods Resort Casino in Mashantucket, Conn., but she took time to speak to espnW from a back office at Gleason's Gym after finishing two hours of training, which came after a full day's work in the classroom.
espnW: Are you a teacher who boxes or a boxer who teaches?
Sonya Lamonakis: Boxing is my hobby. Teaching is my career. I obviously have to balance both. I work for the New York City Department of Education, so I'm at work every day. Then when I get out of work, I jump in my car and come to the gym. It takes a lot of time to do both.
espnW: At some point do you think you'll have to choose?
SL: No. I can do both. [Promoter Lou] DiBella has been very good. He knows he has to work with my schedule a little bit. I can't just drop everything, pull out and go to any fight. I need to get time off work. I try to arrange it far enough in advance that I can get everything I need to get done [in the classroom] so it doesn't affect my work, because I didn't go to college for six years to be a boxer. I went to college to be an educator, because that's what I'm going to be doing the rest of my life. Boxing's not going to be forever. Women don't make enough money to make a living at boxing.
espnW: You had a problem because your pro debut was in Worcester, Mass., on a school night.
SL: That is correct. After I knocked the girl out, I hung out for about half an hour. Then I jumped in my car and drove back to New York City to be at work for Friday morning.