A few things about Gregory Iron: He works out like everyone else. He's not scared to take a chair to the head. He's a 24-year-old professional wrestler from Cleveland trying to make it big.
He also has cerebral palsy.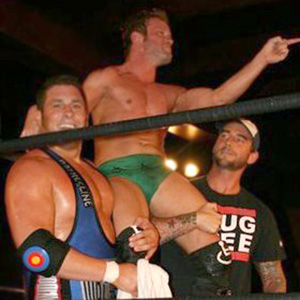 Courtesy of Gregory IronGregory Iron, also known as The Handicapped Hero, is endorsed by Colt Cabana and CM Punk (right) after a recent match.
That hasn't stopped him from working at a tool store, learning to edit videos or dropping an elbow from the top rope. Nor has it meant his opponents take it easy on him. They seldom even ask if they can clothesline his 5-foot-4 body or twist his deformed right hand.
Instead, it's his feelings they're worried about.
"They always ask if it is OK to make fun of my hand," Iron said. "I'm like, 'That's what it is there for. You are the bad guy. A horrible person would make fun of my hand. That only gets the crowd more excited and on my side.'"
The reason we're talking about Iron -- actually named Greg Smith -- stems from WWE champion CM Punk, who, as part of a wrestling storyline, appeared at an independent show in suburban Chicago last week. Punk appeared in the ring to tell Iron, "You're awesome. You overcome more than I ever have just waking up every morning." (Video here, but it includes some NSFW language.)
This accomplished two things: It continued a WWE story that Punk quit the WWE, and it introduced the world to The Handicapped Hero.
Soon after the footage made its way to wrestling blogs, the popular IWantWrestling podcast interviewed Iron. And then so did a bunch of other people.
Now Iron has nearly 1,000 followers on the Twitter page he started a few days ago and the perfect venue to advertise his Aug. 7 match in his hometown, available online at pwowrestling.com.
"I hope people take from my story that you can overcome anything if you keep working hard," he said.
Iron, in his newfound celebrity, has already mastered the art of the cliché.
Only, when coming from a dude with cerebral palsy who participates in no-disqualification wrestling matches, it's hard not to take it to heart.