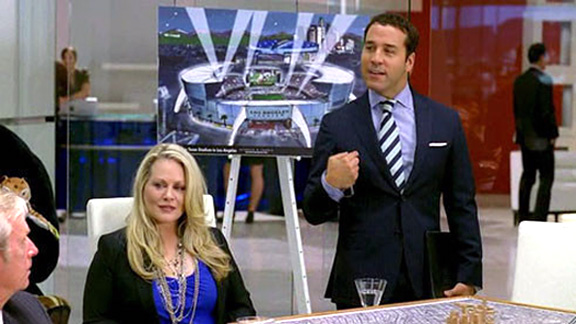 Entourage/HBOIn an episode last year, Ari Gold (Jeremy Piven) showed off the new NFL facility in Los Angeles.
With lots of buzz about the city of Los Angeles landing an NFL franchise, Ari Gold would like to be in the mix.
No, seriously.
In the seventh season of HBO's "Entourage," the Hollywood super agent Gold was working very hard to bring the NFL to Los Angeles. He had a deal with Jerry Jones to make it happen.
It didn't. On television.
But in real life, Jeremy Piven, who has won three Emmys playing Gold, is doing his part to try to bring football back to Los Angeles.
"Don't you feel this momentum? It's going to be incredible to have the NFL here, and I'd love to be a part of it," said Piven, who is a huge sports fan and friends of the backers of the new Farmers Field, the proposed sports and events stadium planned for downtown Los Angeles. "I'm not thinking about it from the monetary reasons. I just love the game. I could talk football all day and night."
Piven, 46, grew up in "the greatest sports town" of Chicago and attended college at Drake in Iowa before heading out to Hollywood. His first big break was when he became a regular cast member on HBO's "The Larry Sanders Show." He also played a memorable episode of "Seinfeld" as George Costanza in "The Pilot."
That led to a variety of appearances in movies and television before he landed his big role as the rude Hollywood agent Gold. "Entourage" has only a few more episodes this fall before its run is over, and then it's on to other projects.
"It's not in my conscious thought that I'd be tied to this character. Don't get me wrong. I'm insanely proud of the eight years and I know I left a mark," Piven said, "but I have so many other characters I want to play."
And he's serious about his love for the NFL.
"I played in high school, but how many 5-9 linebackers are in the NFL?" Piven said. "I'm a student of the sport. I know I can throw my two cents in. I would do anything to be part of this pro football team."