Michael Lewis, author of the best-selling "Moneyball" book that comes out as a movie Friday, said he has two very different emotions about the project.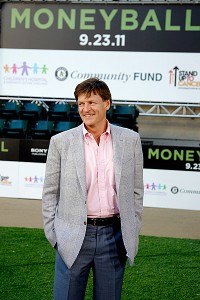 AP Photo/Ben Margot"Moneyball" author Michael Lewis also wrote the book "The Blind Side: Evolution of a Game."
"With the book, I know it's mine, all mine, and I have enormous personal pride," said Lewis, who wrote the 2003 book about the cash-strapped Oakland Athletics. "The movie is not mine. I'm watching someone else's work. I have a different relationship toward that."
Lewis grudgingly watched the movie starring Brad Pitt as Athletics general manager Billy Beane, who used a non-traditional approach to put together a team, just a few weeks ago.
"I went into this thing thinking it would be horrible. I couldn't see how anyone could make a movie out of my book. My expectations were low," said Lewis, who focused the book on Beane's emphasis on analytical sabermetrics. "But when I saw it, I was in awe. They didn't just make a movie. They made a really good movie. I was moved by it. They got the spirit of the book on the screen."
Lewis shouldn't be surprised. One of his other books -- "The Blind Side: Evolution of a Game" -- turned in the highest grossing sports movie of all time, making more than $300 million.
"Making 'The Blind Side' was really messy. It's hard to be a collaborative effort when you're talking making a book into a movie," Lewis said. "They make movies running in 18 different directions. It's not like writing a book."
Lewis was so thankful Pitt was persistent to get the movie made, which originally was to be shot in 2009 but went through script changes and cast changes (Jonah Hill replaced Demetri Martin as Beane's sidekick). Filming began last summer, and the movie has had a lot of positive buzz in recent weeks.
"It's like Brad had a bee in his bonnet," Lewis said. "I could not believe his level of conviction about this. He wanted to make a good movie. He never wavered."