Kenny King is a man unafraid to wear his underwear in public.
He brawls in the wrestling ring wearing spandex tights. And on stage at his other job he wears even less. The 30-year-old Ring of Honor wrestler is also a Chippendale.
The two gigs share something in common.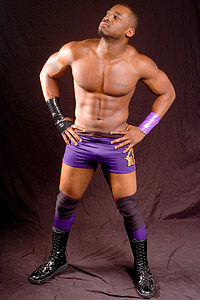 Courtesy of Ring of Honor Ring of Honor wrestler Kenny King, a former South Florida and UNLV football player, moonlights as a Chippendale in Las Vegas.
"You have to portray your own character," said King. "You have to portray that confidence and have that swagger. You have to have those larger-than-life characteristics."
It would be easy to poke fun at the buff former University of South Florida and UNLV football player. Of course, then he might powerbomb you through a table. And he had the same reaction when a workout buddy asked him about auditioning for the Chppendales' revue in Las Vegas.
"I'm not into G-strings and hairy chests and dollar bills," he said.
But one night he checked out the show and by the third act he saw a great opportunity to supplement his income, while enjoying the attention of 400 vacationing women every night.
"The women go crazy," he said. "It's every man's dream job."
King (real name Kenny Layne) and Ring of Honor will get a shot at mainstream popularity in the coming months. On Saturday the first episode of its new weekly program airs on 35 Sinclair Broadcasting Group affiliates, making it the only wrestling promotion in the U.S. with a major multi-market presence on broadcast TV.
The group has produced major talent, including the uber-popular CM Punk, who name-dropped his former employer on recent episode of WWE's "Monday Night Raw." But the ROH team knows it can't compete with the corporate giant. Instead, it's the latest outfit trying to carve out a niche to bring fans to television sets.
Its promoters promise to maintain the same type of fast-paced in-ring action -- and lack of cheesy wrestler interviews -- that made the organization an indie sensation. Being on free television will give millions a chance to watch Ring of Honor for the first time.
Now it's up to King and his co-stars to put on a show. It's something he's comfortable doing.