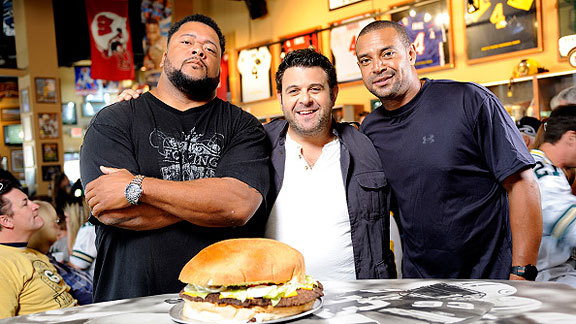 Travel Channel Adam Richman can't measure up to former Packers NT Gilbert Brown (left) and WR Antonio Freeman.
Travel Channel's Adam Richman brings his show "Man v. Food Nation" to Green Bay for Wednesday's episode as Packers fan take on the Gravedigger Burger challenge -- a 93-ounce burger behemoth named in honor of former Packers nose tackle Gilbert Brown.
"The fandom in that area is ridiculous," said Richman, who lives in New York but has always been a fan of the Miami Dolphins. "Everyone there in Wisconsin bleeds green and gold. They paint their cars, homes, and everyone from the team is so approachable."
In this incarnation of the show, Richman travels to various cities to try the signature food dishes of the local eateries. Unlike the previous three seasons of "Man v. Food," where he took a food challenge at a local restaurant, this season Richman recruits residents of the city he visits to take on a food challenge, while he serves as their coach.
"In my bedroom as a kid, I used to have a poster of Lambeau Field on my wall," Richman said. "To be there and see it and realize that I'm just a guy from a basic cable food show and the opportunity to see all that, it was such an honor to meet my heroes."