Leeann Tweeden isn't shy talking about her age.
She's 38.
"I think I look better now than when I was 21," said Tweeden, who hosts NBC's "Poker After Dark" and formerly was a correspondent on Fox Sports' "The Best Damn Sports Show Period."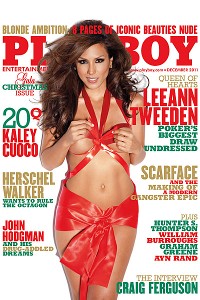 PlayboyLeeann Tweeden isn't ashamed of her age or her curves and shows them off in December's issue.
And that's the main reason Tweeden decided to pose for Playboy in December's issue, which hits newstands on Friday.
"I did this for myself and not anyone else," said Tweeden, who had been in negotiations with Playboy for a year on whether to do the shoot. "My husband and I had long talks before doing it. I'm not hurting anyone. If people don't like it, they don't have to look."
Tweeden is from Manassas, Va., and pursued a career in modeling. She did promotional work for Hooters, Frederick's of Hollywood and several other companies.
She parlayed that into the gig for "The Best Damn Sports Show Period" from 2000 to 2007 and then became the host of the NBC poker show. She also covers baseball for Fox Sports West.
"For nearly 20 years, I've been in the public eye and made a living in this business, so why not do this?" Tweeden said. "I've always been a voluptous girl, so thankfully, when the Beyonces and the J-Los started to become famous, I got noticed! Everyone is telling me they like a little meat on the bones!"
In 1996, Tweeden appeared on the cover of Playboy as a host for ESPN's workout show "Fitness Beach" but she didn't take off her clothes in the magazine. This time was different.
"The photos are beautiful, tasteful and very artistic," said Tweeden about the photos shot by female photographer Odette Sugerman. "I felt the time was right to do this. And it helps add to my legacy."