At almost every sporting event, rock music is blaring from the speakers. Queen's "We Will Rock You." Metallica's "Enter Sandman." And Gary Glitter's "Rock and Roll Part 2."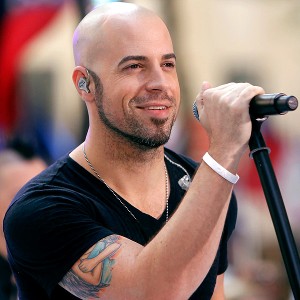 AP Photo/Jason DeCrowChris Daughtry's band will perform a free concert Wednesday.
But when people get home, their tastes change.
Rocker Chris Daughtry wants to change that.
"There certainly is a void in mainstream rock, and hopefully we can help out with that," said Daughtry, whose band released its third album, "Break the Spell," in November. "There is so much dance-oriented pop music out there right now. The state of rock music is not in the forefront these days."
So, working with Duracell's Holiday Insurance Program, Daughtry will perform a free concert at 3 p.m. ET Wednesday. Check the Facebook page for details. Fans will get a chance to listen to the band's hits, including "Renegade," "Louder than Ever" and "Outta My Head," which has been used during spots on ESPN programs.
"It's really stressful time during the holidays, and we're trying to make it a little easier for everyone," said Daughtry, who started his band in 2006 after finishing in fourth place on "American Idol" Season 5. "For our band, our schedule has been stressful, so we're ready to take a break to spend time with our family."
And Daughtry, who has sung at many sporting events including the Super Bowl, said he's not trying to push his kids into sports.
"I tried to be an athlete because I could run fast, but I wasn't very good," said Daughtry, who picked up a guitar in high school after struggling at football. "I won't discourage anything my kids want to do. I want them to find their own way."